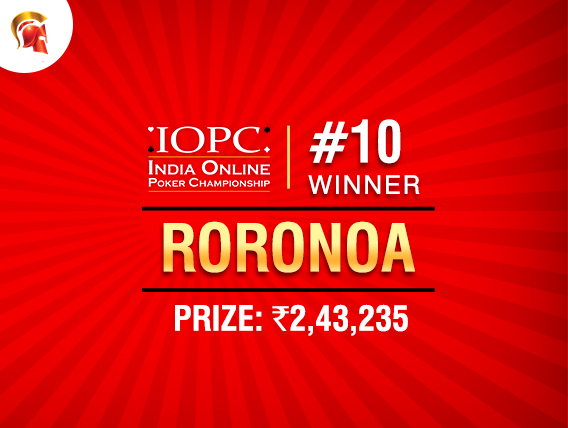 Poker
---
'RoRoNoA' claims victory in IOPC Event 10
Day 2 at the India Online Poker Championship (IOPC) at The Spartan Poker was heading into the final stretch with the final event of the day promising yet another 7-figure guaranteed prizepool. The man who walked away with the biggest share of that prizepool was Vidwath Shetty aka 'RoRoNoA' who won the last event of IOPC Day 2.
10 Lakhs was guaranteed to players who were taking part in this tournament but that figure swelled up to INR 12.48 Lakhs when 360 entries ponied up the INR 2,200 buy-in. INR 7,113 was the min-cash each of the 47 money finishers were assured but of course the real juice is in the top 3-4 payout places. Deepak Bothra a.k.a 'chimpoo' was eliminated as the second runner-up when RoronoA (Jh Jc) made a full house, Jacks full of Twos, on a board of 2h Js 2d Ah Qd against chimpoo's Ks As.
IOPC Event 1 winner 'Bikini Babe' also ran deep at this tournament eventually finishing in 4th place for INR 93,724. And then it was between Shetty and another Spartan reg in vg007 (Vaun Gulati). While three-way action went on for a long while, it did come to an end in Level 45 24,000-48,000 ante 6,000. vg007 decided to make a stand with his 7s Ts but his luck was fast running about it was seen that RoronoA possessed Qs Qc. The final board of 5c 4c 7c 9h 5d told the tale of how this tournament ended but not its journey which was quite action packed especially in three-handed. INR 2,43,235 went the way of the winner RoRoNoA while Varun Gulati let his payday of INR 1,54,502 take away some of the sting.
Tomorrow is a big day at The Spartan Poker as Day 3 features the biggest online tournaments like the Millionaire at Spartan so stay tuned for an update of those tourneys and also we will bring you what the current leaderboard of the IOPC looks like. A brand new car i.e. the Jeep Compass and a new motorbike are among the prizes for the top two finishers on the leaderboard. 

---
---
Comments