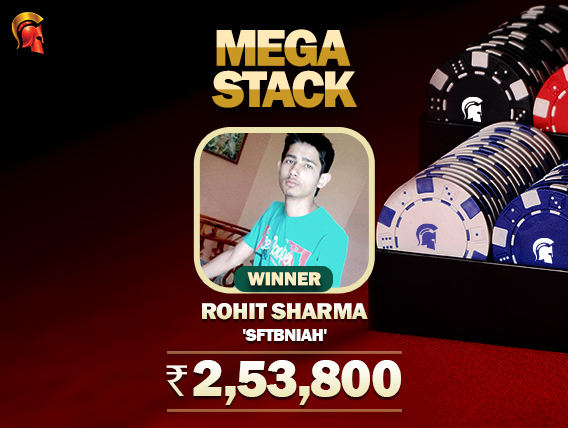 Poker
---
Rohit Sharma wins Mega Stack on Spartan
The Spartan Poker is one of India's top poker websites and they host online featured tournaments every day of the week. The Mega Stack tournament is played every Tuesday evening on Spartan – an INR 3,300 buy-in and re-entry tournament with a promised prize pool of INR 12 lakh.
These tournaments generally go on till early hours of the next morning and yesterday was no different, with the tournament running 6 hours and 26 minutes, and Rohit Sharma aka 'SFTBNIAH' being crowned the eventual winner. He outlasted 258 players and a total of 366 entries to take down the Mega Stack title.
The tournament was a long one and it finally came to an end in Level #59, where the blinds were running 32,500/65,000 – 6,500. Sharma had a 6:1 chip lead coming into the final hand, where he beat his heads-up opponent 'Akki'. Akki went all-in pre-flop, holding K-2, and Sharma called with pocket Sixes.
With the flop opening 3-2-K, Akki was momentarily ahead with a pair of Kings but the turn opened 6, completing a set of sixes for Sharma and only a King on the river would save Akki. However, a Jack opened, and Sharma took down the pot and the massive prize of INR 2,53,800 for first place.
Gutshot caught up with this young winner and asked him about his introduction to poker. He said, "I introduced myself to poker. I used to play it on sportsbooks like Betfair and Paddy Power for free money. Back then, I didn't even have slight knowledge about the game. I just used to associate it with teen patti and play like that. I started playing around 3 years ago but started taking it seriously only around 2 years ago when I saw WSOP Main Event videos on YouTube. After that, I started studying the game, watching hand breakdowns, studying about ranges and more."
"My experience playing Mega Stack was pretty good. I played a little better yesterday than I do usually. I get ultra-aggressive when in ITM and mostly bluff myself out of a tournament. However, yesterday I created a notepad on my laptop and wrote opportunity 1000 times to remind myself that I have a good opportunity to score big. So, whenever I felt like bluffing, I used to look at the notepad and back down and it worked for me yesterday," he said about winning yesterday's tournament.
Key hands: "The only hand that I thought was crucial for me was on the final table was when I was 7 of 8. I had around 500k stack (average was 900k) and I got AK on button. It folded around to me. I always wanted to get it in and bb(800k) was playing over aggressive, so I just raised around 2.7x hoping bb might try to bluff me out of the pot and I can 4-bet jam and he did, but he showed KK and i snatched an Ace on the river to double up. After that it was a smooth sail for me."
Future plan: "First, stick to good bankroll management as I have made mistakes about not doing that in the past. Also, hopefully do well in the upcoming IOPC series on The Spartan Poker."
On a parting note, he added, "I hope Nishant Sharma brings the WSOP main event bracelet to India. Last I heard, there were 39 left and he was in a pretty good spot. If he manages to bring it to India, it will be poker boom for India and I pray he does bring it. GL Nishant Sharma." Nishant's good run however, ended, as he busted in 34th in the Main Event.
---
---
Comments