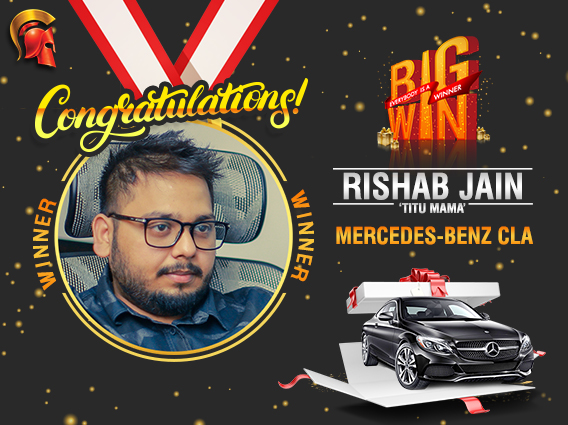 Poker
---
Rishab Jain wins a Mercedes from Spartan's BIGWIN promotion
The Spartan Poker is known for their massive tournaments and promotions that keeps every poker pro across the country on their toes to win the next big prize. Very recently, they launched the BIGWIN promotion for the month of September with some outstanding prizes up for grabs.
It has been just over 20 days since the promotion kicked off and Spartan already has some huge winners. One of these winners is Rishab Jain aka 'Titumama' who has gone on to redeem the biggest prize of the promotion on Spartan – the stunning Mercedes Benz CLA (200 CDI style)!
BIGWIN kicked off in September and the Kolkata-based player didn't waste any time, opting in to the promotion on 1st September itself. Over the course of the month, he played Omaha and No Limit Texas Hold'em games on their platform, playing stakes from 200/400 to 1000/2000. Grinding on an average of 10-12 hours a day, Jain put in days of hard work and he was well handsomely rewarded for the same, accumulating 3,50,000 VIP points and claiming the Mercedes Benz!
Playing mostly on his desktop but sometimes also on mobile, the BTech in Computer Science didn't even require the entire month to claim this prize. He reached the 3,50,000-mark on 22nd September, playing an unbelievable amount of 45,040 cash game hands during this time. Now, he's all set to drive around the streets of Kolkata in his new ride!
Gutshot caught up with Jain to ask him a few questions. We wanted to know how he was introduced to the game of poker. He said, "My poker journey kick-started back in my first year of college. Like many big dreams begin from the hostel rooms, my case was quite similar. It was an ordinary evening when my gang of friends introduced me to poker to kill boredom and I still remember my first buy-in of Rs.100. I obviously lost it to the table and many more thousands in the months that came. Within a year's span, I started playing for real money. With the passion I had towards the game, I was breathing poker in no time. My initial play used to be majorly against college students who were poker enthusiasts. I used to play a lot in a couple of Indian poker sites. The big experience that I recall was when I visited Goa's casino with all the hard-earned money from my initial 2 years and I lost it all. My return tickets and the ride back home had to be sponsored by my friends. Eventually, after 2 years of rigorous playing and continuous learning, I started picking up the game. My journey on Spartan then began in 2016 under the name 'RiverShiver'."
Jain redeemed the BIGWIN top prize of a Mercedes Benz CLA (200 CDI style) and that shows that he has improved leaps and bounds as a player. Talking about this mega prize, he said "It feels great to win after putting all the effort to play every hand to make it to that big number. This win has given me immense pleasure and confidence. I always believe optimism is the faith that leads to achievement."
What was the reaction of your friends and family when you told them you won a Mercedes?
"I told my family and friends that I will be felicitated with a Mercedes by Spartan from my BIGWIN efforts and they were so overwhelmed with my hard work being paid off. Honestly, it's the support and celebrations from your close ones that take your success and motivation to the next level. The confidence that my family gives me for every win, I cannot trade it in for the world."
Any tough competitors during the entire competition?
"The player with the username 'Singhamreturns'. He was a tough cookie on the table for the entire span of 20 days on 1K/2K PLO table. We had some intense nosebleed sessions. During this stiff competition, I had a lot to learn from this champion."
Your thoughts on the BIGWIN promotion?
"The Spartan Poker's BIGWIN is by far the most spectacular promotion. Promotions like this can be of vital help to boost cash games in India. I am looking forward to many more such promotions and encouragement from Spartan. I hold an opinion that with bigger rewards comes greater zeal. Why not raise the platform a bit higher and aim for a Ferrari next?"
He also discussed with us about his future plans in poker, saying, "There is an incredible amount of knowledge to gain every day, and my focus is going to be PLO for the coming few years and move forward where the poker industry takes me." Keep reading GutshotMagazine.com for updates on more winners from the BIGWIN promotion and updates on what Spartan has to offer in the month of October as well.
Don't have an account on The Spartan Poker? Don't miss out on their bonuses, promotions, and guarantee-smashing tournaments. Sign-up now by clicking HERE.
---
---
Comments