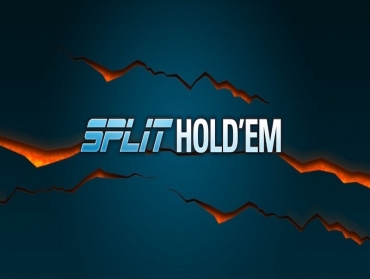 Poker
---
PokerStars to Launch New Split Hold'em Variant
The game of poker is always evolving in India, as well as across the world. Top poker companies like PokerStars, partypoker, 888Poker and others are always innovating to stay ahead of the game and that's exactly what PokerStars has done with their latest development – introduction of a new variant of online poker, called Split Hold'em.
No details on the Split Hold'em format have been revealed yet, but it seems like PokerStars is preparing for the launch of this variant, according to new graphics seen across its online poker client last week. The game seems to be based on Double Flop Hold'em, and it will be the first time it will be spread online.
In this variant, the rules are more-or-less the same as that of traditional Texas Hold'em, except for one major change – two complete boards are dealt. The pot will then be split between the best hand on the top board and the best hand on the bottom board, but one player can scoop the full pot if he/she wins both boards.
"We're building a portfolio of games. When you think of a car company, they will build different types of cars to address different segments of the population, and I think the logic is the same. We have different reasons why people might be less interested or will want to have something different, so we're trying to cater to these different needs," said PokerStars Director of Poker Innovation and Operations, Severin Rasset, last year.
Like we mentioned, this game has not been confirmed by PokerStars as yet. It could well be promotion for an existing format like it was done for the PokerStars Zoom: Usain Bolt Edition. However, the design does appear to suggest a new game variant altogether. As and when this is confirmed, you will hear it on GutshotMagazine.com, so keep an eye out for more updates on this story and on other poker stories from around the world.
---
---
Comments