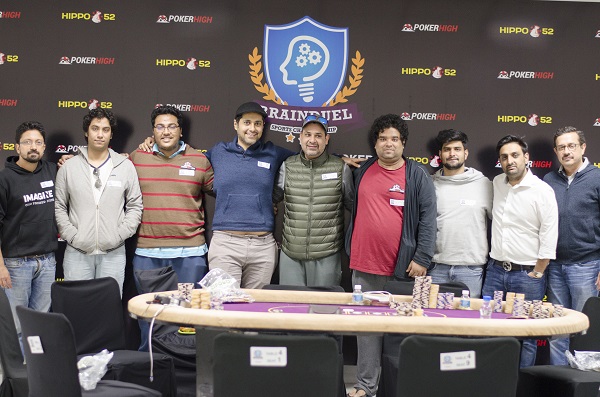 Poker
---
PokerHigh organizes 'Brain Duel' in Delhi
In recent times, we have seen many poker tournaments across the country but this time it was poker and other skill games which were on display in the nation's capital. The other competitions revolved around chess and quiz. There were many known poker players at the tournament like Ishaan Chugh and Vivek Jain who chopped for first two followed by Riju Gupta (3rd), Gaurav Kathuria (4th), Abhinav Jain (5th) and Devesh Thapar came in 6th place. This debut Brain Duel event was sponsored by online poker site PokerHigh.
Gutshot was able to speak to one of the organizers Gaurav Gaggar about the Brain Duel tournament. Gaggar is a CA by education, ex-Deloitte, and Citi. He has incubated many startups across industries but is a known name in the skill-based gaming and poker industry in India by virtue of being part of the original team which incubated adda52.com. After the site was taken over by top gaming and real estate company Delta Corp, Gaggar's family exited adda52.com. Here are the excerpts from the email conversation:-
Please tell us how this event came about.
It started with our (my brother Vaibhav Gaggar, a lawyer and mine) vision of popularizing Brain/Skill games in India. We believe that India with all its cerebral matter has the potential to be a world player in Brain/Skill based games, all that is needed is the correct platform and opportunities for players and the right eco-system. This tournament was the first of its kind licensed event as a proof of concept to be followed by larger events across the country. Poker is very much a skill game as we all know and therefore an integral part of this concept. We got the support of likeminded people in Mithun Rebello and Sumit Khurana of PokerHigh and Hippo52 respectively who sponsored and supported the entire tournament.
This was the first ever mind-sport centric tournament in the country…
It was intended to be a small poker tournament (over 40 players) more as a proof of concept, but the excitement levels of us as organizers as well the participants were very high. Got a lot of reviews from players with regards to the venue (Sirifort Stadium in South Delhi where the Commonwealth Games were held), how they liked playing poker there without the fear of being underground or in a casino. It was a super opportunity for chess players who came from across Delhi NCR to participate and engaged in the day-long tournament which was well received by over 70 participants. We saw keen participation in the Quiz event as well with the winner being from IIT Delhi. A number of participants across games are wanting us to conduct the next edition very soon.
What are your future plans for this tournament? When can we expect the second edition of it?
With the proof of concept done we are now working on the next big thing which shall be a tournament at a larger, grander and exciting scale to rival anything which has been done before. Since the details are being worked upon, I am unable to reveal too much about it just yet. Watch this space and you shall know soon.
Brain Duel looks like a promising venture for the Gaggar brothers to promote their vision for skill games in this country. For these kinds of stories and more, stay tuned to GutshotMagazine.com!
---
---
Comments