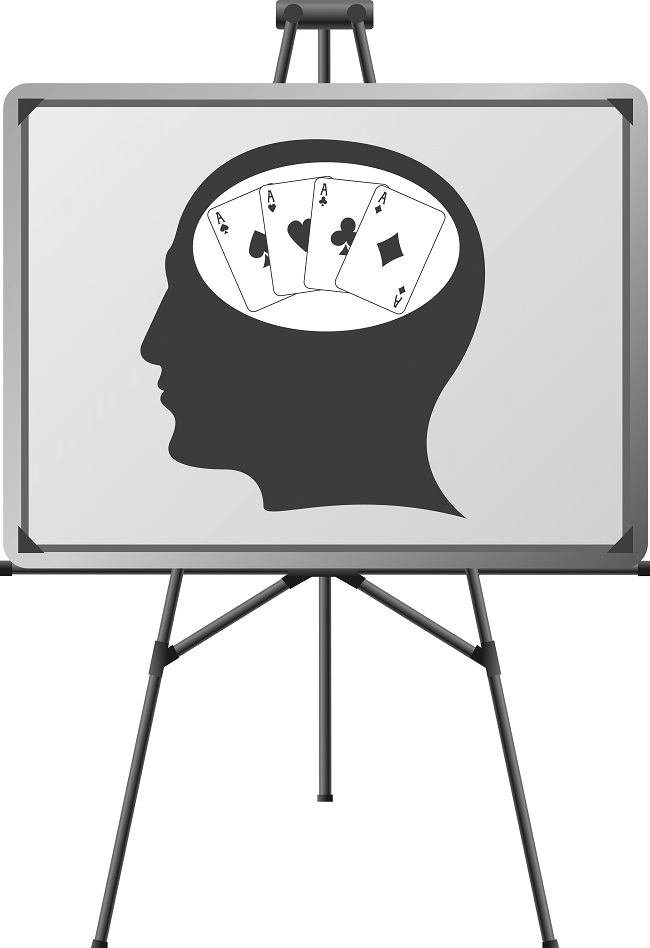 Poker
---
Poker Brains vs Poker Balls. What Helps You Win?
And you thought only brains can make you win…
First of all, let us make ourselves very clear – We are using the term 'balls' figuratively. We mean no disrespect to any female poker players when we use the term. They are an essential part of the Poker community and are as skilled as their male counterparts.
Let us begin with addressing the important question – What does it take to succeed in Poker? Brains or Balls? This question has been debated on par with 'What happens when an immovable object meets an unstoppable force?' It is well established that most of the famous and successful poker players in the world take a cerebral approach towards the game. They have used their math and psychological skills in order to lay waste to all their opponents.
On the other hand, some other experts with resumes just as impressive as their brainy counterparts have credited bravery for their victories. They claim to have used unbridled aggression and sheer mental force to overwhelm their opposition. Therefore, in this article, we are going to observe and analyze the importance of brains Vs balls in the success of a poker player.
Players need brains to calculate
Math is a basic necessity for all poker players. Calculating odds, implied odds, deciding how much to raise, figuring out how much your opponent has and much more takes a good sense of math and arithmetic. Hence, it is implied that brains are essential to conquering the basics of the game.
Players need balls to take advantage of mistakes
Making your opponents' mistakes, your source of income is a very valid and strong play style in Poker. The best way to completely dismantle your opponents' strategy is by making aggressive bets and calls when they make mistakes. To call when an opponent is running away or to raise when the opponent checks, requires some serious courage.
Players need brains to detect betting patterns
When under pressure, most players prefer sticking to their basics. Their behaviour forms a pattern. Players smart enough to detect this pattern can easily predict their next move and exploit it in the game. But this requires some serious grey matter and observation skills.
Players need balls to terrorize their opponents
One big difference between Pros and New players is that the Pros are not afraid of losing. They only care about playing the hand and not winning which in Poker, does not mean the same. New players try not to lose and avoid using aggressive tactics they ought to, to win. Good players will often scare their opponents by being in the combative mode.
Players need brains to understand 'tells'
While betting patterns are considered to be more reliable, you can collect a lot of information from your opponents' bodily tendencies. Minor twitches, voice pitch changes, body posture changes etc. tend to give out a lot of information while sitting in a quiet room with high tension. If you can figure out what each of these things means, you have an advantage. Needless to say, you need to be super smart to understand this.
Players need balls to act on the 'tells'
Okay. So you have figured out a particular tell. What do you do with that information? There's no point in just having information. If you don't make the right decisions about it, you lose on some serious money-making opportunities. You need to have a lot of self-belief and a great deal of courage to act on this information.
Players need brains to 'pick the spots'
Poker is a game of infrequent opportunities and limitless possibilities. Your opponent may or may not make mistake. He may or may not take your bluff. In such cases, good players know how to identify an opportunity and make the most of it. But this requires a lot of analysis and study of the art that is Poker.
Players need balls to control their fears
While trying to figure out their opponents, Poker players need to be sure of not giving away any information themselves. While being aggressive and raising all the checks of the other player, good players need to control their emotions. Even after a defeat or falling for a bluff, you must keep your emotions in check. It takes some serious tenacity to put on a brave face after you fall for your opponents bluff.
So which organ is more vital while playing? A lot of players play the middle ground and credit their success to both. Even the most composed players embrace risk and aggression while playing and even the most rabid maniacs do the math before taking risks. Success does not always require a big bankroll. It is just the difference between the right and wrong decisions.
Which side do you fall on? The aggressive ballsy player or the composed brainy player? Do let us know your thoughts in the comments section. Also, you can get latest updates on Poker right in your inbox, by subscribing to GutshotMagazine.com!
---
---
Comments