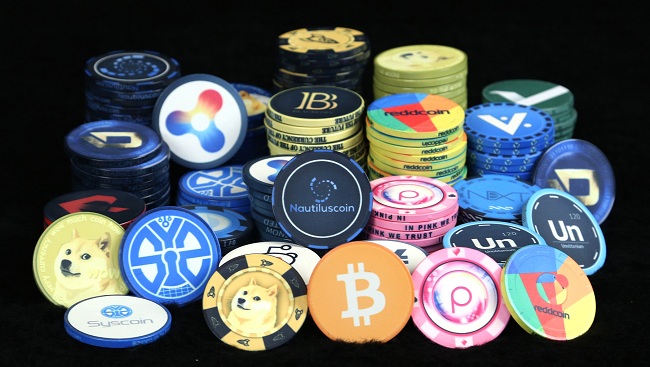 Poker
---
Playing at a Crypto Poker Room – What You Should Know
So now that we have your attention, let's talk a little about cryptocurrency. Unless you've been living in a cave with no internet connection, you've most definitely heard about the in vogue currency, that is Bitcoin and its alternate forms. Bitcoin and alternate currencies are starting to gain increased acceptance around the world, including in online poker rooms and casinos.
With the cryptocurrency boom, many crypto casinos and crypto poker rooms have sprouted, with many experts leading to believe that this could be a separate niche in the industry. Like in the real world, there are things you need to consider before joining a crypto poker room.
Here are a few things you need to know prior to signing up at a crypto poker room or online casino.
Bitcoin is often the only the accepted cryptocurrency
Many places that have come up since the boom are currently only accepting Bitcoin as a valid deposit. Which is only logical since Bitcoin has seen a record high growth in the past few years. It is the most well-known and the one cryptocurrency you can find on every exchange site. So it's sensible that it's the primary one used on all gaming sites.
However, this is beginning to change in the New Year as we're seeing a surge in popularity of alternate coins.
Bitcoin Fees are too high!
The one reason we're seeing an increase in popularity of altcoins is namely because of the fees involved with Bitcoin transactions. If you're new to Bitcoin, or have never made a physical transaction using Bitcoin, then you're in for a surprise when you make your first deposit at a crypto site.
Just FYI, while writing this article the current price of 1 bitcoin is equivalent to INR 7,31,328 and the current Bitcoin Transaction fee on the next block is INR 916.97. Transaction fees are included with your bitcoin transaction in order to have your transaction processed by a miner and confirmed by the Bitcoin network. So, it's an integral part of the ever growing system, but it's too damn high!
If you make multiple deposits in a month at a crypto poker room, it's going to cost you a whole lot of money. If your crypto casino offers other options, then you'll save all that money! For example, Litecoin or other alternate coins that charge even lower fees.
Your Money May Lose Value
Your virtual money may decrease in value even if you don't play. The best thing about fiat currency is that it won't lose its value even if it just sits in your account. You won't be getting that pleasure with cryptocurrency, though. The value of each coin or a bit of coin in your account fluctuates daily, and it gets pretty crazy.
Think of it the same way as stock price fluctuations. A stock's price is different when the market opens in the morning and when it closes. It keeps on changing throughout the day.
With Bitcoin, these changes are massive! Only last month 1 Bitcoin was worth INR 8,81,889. At the time I'm writing this, it's hovering around the 750k mark. It would not be surprising to see it rise to INR 8.5 lakhs tomorrow or drop down to INR 7 lakhs. As a matter of fact, the prices may have fluctuated by the time it has taken you to read this article! (Not by much, but still!)
Your Money May Gain Value
If the price drops, it can almost certainly rise again. The best way to look at this, is by monitoring the fluctuations in Bitcoin prices. If you take a look at the current prices, you'll see that it has dropped to INR 7 lakh before rising to the INR 9 lakh mark!
Many cryptocurrencies are currently experiencing all-time highs, with Ethereum, Ripple and Litecoin leading the alternate currency markets.
If you win while playing at an online crypto poker room, your winnings can increase in value, making you a winner twice over.
Crypto is here for the Long Run
Contrary to popular belief, crypto is not about to crash. It's not going to experience an industry-destroying bubble! (Well, not anytime soon though!) With the increasing demand for cryptocurrencies, many others may fail. We will only see the best currencies survive in the market, and the world will reap their benefits.
"The Times, they are a changing"
In conclusion, cryptocurrencies are the only viable way of conducting online transactions for the foreseeable future. So, thank you Satoshi Nakamoto for giving the world this precious gift!
Keep reading GutshotMagazine.com for similar Poker Gyaan!
---
---
Comments