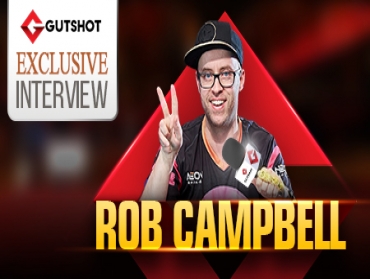 Poker
---
One-on-One with WSOP POY 2019 winner Rob Campbell
Former stand-up comedian, former Pokémon player, former e-sports player and of course, current poker professional from Australia. Introducing Robert Campbell who has been having a great run in international poker tournaments, and it was only late last year that he won the prestigious award for finishing as WSOP Player of the Year 2019.
In the past, we've had legends of the game winning the WSOP POY Award including former all-time #1 Daniel Negreanu (2004, 2013), Jeff Madsen (2006), Jeff Lisandro (2009), Ben Lamb (2011), Jason Mercier (2016), Chris Ferguson (2017), Shaun Deeb (2018), and many others. It would've thus been a great honour for Campbell to win it, becoming the second person from Australia to do so.
Comically enough though, Campbell would've had no clue about this victory, because it was Negreanu who was announced the winner, the latter all set to claim his third ever POY title. It was only later that WSOP released a statement saying that Negreanu wasn't the rightful owner of the title, with Campbell being announced the winner, Deeb finishing in second and Negreanu in third, the original goof up happening because of a clerical error!
Campbell was also recently signed by cryptocurrency poker platform, Coinpoker.com, joining the very well-known likes of Tony G and Isabelle Mercier as brand ambassador of the platform, one which lets you play online poker with Bitcoin (BTC), Ethereum (ETH), or CoinPoker (CHP).
Gutshot recently had an exclusive chat with the Australian pro and you can get all of it below:
Hi Rob. You've done a bit of everything so far – stand-up comedy, e-sports, Pokémon and more. What drew you to these different fields?
I have done a bit of everything comedy e-sports, Pokémon and that sort of stuff. Basically, I got into it more because I was pretty good at them. I was pretty funny in high school, I was pretty good at poker immediately, e-sports is something I saw an opportunity to expand, getting into a brand-new thing; helps with my gaming as well. Pokémon was something I was doing once in between poker. Yeah, they're all kind of similar and all sort of things I feel I have an affinity for.
Why did you quit stand up to get into the gaming industry?
I stepped on two gigs and it just doesn't pay much, entertainment. It's just a bit shitty.
You've been the '#1 Pokémon Generation 1 Player' as well. How does this work?
You play online, Pokémon Showdown. You beat everyone more than they beat you and your rank goes up. It's like anything else really. It's got an Elo Rating (explained below) and I was number 1 but I wasn't the best player. 'marcoasd' was the best player.
2019 was a phenomenal year for you in poker. Talk us through winning not one but 2 gold bracelets at the 2019 World Series. What would you credit these wins to?
Surely was a phenomenal year for me. Credit – look, just playing well, playing solid, thinking about the game a lot, studying the game a lot. I just really wake up every day and play, sleep, play sleep. You just got to get on with it. That's it. But everything just came together, yeah it was really sick.
Talk us through winning the WSOP POY and the comical error that gave Daniel Negreanu the award initially? How did you react when you were later announced winner?
I don't know about a comical error! Look, it was great when I won, of course. I found out in the Dubai airport. I was just quite tired and all I really wanted to do was make sure that it wasn't a mistake. That's all that I was doing.
How did the recent partnership with CoinPoker take place? What sets the platform apart and how are you going to promote them?
Love to be part of CoinPoker. I'm really happy joining Tony G there, and I'm just going to do the usual things – wear the badge, wear the hats, play the tournaments – the Rob Campbell Bike Ride every Sunday – these sorts of things. And just try and be the professional ambassador. It's my first time being that kind of person so yeah, looking forward to it.
Tell us your top three goals as a poker player?
I think another bracelet would be good. Just keep playing, keep staying at the top, don't fade away, be a good example for young players.
Have you ever been to India? Would you consider making a trip here to play poker in the near future?
Yes, I have. I've been to Mumbai for Dreamhack (Gaming Festival); I went there in 2019. And no, I've never considered playing poker in India. But I don't know, you never know what can happen in the future. Anything is possible. 
Thanks for taking the time out to speak to us… Anything else you'd like to add for our viewers?
Thanks for interviewing me. I appreciate it and it's always nice to try and reach new people. So yeah, thanks again Mr. Dwayne Fernandes (Gutshot Editorial). Good luck to you. Bye.
It was a lot of fun chatting with Rob Campbell and you can stay tuned to GutshotMagazine.com for similar interviews with the top poker players from India and around the world.
Check out our online poker rooms section, where you can read reviews on the biggest and best poker rooms in the country, while also taking advantage of their bonuses and promotions. Check out these top poker rooms HERE.
---
---
Comments