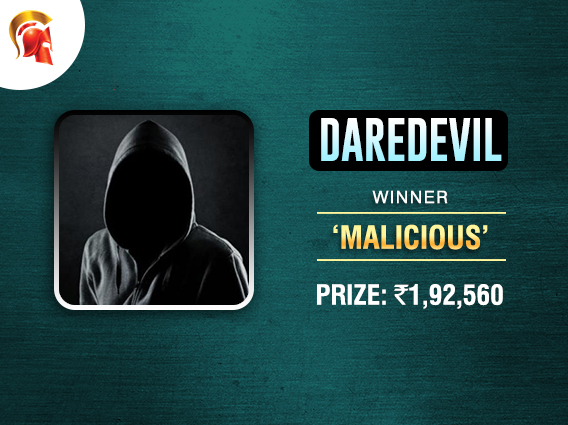 Poker
---
'Malicious' takes down Spartan DareDevil
The weekend is a crucial time for most poker players especially those who grind online as these two days have some of the biggest and best tournaments taking place across the world and of course India as well. With the tempting prizepool guarantees on offer it is no surprise that weekend tournaments are almost always well attended affairs. Last night was The Spartan Poker's very popular DareDevil tournament which saw 'Malicious' taking down the title after a 5 hour long grind.
The interesting aspect of the DareDevil is that while it is a Re-entry tournament, busted players get to re-enter at a 50% discount, so the original or first buy-in stands at INR 4,400 while players can put up just INR 2,200 in their subsequent buy-ins should they wish to re-enter. Obviously there is enough value in this for players and not surprisingly the 6 Lakh guarantee on this event was crossed last night to end up with a prizepool of INR 6,64,000. From the 87 entries that took part, 10 would go on to make it to the money with min-cash being INR 16,600.
When the field finally came down to three-way action, it was former DareDevil winner Ashish 'Spewushhhiiiii' Ahuja versus Malicious versus another featured tournament winner in Eka 'gettingthere' Vedantham who won Friday night's Elite tournament. gettingthere had a big lead with over a million in chips while Spewushhhiiiii had 530k and Malicious was the short stack with 252k. getting there consolidated his lead further when his Ace high spade flush took down Spewushhhiiiii's set of Fives. It was an almost 2:1 lead he possessed going into headsup with Malicious. The momentum shifted in favour of Malicious (Qd Kc) when he shoved all-in and was called by gettingthere's pocket 4h 4c. A Queen on the flop ensured that Malicious would take down the pot and grasp the chip lead in the process.
The final hand happened shortly thereafter. Malicious (6d Qs) and gettingthere (Td 5d) complete the blinds to see a flop of 3s 5c 2s. All the chips went into the middle and while gettingthere was ahead on the flop, a Queen on the turn the game on its head and that was the end of the road for gettingthere. Malicious won INR 1,92,560 for taking down the DareDevil while runner-up Eka 'gettingthere' Vedantham received a payday of INR 1,23,836.
More news from the world of poker and sports coming up right here at GutshotMagazine.com!
---
---
Comments