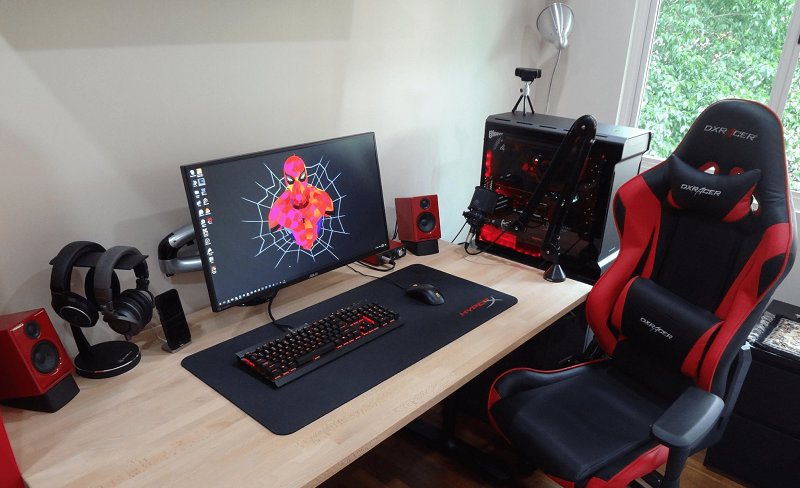 Gaming
---
LEVEL UP: Best Gaming Products You Can Buy Online
It seems like online gaming is taking over the country, and the world too. Across countries, people are now finding ways to spend their time and even earn their living through online gaming and streaming. However, to do so, a normal workstation with standard operating systems like you'd find in a 9-5 office won't do. Absolutely not! 
You need to go one step further. You need to have premium equipment if you're going to be at that workstation 10-12 hours a day! So, we thought we'd help you out in that regard and help you pick up some equipment that can assist you in your gaming/streaming activities. Don't worry, we've got options for all sort of pocket sizes.
Gaming chairs
There's nothing more important than comfort. You can't be seated on an uncomfortable chair for multiple hours if you're working. Gaming chairs are not used just for comfort but are also useful in developing a healthy bodily posture. 
Monitors
Grinding online and have 6-7 open tables at a time? Surely, a normal 14-inch laptop won't help your case in this regard. The bigger the better, while of course keeping in mind the graphics and other specifications.
Headphones
Having good sound quality is of high importance in gaming and also, blocking out the rest of the world may be good at times too! This is especially so if you need to concentrate for long periods of time, like required when you're grinding for long hours each night playing online poker. 
Keypads
Arming yourself with a gaming keyboard, will surely benefit your performance. With a High powered speed and responsive hotkeys at your fingertips, let's just say you will be ahead of everyone in your game-destroying abilities.
Mouse
Gaming mice are ergonomic, they fit right into the palm of your hand. With programmable buttons and heightened sensitivity, It is just what you need for those long nights of intense gaming. Opting for a gaming mouse can offer you various advantages both for gaming and for work purpose. 
Mouse Pads
For all the times that you have had to pick up your mouse and centre it again, really throws you off your game. Specially when a game requires quick movements. Well, a gaming mouse pad is just what you need. It is larger and better in every aspect compared to your regular mouse pads. It also allows your mouse to be more responsive, consistent and precise.
For more updates and the best offers for active gamers in and around the country, stay tuned to GutshotMagazine.com. 
---
---
Comments