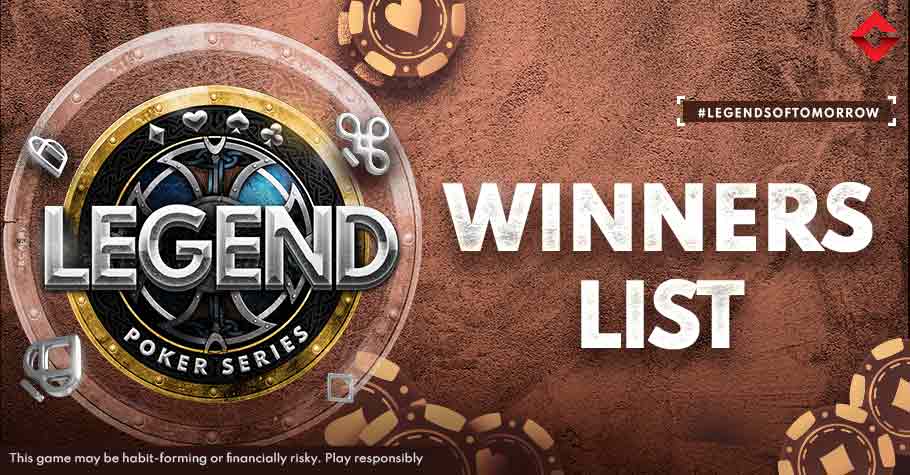 Poker
---
Legend – List Of Winners
Day 18
Legend #107 – 15 Lakh GTD – Mithun Mahesh – ₹3,13,242

Legend #108 – 3 Lakh GTD PLO 4 – Rajeshwar Singh – ₹65,861

Legend #109 – 4 Lakh GTD Thunder Day 2 – Peush Singhvi – ₹60,276

Legend #110 – 40 Lakh GTD Sunday Showdown – Sumit Sapra – ₹9,28,315

Legend #111 – 20 Lakh GTD – Karan Radia – ₹3,89,923

Legend #112 – 40 Lakh GTD Sunday Magnate – Ashish Munot – ₹12,26,400

Legend #113 – 25 Lakh GTD Deepstack Turbo – Rubin Labroo – ₹5,12,681

Legend #114 – 2.5 Crore GTD Main Event Day 2 – Dhinesh Kumar – ₹29,91,710
Day 17
Legend #102 – 4 Lakh GTD – Ujjwal Narwal – ₹88,600

Legend #103 – 4 Lakh GTD – Anup Biswas – ₹58,843

Legend #104 –  20 Lakh GTD Saturday Showdown – Avneesh Munjal – ₹3,18,980

Legend #105 – 3.5 Lakh GTD – Abhinay Devarakonda – ₹69,212

Legend #106 – 8 Lakh GTD Monster Stack – Sanchit Pande – ₹1,44,371
Day 16
Legend #95 – 5 Lakh GTD – Onas Malhotra – ₹1,05,750

Legend #96 – 4 Lakh GTD Thunder Day 2 – Ashwani Kumar – ₹64,632

Legend #97 – 40 Lakh GTD Friday Showdown – Vaibhav Sharma – ₹8,02,000

Legend #98 – 15 Lakh GTD – 'MSTHEBOSS' – ₹2,18,689

Legend #99 – 35 Lakh GTD High Roller – Shashank Shekhar – ₹9,58,125

Legend #100 – 1.5 Lakh GTD PLO 6 – Parag Shah – ₹33,342

Legend #101 – 6 Lakh GTD – 'Sweetie12' – ₹1,43,568
Day 15
Legend #89 – 4 Lakh GTD – Siddharth Kadel – ₹84,600

Legend #90 – 3.50 Lakh GTD – Induprakash Mishra – ₹68,562

Legend #91 – 35 Lakh GTD Thursday Showdown – Kumar Vatsal – ₹5,79,190

Legend #92 – 5 Lakh GTD PLO6 Monster Stack – 'DrRoller' – ₹71,608

Legend #93 – 1 Crore GTD Super High Roller – Ritesh Khatwani – ₹27,50,000

Legend #94 – 8 Lakh GTD – Kushal Jain – ₹1,74,435
Day 14
Legend #82 – 5 Lakh GTD – Vimalesh Singh – ₹85,275

Legend #83 – 4 Lakh GTD – 'drilller'- ₹50,969

Legend #84 – 30 Lakh GTD Wednesday Showdown – Wilson Yomso – ₹5,84,700

Legend #85 – 3 Lakh GTD – Jimmy Arora – ₹63,576

Legend #86 – 25 Lakh GTD PLO High Roller – Myron Pereira – ₹4,27,574

Legend #87 – 8 Lakh GTD Deepstack Turbo – Shravan Suresh – ₹2,18,545

Legend #88 – 2.50 Lakh GTD PLO4 Monster Stack – Prithvi Singh – ₹ 34,201
Day 13
Legend #76 – 5 Lakh GTD – Jitin Raj Nath – ₹1,05,750

Legend #77 – 4 Lakh GTD – Arpit Anand Gupta – ₹64,922

Legend #78 – 40 Lakh GTD Tuesday Showdown PKO – 'borntrouble' – ₹3,96,036

Legend #79 – 2 Lakh GTD PLO 6 – '760#####8-8VO3 (myteam)' – ₹51,225

Legend #80 – 20 Lakh GTD Tuesday Magnate – Rubin Labroo – ₹5,10,488

Legend #81 – 8 Lakh GTD – Siddharth Gangwar – ₹1,87,267
Day 12
Legend #71 – 4.50 Lakh GTD – Abhishek Agarwal – ₹ 1,01,004

Legend #72 – 3 Lakh GTD Multi Entry – 'conquerorbhaiya' – ₹67,496

Legend #73 – 20 Lakh GTD Monday Showdown – Amit Kaushik – ₹4,23,322

Legend #74 – 2.50 Lakh GTD – Samay Singh Modi – ₹45,853

Legend #75 – 6 Lakh GTD – Amit Gehani – ₹1,27,518
Day 11
Legend #63 – 15 Lakh GTD – Samay Singh Modi – ₹2,78,762

Legend #64 – 2 Lakh GTD – Induprakash Mishra – ₹38,310

Legend #65 – 4 Lakh GTD – 'Devil_Ghost' – ₹75,560

Legend #66 – 40 Lakh GTD Sunday Showdown – Deepankur Gupta – ₹7,65,165

Legend #67 – 10 Lakh GTD – Samay Singh Modi – ₹1,65,335

Legend #68 – 40 Lakh GTD Sunday Magnate – Vivek Singh – ₹10,65,435

Legend #69 – 25 Lakh GTD Deepstack Turbo – Harsh Karanpuria – ₹4,37,858

Legend #70 – 1 Crore GTD Sterling Day 2 – Harshad Barve – ₹14,65,459
Day 10
Legend #58 – 4.50 Lakh GTD – Dhaval Mudgal – ₹98,030

Legend #59 – 3 Lakh GTD Multi Entry – Peush Singhvi – ₹51,368

Legend #60 – 20 Lakh GTD Saturday Showdown – Wilson Yomso – ₹3,49,080

Legend #61 – 3.5 Lakh GTD – Akshay Joshi – ₹80,581

Legend #62 – 10 Lakh GTD – Pranav Khandalkar – ₹1,98,701
Day 9
Legend #51 – 5 Lakh GTD – Sanchit Pande – ₹99,983

Legend #52 – 4 Lakh Thunder Day 2 – Goverdhan Gurjar – ₹79,510

Legend #53 – 35 Lakh GTD Friday Showdown – Vikhyat Ahlawat – ₹5,56,947

Legend #54 – 15 Lakh GTD – Sunil Singh – ₹2,82,243

Legend #55 – 1.75 Lakh GTD PLO4 – Vishal Adnani – ₹37,397

Legend #56 – 35 Lakh GTD Friday Magnate – Dhinesh Kumar – ₹7,42,996

Legend #57 – 5 Lakh GTD – Aditya Kulkarni – ₹1,05,750
Day 8
Legend #44 – 5 Lakh GTD – Piyush Ravi – ₹94,773
Legend #45 – 30 Lakh GTD Lunar Day 2 – Gaurav Bhutra – ₹5,84,057
Legend #46 – 5 Lakh GTD  – Gaurav Bhutra – ₹82,082
Legend #47 – 35 Lakh GTD Thursday Showdown – Mohommad Azhar – ₹6,91700
Legend $48 – 1.50 Lakh GTD PLO4 – Ravinder Singh – ₹30,308
Legend #49 – 1 Crore GTD High Roller – Mahesh Shyamsundar – ₹23,25,000
Legend #50 – 8 Lakh GTD PKO – Areyann Gurbaxani – ₹1,11,162
Day 7
Legend #38 – 8 Lakh GTD – Abhinay Devarakonda – ₹1,48,612
Legend #39 – 4 Lakh GTD – 'BULL0666' – ₹76,820
Legend #40 – 30 Lakh GTD Wednesday Showdown – Abhinav Iyer – ₹5,84,700
Legend #41 – 5 Lakh GTD PLO4 Bounty – 'anny1984' – ₹64,200
Legend $42 – 25 Lakh GTD Wednesday Magnate – Ashish Ahuja – ₹5,33,722
Legend #43 – 5 Lakh GTD – Mandar Madaye – ₹ 1,25,910
Day 6
Legend #32 – 4 Lakh GTD – Rishabh Harsh – ₹82,052

Legend #33 – 5 Lakh GTD Thunder Day 2 – Jason Fernandes – ₹75,644

Legend #34 – 20 Lakh GTD Tuesday Showdown – Armaan Kochhar – ₹4,14,747

Legend #35 –  2.50 Lakh GTD PLO 4 – 'Leveluno' – ₹51,876

Legend #36 – 25 Lakh GTD Tuesday Magnate – Anujkumar Kodam – ₹6,41,700

Legend #37 – 8 Lakh GTD Monster Stack – Harsh Karanpuria – ₹1,97,628
Day 5
Legend #26 – 4 Lakh GTD – Mohd Asim – ₹79,519

Legend #27 – 4 Lakh GTD Multi Entry – 'CharlieDREW' – ₹84,477

Legend #28 – 20 Lakh GTD Monday Showdown – Anubhav Ray – ₹3,44,645

Legend #29 – 3 Lakh GTD PKO – Samay Singh Modi – ₹30,540

Legend #30 – 15 Lakh GTD Monday Magnate – Rishabh Gupta – ₹4,80,556

Legend #31 – 6 Lakh GTD Turbo – Mandar Madaye – ₹1,24,811
Day 4
Legend #18 – 15 Lakh GTD – Kabir Tandon – ₹3,53,099

Legend #19 – 2.5 Lakh GTD PLO 4 Deepstack – Amit Singh – ₹47,696

Legend #20 – 5 Lakh GTD Thunder Day 2 – Abdul Rashid Shaikh – ₹ 93,401

Legend #21 – 35 Lakh GTD Sunday Showdown – 'mansoon' – ₹8,58,140 

Legend #22 – 10 Lakh GTD – Ganesh Kamat – ₹2,09,112

Legend #23 – 40 Lakh Sunday Magnate – Siddhanth Kripalani – ₹9,72,553

Legend #24 – 25 Lakh Deepstack Turbo – Ritwik Khanna – ₹4,99,918

Legend #25 – 1.5 Crore GTD – Gursimran Brar – ₹26,06,348
Day 3
Legend #13 – 4.5 Lakh GTD – Mayank Maruka – ₹81,882

Legend #14 – 3 Lakh GTD – 'Hemakuna' – ₹56,874

Legend #15 – 20 Lakh GTD Saturday Showdown PKO  – 'guru' – ₹2,00,596

Legend #16 – 4.5 Lakh GTD – 'kidplay05' – ₹68,831

Legend #17 – 8 Lakh GTD – 'sarryu' – ₹1,63,608
Day 2
Legend #7 – 5 Lakh GTD PKO – Akhand Shukla – ₹47,454

Legend #8 – 4 Lakh Thunder – Samay Singh Modi – ₹71,855

Legend #9 – 35 Lakh GTD Friday Showdown – Vikaash Shah – ₹8,03,700

Legend #10 – 15 Lakh GTD Multi Entry – 'nirwalvansh' – ₹1,48,306

Legend #11 – 1.75 Lakh GTD PLO6 – Induprakash Mishra – ₹45,503

Legend #12 – 6 Lakh GTD PKO – 'borntrouble' – ₹76,992
Day 1
Legend #1 – 20 Lakh GTD Genesis – Yash Chitre – ₹2,97,954

Legend #2 – 6 Lakh GTD Thunder – 'bedi' – ₹71,147

Legend #3 – 30 Lakh GTD Thursday Showdown – Abhinav Iyer – ₹5,45,797

Legend #4 –  3 Lakh GTD PLO 4 – Parag Shah – ₹75,708

Legend #5 – 30 Lakh GTD Thursday Magnate High Roller – Himanshu Arora – ₹8,40,344

Legend #6 – 8 Lakh GTD Turbo – Siddhanth Kripalani – ₹2,11,271
Spartan Poker's latest poker series – Legend, is here to make a splash. With over ₹25 Crore in guarantee, this series is here to crown the player on a mission. This series celebrates the #LegendsOfTomorrow, and runs between 24th November to 11th December 2022. It has satellite guarantees worth ₹1.94 Crore and six leaderboards worth ₹75 Lakh. This series on Spartan Poker is your perfect opportunity to bag impressive cash rewards. Spartan Poker's Legend also has a freeroll tournament worth ₹15 Lakh and a game of tickets awarding free tickets to marquee events worth ₹70 Lakh. The players who nail top spots at this event also take home trophies worth ₹20 Lakh. 
For more news and updates, keep reading GutshotMagazine.com. Follow us on Facebook, Instagram, Twitter, and Telegram.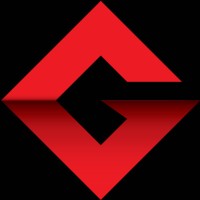 Gutshot Magazine is India's leading real money gaming magazine that covers news, updates, previews, highlights, features and much more across verticals like poker, rummy, and fantasy sports. Our rich history that has spanned over a decade now, Gutshot Magazine has always tied up with events and tournaments that have helped push the awareness of skill gaming in the country. If you are looking for the latest updates across real money gaming, then you have arrived at the perfect destination.
---
---
More News
---
Comments