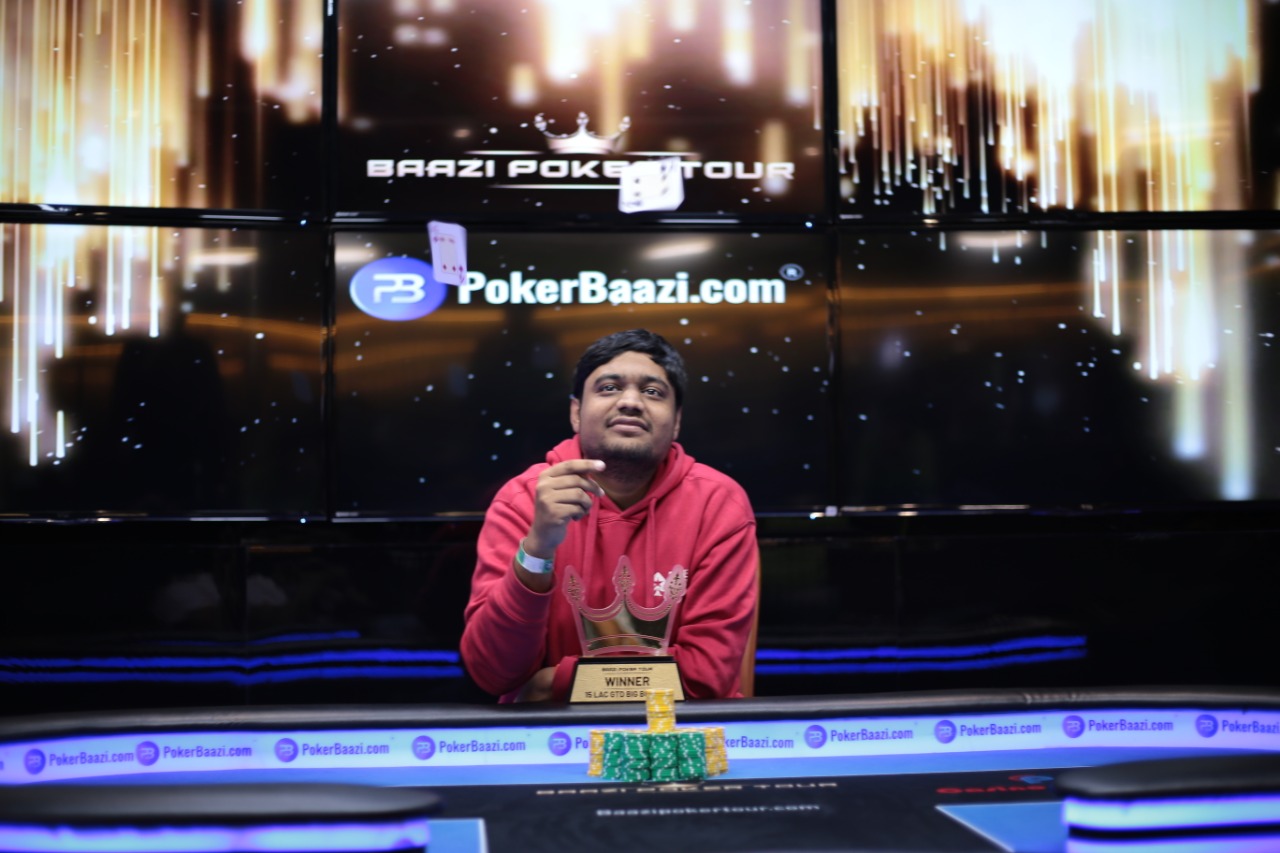 Poker
---
Kshitij Kucheria wins first live title in BPT Big Bounty
The BPT 15k Big Bounty tournament kicked a couple of nights back and by the end of the registration period, we had 193 entries on board the Casino Pride 2 in Goa. It was slightly lower than the 220 entries we got in the October 2019 Bounty Event, which was shipped by Gokul Krishna, but a good turnout nonetheless.
The final day resumed yesterday with 9 players still in contention and it was a really tight final table, with some known pros and some looking to make a name for themselves. Eventually, it was one of the newbies that home all glory as Kshitij Kucheria lifted his first ever live title, winning the Big Bounty tournament for INR 4.7 Lakh.
Gangadhar Raaj was the overnight chip leader but he sadly wasn't able to go on and take home top honours, but there's plenty of the series still left. General Manager – Marketing of Pokerbaazi, Deepanshi Tomar reached heads-up and this is surely one player to watch out for in the future. Here, she took home INR 3.2 Lakh for finishing as runner-up.
Final Table Recap
Play halted last night when the 9-handed final table was set, led by Gangadhar Raaj with a stack of 535,000 chips. The first to exit was Bobbe Suri who was sent out in 9th place by Gangadhar Raaj who extended his chip lead with a Q-high straight over Suri's J-high straight.
Next to go was Abhishek Rathod who shoved with AK and while the table folded, J Raju made the call with pocket Nines. The table fired blanks and Rathod ended as the second casualty of the day, ending in 8th place. The biggest hit on this FT had to be Deepanshi Tomar, who began the day third in chips. She played the hand of the day with just 9-high against J Raju which won her a big pot and attracted everyone's attention.
It was just a few minutes later that Deepanshi went on to eliminate Nishant Sharma in 7th place. Nishant shoved for 215k with pocket Sevens and Tomar called with pocket Queens, only to complete a set on the flop and win the pot. Being short stacked for most of the FT till this stage, Chirag Sodha would've breathed a sigh of relief when he chipped up considerably after knocking out Anmol Srivats in 6th place, with Q9 off-suit vs Q8 off-suit on a bricked board.
Sodha then further strengthened his stack by knocking out Gangadhar Raaj in 5th place, winning with pocket Tens over A9 and ending Raaj's hopes of a BPT title. Quiet so far on the FT, it was Kucheria's time to shine as he hit MMA specialist J Raju out in 4th place, with KQ vs K9, hitting a Queen on the flop itself.
At one stage Sodha was looking set to go on and win it but he dropped in chips and soon found his way out in 3rd place after losing a big pot to Tomar. Down to just 7 BBs, he shoved with 9d5d and got a call from Kucheria, who completed a one-card flush to send Sodha out. Kucheria had a lead of over 2:1 in heads-up but Tomar fought hard to even gain the lead at one stage. Eventually however, she kept dropping chips and the final hand came when Kucheria's Fours stood against her A5!
Final Table Results:
Kshitij Kucheria – INR 4,70,000 (includes 8 bounties)
Deepanshi Tomar – INR 3,22,100 (includes 4 bounties)
Chirag Sodha – INR 2,10,900 (includes 6 bounties)
J. Raju – INR 1,57,000 (includes 4 bounties)
Gangadhar Raaj – INR 1,36,300 (includes 6 bounties)
Anmol Srivats – INR 1,12,500 (includes 6 bounties)
Nishant Sharma – INR 1,10,800 (includes 8 bounties)
Abhishek Rathod – INR 66,200 (includes 2 bounties)
Bobbe Suri – INR 70,400 (includes 6 bounties)
For more updates on the ongoing Baazi Poker Tour, stay tuned to GutshotMagazine.com.
Don't have an account on PokerBaazi? If you wish to play and become a big winner of their massive tournaments and promotions, sign-up now by clicking HERE.
Image courtesy: PokerBaazi
---
---
Comments