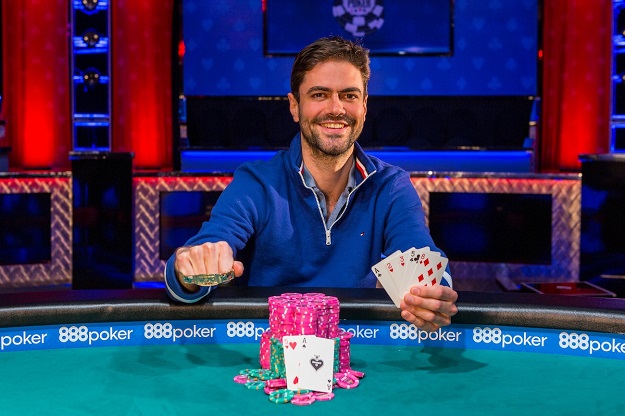 Poker
---
James Obst to quit poker for tennis
Australian poker pro James Obst may have folded his cards for the final time as he recently announced a plan to play for a place at Wimbledon. Known to many as the online MTT star Andy McLEOD, Obst has won multiple titles live and online, including a 2008 WCOOP event and the WSOP's 2017 Razz Championship. However, despite a winning record, the Aussie's exit from this year's Main Event looks to have been his final bad beat.
After making it through to Day 6, Obst lost a pre-flop all-in with pocket aces. With his bullets shot down in 46th place, the tournament veteran took to Twitter to talk about his feelings about poker and life. "Running deep in the Main Event plays funny tricks on your mind. I knew this was likely my last poker series for a long time, so I wanted to enjoy it as much as possible," Obst tweeted on July 11.
Despite going on to say the he had fun at the WSOP, Obst confirmed that he is now looking to pursue a career in tennis. Although he was reluctant to discuss his next move, support from the likes of Shannon Shorr and Adam Levy gave him the confidence to explain his intentions. Much like his attitude to poker, the 28-year-old is aiming for the top and a place in the famous Wimbledon tennis major, "My dream has always been to be a professional tennis player and play at Wimbledon. Despite a wretched history of health problems since I was 16, I've always believed I'd make it eventually," Obst continued.
Poker players and tennis have a long-standing relationship. Brandon Adams, Patrik Antonius and Gus Hansen have all engaged in some high stakes props on the court over the years. However, this will be the first time a pro has retired in pursuit of a tennis career. For Obst, the move is as much about fulfilling a dream as getting his mental state in order. In concluding his tweet, the Adelaide native said that he'd like his experience in poker to serve as a symbol of inspiration for others.
"I'm very passionate about helping poker players who are going through difficult times. I understand clearly the mechanisms by which playing too much poker will trash anyone's hormone panel and, therefore, quality of life," wrote Obst. While the young player's future is up in the air, his message has resonated with the community and those that may be struggling with the inevitable lows associated with poker.
---
---
Comments