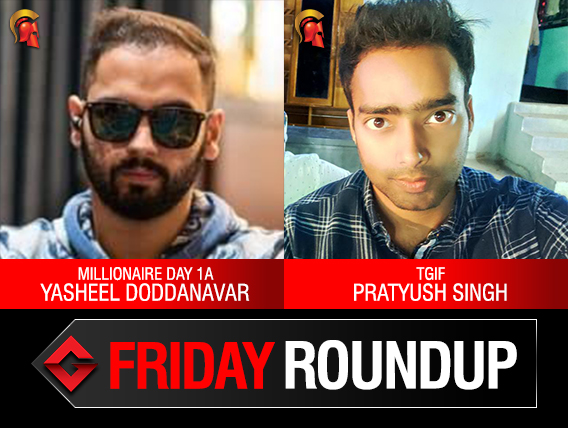 Poker
---
Friday Roundup: Doddanavar, Singh among title winners
The most awaited day for the citizens of the country when the streets of online felts are packed with poker enthusiasts, while the winner takes away the limelight of the night. Yesterday was an added shine as Spartan Poker came up with its daily tournaments TGIF, The Elite followed by The Millionaire – Legends Day 1A. So, grab your seats to have a quick peek into Friday night fever…
Spartan – Millionaire Legends Day 1A
Ever since the commencement of The Millionaire on Spartan Poker, the tournament caught the public eye. As time progress, Spartan keeps growing with popularity, a huge number of enthusiasts eagerly wait to polish their skills in order to challenge the contenders for a neck-to-neck competition.
This time, Spartan will host three editions of Millionaire in a single month – Millionaire Legends, SSS Millionaire and Millionaire X5 which comes in with a combined guarantee of over 4.5 Crores.
A multi-stage tournament which kicked-off the previous night carrying a guarantee of INR 2 Crores with the highest buy-in ever on Spartan Poker of INR 27,500. Day 1A of this legendary tournament halted with the chip leader Yasheel Doddanavar aka 'YagammiLight7' bagging 4.07,316 chips closely followed by Sriharsha Doddapaneni aka 'Fish2050' with 3,96,061 and in the third position rests Aniket Waghmare aka 'Anteman' with 3,36,444 chips.
Date – 8-10 November 2019
GTD – INR 2 Crore GTD
Buy-in – INR 27,500
Total Entries – 320
With total live earnings of over $149k, Doddanavar is a well-known leading player in the poker circuit. One can recall his 1st place finish in 2019 WPT India High Roller in Panjim. Right now, he is representing India in the WPT Vietnam Main Event.
And truly what a night it was! Millionaire Legends was jammed with several notable poker players progressing to Day 2 including Varun Iyer aka 'iamnuts' (3rd), yesterday's PokerStars Highroller champion Rajat Sharma aka 'Garammasala' (8th), Sahil Mahboobani aka 'HomelessOnWiFi' (10th), Rubin Labroo aka 'kornkid' (12th) and so on.
Only a handful of 18 survived the massive field, each advancing will combine with the progressing players from Day 1B and 1C (9th and 10th November respectively) to Day 2.
Spartan – TGIF INR 10 lakhs GTD
And here is the Friday fever! Spartan hosts TGIF INR 10 Lakhs GTD, a featured tournament scheduled for each Friday. The weekend was knocking at the door, recording a huge field. The guarantee, however, managed to slightly surpass and a prize pool was drawn to be shared among the top players. It was 3:40 am, Pratyush Singh aka 'PlayMyWay' walked away with immense glory only after shipping the entire tournament and pushing away the 'Anal-yzer' to the runner-up position. The online grinder, Singh is famous for his top place finishes across various online platforms. And with another accomplishment, he has surely added a good amount to his poker bankroll.
Total Entries – 691
Prize Pool – INR 10,36,500
Places Paid- 63
Min-Cash – INR 4,508
Other notable players Sidharth Karia aka 'schemer77' (10th), Sahil Mahboobani aka 'HomelessOnWifI' (11th), Kanishka Samant aka 'Wildflower' (16th), Chirag Sodha aka 'chilling' (18th), Vivek Singh aka 'KasolHieghts' (34th), Raman Gujral aka 'tathagat' (43rd), Eka Vedantham aka 'gettingthere' (55th) and so on.
Spartan – The Elite INR 25 Lakhs GTD
Spartan hosted another featured tournament, The Elite INR 25 Lakhs GTD for a buy-in of INR 11,000 The day was in favour of 'blindgame' who defeated 'intothepit33' in heads-up battle, holding a 6-2 straight over single pair of 88. The champion wished to stay anonymous but is known for his remarkable finishes across various online platforms.
Total Entries – 285
Prize Pool – INR 2,850,000
Places Paid- 27
Min-Cash – INR 28,500
PokerBaazi – FRI-YAY INR 10 Lakhs GTD
Each player chipped in INR 4,400 buy-in to enter the tournament at 8 pm. It was Jitendra Gadhwal aka 'Jeet0' shipping the Friday's featured tournament on Pokerbaazi, walking away with INR 2,20,920 after defeating 'Clearsky' in heads-up. The runner-up managed to bag INR 1,54,644.
Total Entries – 359
Prize Pool – INR 10,52,000
Places Paid- 45
Min-Cash – INR 5,891
The tournament shared the prize pool among the top finishers including Kanishka Samant aka 'Highness' (10th), Siddhant Kapoor aka 'Bullzeye' (13rd), Thursday night's winner Gaurav Sood aka 'gaug17' (16th), Jayjit Ray aka 'england' (17th), Rubin Labroo aka 'kornkid' (19th), Sandeep Verma aka 'effuno' (37th) and so on.
PokerStars – Uppercut INR 10 Lakhs GTD
PokerStars hosted a unique bounty tournament the previous day at 7:30 sharp, and after 7 intense hours of grinding Dhinesh Kumar aka 'you3betl4bet' firing 2 shots, won the entire tournament defeating 'abhi58' in the heads-up battle. Kumar took home an entire amount of INR 1.17 Lakhs as first-place prize money!
Total Entries – 271
Prize Pool – INR 10,84,000
Places Paid- 47
Min-Cash – INR 3,641
Other notable players to receive a paycheck include Rubin Labroo aka 'kornkid4' (8th), Ashish Ahuja aka 'Spewushhhiiiii' (7th), Honey Bijlani aka 'h09ey' (28th), Shardul Parthasarathi aka 'merci999' (40th), Sagar Choudhury aka 'sagarpupull' (44th) and so on.
9stacks – StackUp INR 2.5 Lakhs
The tournament kicked off at 7:59 pm on Friday night and each player entered for a buy-in of INR 1,650. Topping the field and claiming the day was 'Luxcozii' on 9stacks UpStack INR 2.5 Lakhs GTD adding a valuable title to his poker career after walking away with INR 67,500, while the runner-up settled for INR 47,500.
Total Entries – 117
Prize Pool – INR 2,50,000
Places Paid- 15
Min-Cash – INR 3,500
Other notable players include Himanshu Arora aka 'cosmos21' (3rd), Harsh Bubna aka 'harsh1327' (7th) and so on. For latest updates on live and online poker tournaments keep reading GutshotMagazine.com and stay tuned!

Check out our online poker rooms section, where you can read reviews on the biggest and best poker rooms in the country, while also taking advantage of their bonuses nd promotions. Check out these top poker rooms HERE.
---
---
Comments