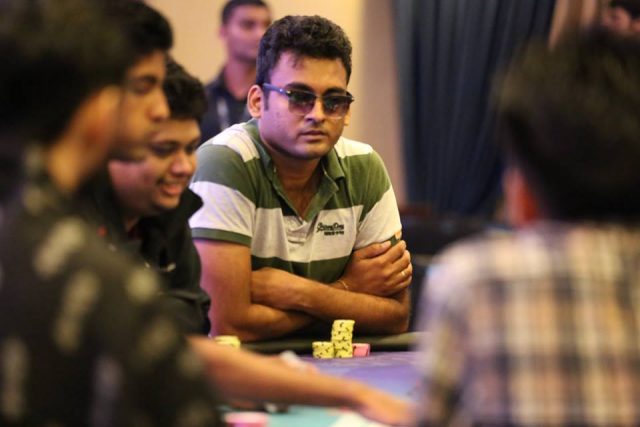 Poker
---
Deepak Bothra is 10th Destiny Winner on Spartan
The tenth and final weekly Destiny tournament on The Spartan Poker concluded last night and now these 10 winners/finalists are set to participate in the Destiny 3.0 SnG Finale on 7th January 2018. Yesterday's 'Destiny' saw Deepak Bothra emerging as champion, with the tournament ending after 5:00 am on 4th January. Deepak plays under the handle 'chimpoo' and he beat a total of 489 entries to claim the tournament for an amount of INR 6,62,500 as first place prize.
He also receives a ticket worth INR 1 lakh into the afore-mentioned Destiny SnG Finale, where the winner will get a massive INR 10 lakh package trip to Las Vegas. It's a dream package for the finale winner which includes $10,000 in tournament buy-in, return flight tickets to Las Vegas and of course hotel stay for the duration.
The weekly Destiny tournament had a total guaranteed prize pool of INR 25,00,000 and prizes went out to the top 40 places, with the minimum cash prize being INR 15,000. It ended at Level #54 when the blinds were running at 80,000-1,60,000 plus 20,000 in antes. 'chimpoo' faced Syed Saif Ahmed a.k.a. '9high' in heads up, with the former holding a big chip advantage (5 million over 2 million) as they went into what turned out to be the final hand. 'chimpoo' held 9-A and '9high' went all-in after both players posted the ante and the blinds, whilst holding 7-J.
The table provided no additional assistance to either player, with the flop opening 10-K-5, followed by 2 on the turn and Q on the river. And with the final card on 5th street, Deepak 'chimpoo' Bothra won the hand with Ace high and walked away with the top prize, while '9high' bagged a second place prize of INR 4,12,500.
This isn't the first time Deepak Bothra has shipped a big tournament. In fact he has replicated his win in the Destiny series. It was only a few months back when Bothra took down a Destiny tournament in the Destiny 2.0 series held on The Spartan Poker, where he won a prize of INR 4 lakhs, along with an INR 1 lakh ticket to the finale. Gutshot spoke to Deepak after this big win and here are the excerpts from that conversation:
Describe your overall tournament experience.
It was really good playing the tournament. It was deep enough till heads up.
Since you have won a Destiny title in the past, was it easy for you to claim it again?
I love both destiny and PLO highroller tournament. I ran deep almost every one of them. I won Destiny in Destiny 2.0 as well. This time also I made to the final 10 like 2-3 times so yeah it becomes easier. Plus, Destiny gives a chance to play SnG for Vegas and despite this being my dream to play in WSOP, I don't think I will ever play WSOP with my own money hence this gives extra motivation to qualify through SnG.
Were there any particular turning points in the tournament where you felt that you could win it?
When I entered the final table I was 5/8, I got a big double up JJ>33 and went to top 2 stacks and then I felt that I will surely make it to the top 3 and have an awesome chance to ship.
Any key hands from the final table/heads up?
In the final table I got lucky by winning a big pot QQ>JJ blind vs blind and was a huge chip leader, giving me a strong chance of shipping the tournament. Heads up was very deep, we both had an average stack of over 50bb and it was pretty swingy and went on for more than hour. I finally won with a9>j7.
What do you plan to do with this money?
I just got a new laptop so I guess it was sponsored by Destiny, but as usual tournaments have a huge variance and big wins help cover that so this adds up to my tournament bankroll.
7th January will see a showdown between the ten winners of Destiny 3.0. Keep an eye out on GutshotMagazine.com for all further updates and tournament news!
---
---
Comments