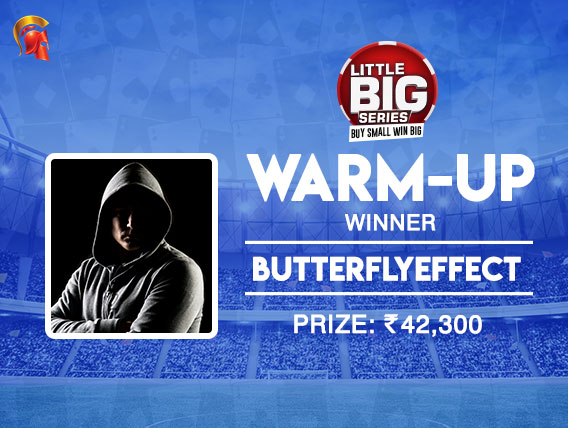 Poker
---
'Butterflyeffect' wins Warmup event at Spartan's LBS
"Buy small Win big!" is the tagline for the ongoing Little Big Series at The Spartan Poker. And true to its word, there was plenty of value for players participating in this 4-day series which features tournament buy-ins of the smaller size but healthy payouts nonetheless. And last evening's big tournament of the day was the LBS Warm Up which was won by 'butterflyeffect'. 
Before we get to coverage of the Warmup tournament, let's take a look at the other tournaments that took place earlier in the day:-
LBS Event #9
The first tournament on Saturday took off at 2:00 pm in the afternoon which featured a buy-in of Rs.110 and promised players of guarantee of Rs.60,000. This rebuy-addon tournament drew a massive 603 entries taking the prizepool to Rs.60,300.
Eventually headsup battle took place between 'shiv1995' who knocked out 'beatthefish66' in heads-up to claim first place prize of Rs.13,356. shiv1995 made a flush with 5s 8s on a board of 9d 2s 9s Js Qd against the two pair, Jacks and Nines, of beatthefish66 (Jd Kd). beatthefish66 took home second place payout of Rs.9015.
LBS Event #10
The second event of the day was a Rs. 15,000 guaranteed Progressive Knockout (PKO) tournament with re-entries. 227 entries ponied up Rs.330 as their buyin. 31 players got paid out and heads-up took place between 'Bubbleboy' and online reg Anirban 'pokernoob' Das.
In level 38 with blinds at 9000–18,000–2250, pokernoob raised to 27,000 which was flatcalled by Bubbleboy. On the flop of 7d Kh 6c, Bubbleboy checked and pokernoob fired 57,375 which was once again flatcalled by Bubbleboy. 8c on the turn had Bubbleboy reraising all-in which was called by pokernoob. Bubbleboy held 4c 5d and made a straight on the turn card and was well ahead of pokernoob's King pair (8h Kd). The river was another Eight and that put paid to any hopes for pokernoob in this tournament. For the win, Bubbleboy made Rs.10,575 while Pocono took home Rs.7,120 for second place. 
LBS event #11
The penultimate event of Saturday was another Rs.50,000 guaranteed prizepool which featured a buy-in of Rs.330. However this tournament was different from the previous one as this was a freezeout event which drew 167 players to participate swelling up the prizepool to Rs.55,000. 23 places got paid a minimum sum of Rs.638.
The two players who battled it out for the title were 'Luckyguy' who held 2:1 lead over his opponent 'Raj1702'. In the final hand of the tournament, Luckyguy called the all-in of Raj1702 and was leading with Ad Js versus his opponents 3s Jh. Neither player hit anything on the board of 5d Ts 4s Kc 9d and with that Ace high card, Luckyguy claimed the pot and the title in this tournament. The first place prize was Rs.12,788 while second place price was Rs.8663.
LBS event #12
And with that we came to the final event of the evening which was the highlight of Saturday's Little Big Series action. Event #12 featured a buy-in of Rs.550 in a re-entry format which promised a guarantee of Rs.200,000.
From the 395 entries that took part, 31 places got paid with a min-cash of Rs.1760 going to this money finishers. The battle for the title took place between 'butterflyeffect' who had a stack of 2.8 million chips versus 'dickhead' who had a stack of 1.05 million chips. It was a pre-flop all-in situation after dickhead moved all his chips into the middle following butterfly effects pre-flop raise. dickhead had Big Slick (Kc Ah) against butterflyeffect's 9c 6d. However despite his dominating hand pre-flop everything changed when the board opened up 6c 2c 5d 2s Tc. And with that board, butterflyeffect scored two pairs, Sixes and Twos and took down the title of LBS warmup against dickhead's pair of Twos. butterflyeffect was the big winner of the day having won Rs.42,300 for the win and dickhead would have to settle for the runner-up purse of Rs. 28,480.
And that was the roundup of Day 3 action at yesterday's Little Big Series lineup. Stay tuned for our coverage from the LBS's final day of action which takes place on Sunday and we will bring you all the information including who has won the LBS Main Event as well as who has topped the LBS leaderboard right here at GutshotMagazine.com.
---
---
Comments