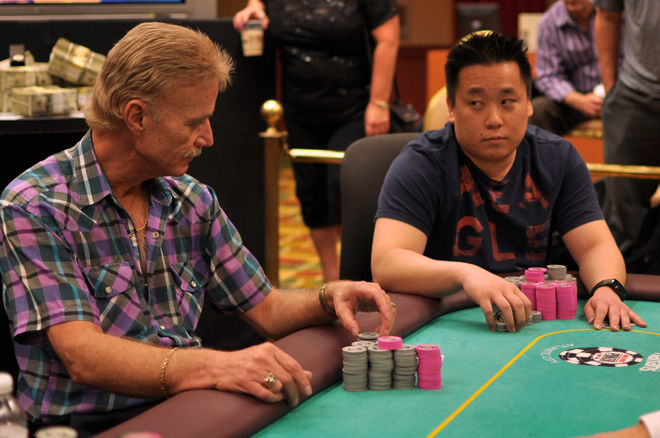 Poker
---
5 Ways You Can Learn How to Read Your Opponent in Poker
When it comes to playing poker, having your opponent's information can be of vital importance.
Here are 5 ways you can read your opponent in poker –
1. Follow the betting pattern – Try following the bet size of your opponents. The ones with less experience will bet big on good cards and small on bad cards. If you can identify a pattern or figure out what your opponent is doing wrong here, it will help you narrow down on their strategy and spot bluffs easily.
2. Keep an ear out for table talk – There is a lot of chatter around the poker table. Some people tend to talk a lot while some prefer keeping quiet. If a chatty guy stops talking, it can be a cue that he's up to something. Some studies also suggest that players with strong hands tend to be more relaxed and open to conversations. If you figure out what tendencies your opponents follow here, you can use it to your advantage.
3. See if your opponents are a little too relaxed – Even good poker players at times, try to overcompensate for bluffing or losing by acting too relaxed. Some players also try to act as though they are not taking the game to seriously. If you spot someone like that at the table, you might want to try and investigate the source of the relaxation.
4. Eye contact – This is a tendency that people have in real life as well as poker. Unless you are playing with poker sharks, people tend to avoid eye contact if they are trying to deceive you. If a person makes direct eye contact for extended periods, he is either bluffing or has a really strong hand. Either way, you will know that you have to careful when that guy plays.
5. Timing habits – Another way to know what your opponent might be up to is by seeing how much time he takes to make his decisions on the poker table. Most people will take time when they are making major moves or betting big. If a person acts too quickly, he is most likely having a weak hand and will fold instantly. If you understand the time variations of your opponent, you can easily make your own decision of betting, folding and raising in the game.
There is a universal way of knowing what your opponent is thinking of different points in the game. If you have any other way of reading your opponent, let us know in the comments section.
Get latest updates on Poker right in your inbox – Subscribe Now!
---
---
Comments