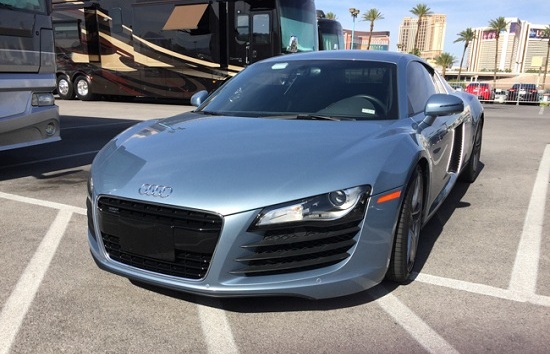 Poker
---
2017 World Series of Poker – Craziest Rides at The VIP Lot
Cars and poker have always shared a special relationship with luxury vehicles often being offered as a prize in various tournaments. There were no cars given away at the WSOP, but that didn't stop the players from parking some impressive rides       
If you are a car enthusiast, then the World Series of Poker parking lot is your Disneyland. Each year the VIP parking lot at WSOP features the most expensive cars that you can purchase. It's a massive stretch littered with A-class sedans, Electric cars, SUV's and even RV's. These are the cars you don't get to see every day! Take a look at some of these below.
Audi R8
Tony Stark's ride. A 5.2-liter dual injection V10 engine with a horsepower of 540 bhp and a virtual cockpit powered by Audi, guaranteed to get you from 0 to 60 in 3.5 seconds, the Audi R8 will make sure you make it to the game without missing a single blind.
Cadillac Escalade
Do you need more room? If you are the kind of guy who likes big cars, then this beast will certainly get you going. A car too powerful to ignore. The expression of ambition on the grandest scale. The 10-speed transmission lets you command every mile.
Mercedes GLS-Class
Is the Escalade too big for you? Then you might wanna check out the Mercedes GLS-Class. It's got Mercedes 4MATIC all-wheel drive and fits seven people at once. Classy plus Dapper, this car is the perfect blend of both.
Mercedes S-Class
Do you prefer sedan's more than SUV's? Luxury and Style over built. Then go for the Mercedes S-Class in a rare lunar blue colour.
Range Rover
Ah! The legendary Range Rover. Choice of celebs and athletes alike. This mammoth vehicle will make sure you arrive in style.
Dodge Challenger
Are you more of a Dom than a Bryan? Here's some American Muscle for you, best-in-class, stylish, built with low-pro tires that definitely stand out. It's got a sound that reverberates through ages.
Rolls-Royce Phantom
The car of Royals. Probably the most expensive car on the list. Arrive in 'baller' style.
RV
Can't do a piece about vehicles at the World Series of Poker without mentioning this giant of a vehicle. Several high-stakes poker pros have rented RVs for the summer so that they can come back and chill on breaks. They are extremely expensive and rented by only the high-rolling pros at WSOP. Here, you get to see these RV's rented and owned by some of the celebrities of Bollywood.
Get latest updates on poker right in your inbox, by subscribing to GutshotMagazine.com now!
---
---
Comments