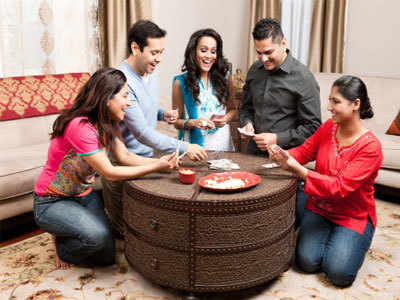 Rummy
Online Rummy: Can I play with my friends?

by Team Gutshot
Posted on 07 Oct, 2020
Is it really possible? Can I play online rummy on the same table with my friends? These are common questions online rummy enthusiasts have.
And just in case it is someone who is newly switching from real-time rummy to online rummy, these questions and similar ones are bound to arise.
Many offline rummy players love to play the game with a bunch of known buddies. In fact, they say people even form life-long friendships and alliances over card tables. The rummy table is a great space for forging these friendships and also for sharpening the game amidst a safe setting…after all one knows everyone at then table. Why even be concerned?
Once online rummy came into the market, these real-time, offline rummy players have been sorely tempted! A number of them say that they like the idea of playing rummy online or on their mobile devices. Especially since the pandemic, interest levels are peaking in these not-yet-online rummy aficionados.
But the questions remain.
The online versions appear drastically different form the cozy rummy card tables they thrive on and are so familiar with!
This question assumed great significance for online rummy companies who were keen on encouraging diversity in their player demographics.
And that's when the online rummy sites brought in a solution so people can play with their friends. Some call it the 'multiplayer' mode, while others promote it as a 'Refer a friend' program. Whatever the name, here is how the multiplayer mode answers many of the questions on playing with friends:
· Most online rummy sites have this option of inviting friends to the online rummy game
· This facility is available be it in the desktop version or the mobile version or the app version
· It is unavailable only when one plays the offline version
· Invitations to play can be extended across the world. Players can refer friends and invite them whether they are in the same city or a continent away!
· Most online rummy sites have an intuitive interface – it means that the screen and the buttons on it are easy to understand and use. So, it's comfortable for any player to play the game with friends!
· The level of difficulty can be easily adjusted. On the screen where players see the rummy card table, it is possible to choose the rummy type or variant, no of players and such details
· Rummy Rules also can be customized with numerous options in most sites. This is a facility that may not be easily managed on a real-time card table
Eventually, with all these facilities, online rummy can feel like the real-life card game! The same atmosphere of rummy-at-home and the same friends are waiting online as well. Don't let the pandemic's social-distancing norms bother your game now!
---
---
More News
---
Comments