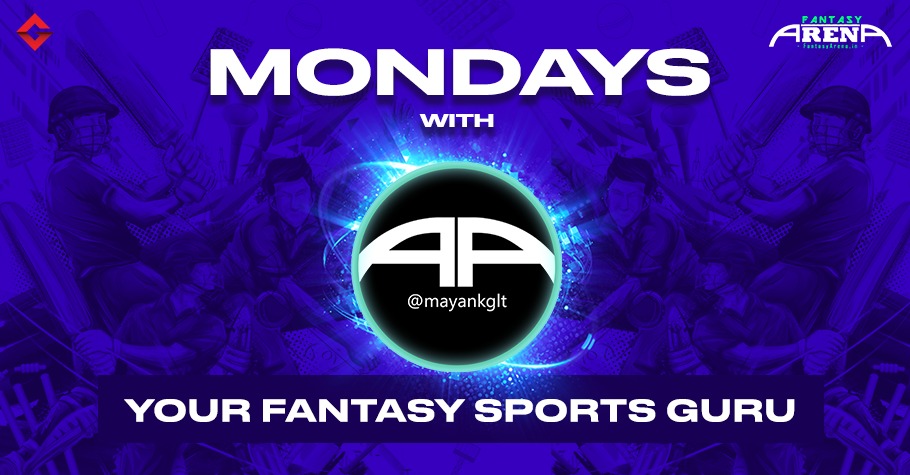 Fantasy sports
Mondays With Mayank – How To Choose The Top 11?

by Gutshot Editorial
Posted on 14 Dec, 2020
Our star Fantasy Sports Analyst, Mayank will be giving you a few expert tips to form a team of the best 11. Team formation in cricket is an endless topic. It has a very vast scope, especially in India. But why did we choose Mayank to answer your fantasy sports questions?
He is the founder of the brand FantasyArena. Mayank aka mayankglt, a Fantasy Sports Analyst runs a successful YouTube channel with 1,20,000+ subscribers. He has created a virtual family of fantasy sports lovers and here are a few tips that he insists one must know before choosing the top 11: 
There are 22 players who play a certain cricket match. We assume that Team A is playing against Team B.
Four major formats:
Test Match (4/5 day Cricket)
 50 Over Matches (50 over a side)
 T20 Matches (20 over a side)
 T10 Matches (10 overs a side) (rapidly growing format)
Steps to follow:
 Create a Social Media Account- Yes, on Twitter, Facebook, Instagram etc.
Follow the official (verified) Twitter, Facebook, Instagram, etc handles of both the teams and the players
Keep an eye on practice matches of both teams before the tournament starts. This will help you understand the scores that players individually make during practice sessions, their batting and bowling order. Many official social media handles do update about players injury status, practice match scorecard, probable playing 11, and other information like press conferences, interviews, etc. This will surely help you get an insight into what's happening. 
Weather Conditions
Make notes for weather conditions. Yes, swing bowlers enjoy windy, cold conditions, Eg. Bhuvneshwar Kumar is a swing bowler who could utilize such conditions.
This completes a basic overview of the match and you are now aware of the recent form of the players.
Pitch Conditions
Fresh grass with a tint of green helps pace bowlers use the pitch to their advantage to seam the bowl (eg. Mohammed Shami is both a swing and seam bowler but more of a seam bowler). Broaden cracks are the kind of pitches where spinners usually tend to make an impact.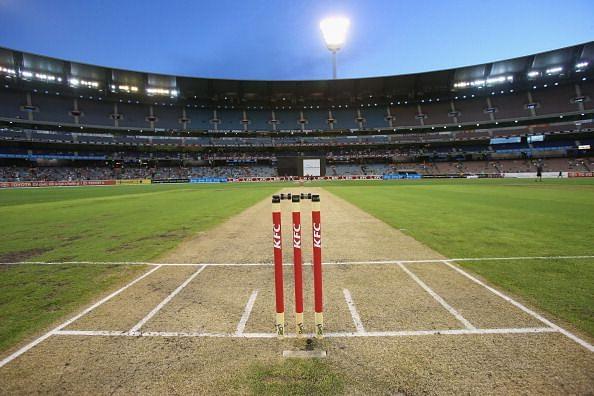 Venue Records
Some players love certain grounds, whenever they play there, more often than not they end up piling on the runs. Consider this too while picking ur best 11 at those venues, they will score runs in abundance (Eg. Sachin loved the cricket ground in Sydney, has scored his maiden double hundred, overall 3 100+ Scores and 250+).
Head-to-Head Records
Some players love playing against certain oppositions. Eg. Virender Sehwag loved playing against the cricket team of Pakistan and VVS Laksman loved playing against Australia's cricket team.
When you have all the data which includes recent form and the statistical analysis, you will come up with some common players and some uncommon players who will be good in some of the other aspects.
Common players will be the core of your team and could be potential captain/vice-captain choice, while uncommon players are the ones who you can pick to differentiate yourself from the other teams.
In case a player is new, just see his videos of his past domestic performance and you will get an idea of how he performs. To add to that, an all-rounder is an important player so consider all his statistics.
Caution
Fantasy Sports is not a sure shot method to earn your livelihood. Play for fun with extra money but do not invest your hard-earned money. Statistics will not work all the time, but even if you invest wisely, you will profit provided you are consistent, and you do your research well.
Do not play all the matches, and please diversify your investments on apps like Gamezy, BalleBaazi, and Playerzpot. Also, if you think this is too much work, then have a broader mindset because money never comes easy. Invest time and do not just go by fluke. Lastly, you also need luck to go your way, and hence you should pick 1-2 players by your own thought process and gut feeling/intuition.
Finally:
Instead of following all these steps, you can also consider joining FantasyArena (1.21 Lakh Subscribers) & Telegram Channel (60K Subscribers) to discuss with me personally over Instagram/Twitter.
He provides a FREE of cost detailed analysis of matches that he covers where he discusses all these aspects in detail. He has also conducted over INR 1 Million worth of giveaways this IPL season for his channel users (known as #GLTFAMILY). All the knowledge & offers are for FREE & Yes, we are not kidding.
We will soon be conducting a poll on our social media handles so that the fantasy analyst answers all of your queries too. Please send us your comments below. To get a concise idea, about fantasy sports in general, you can take a look at the exclusive interview that Gutshot conducted with Mayank!
---
About the Interviewee: Mayank is a Fantasy Sports lover. He is an engineer by profession and a YouTuber by choice. He has completed Btech in Food technology and also holds an MBA in Operations. He also has an Android App named FantasyArena, check it out!  You can view his Youtube & Telegram channel here. 

---
---
Comments