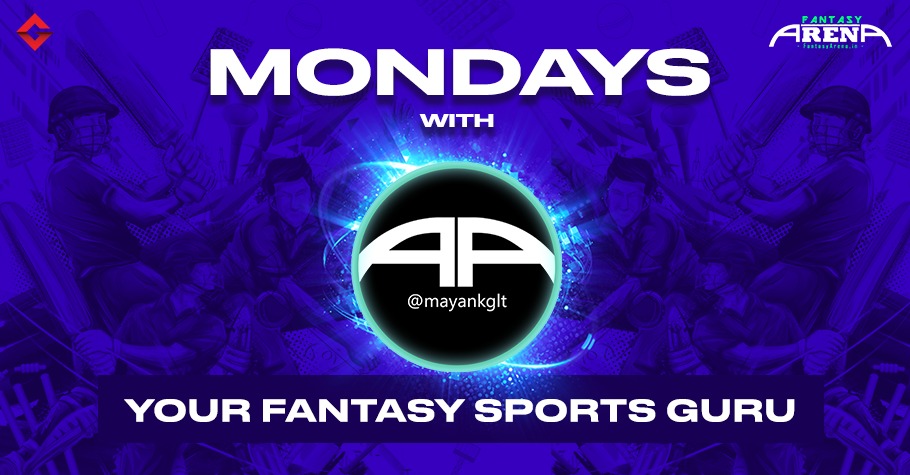 Fantasy sports
Mondays With Mayank – Dream11 Hacks You Must Know

by Gutshot Editorial
Posted on 28 Dec, 2020
Fantasy sports fans, this week on 'Mondays with Mayank' we have covered one of the most important topics, 'Dream11 Hacks.' But why did we choose Mayank? He is a fantasy sports analyst and the founder of the brand FantasyArena. Mayank aka mayankglt, runs a successful YouTube channel with 1,22,000+ subscribers. He has created a virtual family of fantasy sports lovers and is known for giving the best information to his followers. This Monday, he will be giving his insights about the prime fantasy sports application Dream11.
Here are the basic tips that one must surely follow:
If you are a minor, i.e, below 18-years-old, you must never start with fantasy sports. When you start playing on Dream11, or any other fantasy sports app, you must know that this is not a business and are only playing for fun. 
Never invest your hard earned money, because in fantasy sports, winning is never guaranteed. Do not invest money that you will require later. Do not go all-in for a certain match, instead go for a basket of investments. Follow the process and that would itself help you get a decent scheme of profit. 
Making Money on Dream11
You can win lakhs in one match on Dream11. But the winning streak will only last if you apply the right skills. If you focus entirely you will surely make money.
As a beginner on Dream11, you should start by playing practice matches. You should have a back up of at least 10 matches and back up of money so you do not lose the interest to play. 
To begin with, play lesser contests and mainly the ones that are conducted for INR 15, INR 17, etc. This will also help your mental stability and how you respond to winning and losing. When you lose INR 15, you will not be at a big loss. 
If you want to increase your investment by a little amount, start off by investing in Grand League tournaments. In that as well, play the ones where the number of participants is around 10,000 people. Do not begin by competing with lakhs of people as the chances of you winning are very less. 
Diversifying
As a Dream11 investor, you could be a player who only excels in selecting players of one format. When you get to know your strengths, it will be easier for you to pick the players to form a team and eventually win. When you diversify your investment, sport, or format, you minimize the chances of losing. 
You could love playing cricket, but always keep looking for other opportunities. Though cricket is your forte, you could also invest in basketball, soccer, kabaddi, etc. In the aforementioned sports, there are not many competitors. 
Bonuses
Do follow all the social media handles of fantasy platforms. With respect to Dream11, always keep a check on their Twitter account, as they give several bonuses during festive seasons and otherwise also. With the help of these bonuses, you can reduce your investment.  
Lastly, we wish to mention that this is not business. Play and use the experience to earn slowly and steadily. Play fantasy sports for joy and only to earn a side income. 
We will soon conduct a poll on our social media handles so that the fantasy analyst can answer all of your queries. Please send us your comments below. To get a concise idea, about fantasy sports in general, you can take a look at the exclusive interview that Gutshot conducted with Mayank.
---
About the Interviewee: Mayank is a fantasy sports lover. He is an engineer by profession and a YouTuber by choice. He has completed BTech in Food Technology and also holds an MBA in Operations. He also has an Android App named FantasyArena, check it out. You can view his YouTube & Telegram channel HERE.

---
---
Comments