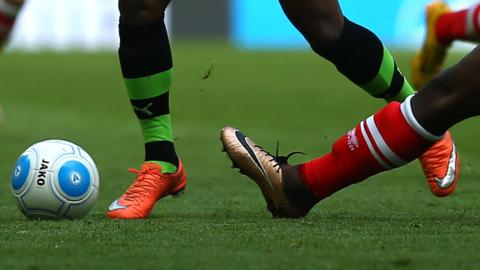 Sports
---
Jaw dropping facts about Football
For years, we have been obsessing about football like it were a personal deal every time our favourite team is playing on the field, and the cheers for our personal legends are as high as the hooting for the opponents. While there are various theories about the origination of the game, what we are keenly interested in learning about is the truth about the game and something which is not known to the masses.
In this article today, Gutshot aims at bringing to you the least known about facts about your favourite game, Football, read along to discover them.
Contrary to the popular Indian belief that Cricket is the most played and watched sport in the world, let us break the myth by letting you know that Football is actually the most played and most watched sport on earth
The largest Football

tournament

held in 1999, consisted of around 5,098 teams with over 35, 000 players playing in the same league
Football players

run

an average of 9.65 kms during every game
The word "soccer" was invented by England. The original version of the word soccer was "Association Football" but it was changed to "Assoc Football". This was changed to "Soccer". In 19th century England, the "-er" was added to words to shorten them
In 1998, an entire football team was wiped away by a lightening that killed each player on the ground. The mishap occurred in Congo during a match between the villages of Bena Tshadi and nearby Basangana.
The professional football ball is 28inches in circumference and has remained exactly the same size and shape for 120 years
After being signed

up

by a Belgian club, a 20-month-old

baby

became the youngest professional soccer player ever.
Diego Maradona, Argentina's retired soccer player has his own religion made by his fans
Soccer player Cristiano Ronaldo opened a museum dedicated to himself in 2013
According to a reliable census, more than 1 in 20 soccer injuries are caused by celebrating goals on the pitch
El Salvador waged war on Honduras after it lost against it in a soccer match in 1969
The difference in Messi's

age

and Ronaldo's age is 869 days, and the same age difference is between Messi's son and Ronaldo's son.
Keep reading GutshotMagazine.com for more 'Football Gyaan' articles.
Check out our online poker rooms section, where you can read reviews on the biggest and best poker rooms in the country, while also taking advantage of their bonuses and promotions. Check out these top poker rooms HERE.
---
---
Comments