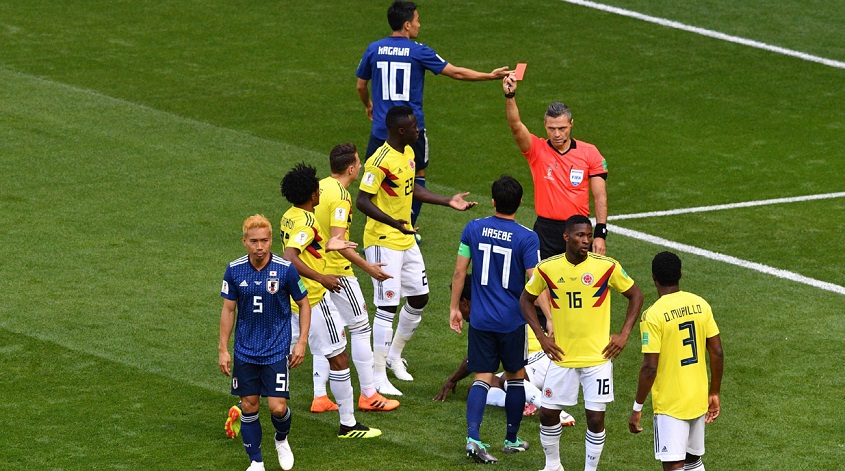 Sports
---
Japan stun Colombia in 2018 FIFA World Cup
It was the worst possible start for Colombia's 2018 FIFA World Cup campaign, losing to Japan 1-2 in their Group H opening fixture. It was the first game of the day and it began horribly for the South American country, losing a player as soon as the game began.
The Japanese striker broke free to get one-on-one with the Colombian goal-keeper. The shot was saved but the keeper was on the ground as a rebound shot was taken and defensive midfielder Carlos Sánchez Moreno tried to repeat what Luis Suarez did in the 2010 World Cup against Ghana, putting out his hand to save the goal. He was shown a red card as early as the 3rd minute of the game.
The move didn't have the same result as that of Suarez, as former Manchester United midfielder Shinji Kagawa took the penalty without any problem. It gave Japan an early lead in the game and put pressure on the pre-match favourites, Colombia, who were down to 10 men.
It was the 39th minute of the game when another controversial moment occurred, with Colombia's Juan Fernando Quintero striking the ball to the Japanese keeper, who saved it, but his body was clearly behind the line at the time of the save. Colombia was awarded the goal and the scores were level 1-1 going in to half-time.
A draw would be what Colombia would've been aiming for being a player down, but Japan struck once again in the 73rd minute, with Yuya Osako heading the ball in off a well delivered corner kick. Japan were better on the day and they deserved 3 points for this effort. Get the full highlights package here:
The first round of group stage games ended yesterday, and we have two more rounds before moving on to the knockout stages. Keep reading GutshotMagazine.com for daily updates and match summaries from the 2018 FIFA World Cup.

---
---
Comments