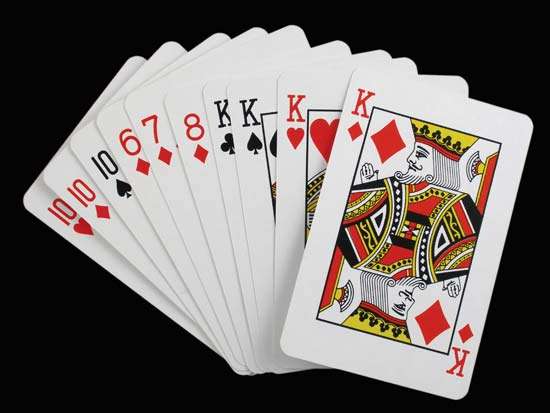 Rummy
---
4 Forms of Indian Rummy
Indian rummy has two variations that is very popularly played 13cards and 21cards, there also many other variations of this game. Each variations has its own set of rules to be followed and played at different fun level. With online game being launched it has become very easy for the card game enthusiasts to enjoy their favourite format or variations of 13 cards rummy. 
The game of rummy is one of the easiest games to play when you need a break. In this article we will talk about 4 exciting variations of rummy that are popular. They are 4main variations Points rummy, Pool rummy, Deals rummy, and Rummy tournaments.
Points Rummy: Points Rummy, also known as Strikes Rummy, is the fastest form of Indian rummy games. Millions of players choose to play this rummy variant as there is lots of scope to win lots of real money in shorted time. The game is very competitive as up to 6 players can play together to earn big money quickly. Players play for a pre-decided monetary value that they assign to each point. The winner of the game takes all the money that his opponents lose during the game. Due to monetary point system, Points Rummy remains a favourite rummy variant among many cash rummy players. Choose any type of Points Rummy games and play to have unlimited fun!
Pool Rummy: Pool rummy is another competitive Indian rummy variant where the prize pool is comparatively bigger than Points Rummy. Players have to pay a fixed entry fee to play the game in order to win the pool prize. The game is quite exhaustive as there is no fixed number of deals. Players are eliminated when they cross a fixed number of points, for example 101 or 201 points pool. In 101 Pool, you can get eliminated if you cross 101 points; and similarly, you will be out of the game if you cross 201 points in 201 Pool Rummy. This game continues till all the players are eliminated and the player with the least number of points win the total pool prize. 201 Pool Rummy takes a bit longer time to finish but you get multiple chances to improve your score throughout the game. In 101 Pool, the action is much faster and you can beat your opponents quickly to win the prize pool.
Deals Rummy: Played for a fixed number of deals, Deals rummy is another exciting variation of Indian Rummy. Usually played for 2, 3, 4 and 6 deals, the winner of each deal wins chips from the losing players. Just like Pool Rummy, players need to pay entry fees, which form the prize pool. The sole player who has the maximum chips at the end of all deals is declared as the winner. Deal Rummy is totally based on skills as you can recover your losing points by beating your opponents over the subsequent deals. If you lose in the first deal, you can get your perfect comeback in the next deal. Due to this factor, Deals Rummy is widely played in special events with bigger prize pools.
Rummy Tournaments: Tournament is probably is most competitive variation of Indian Rummy. Played for up to five rounds, players need to progress to higher stages for winning the prize pool. There are free roll and cash tournaments where players can win free money or win bigger prize pools by paying entry fees. The players with highest number of chips proceed to higher rounds and the top players share the prize pool, according to their position held in the tournaments. Rummy tournaments are so popular that mega tournaments are frequently held online and offline with massive prize pools. Due to this widespread popularity, tournaments are available in almost every online rummy games sites.
Likewise 13cards even 21cards rummy is much popular. The only difference in the game is their rules are quite different from the gameplay of 13 cards where players play with 21 cards in their hand. Three sequences are required to win and the concepts of game like Value Jokers are also used. Apart from the complexities, the game offers a very challenging and exciting experience to the players. The skills required to arrange 21 cards into a valid hand make 21 Cards Rummy the most authentic card game of skill. The chances of winning are completely dependent on the way a player executes his strategies. Due to such factors, 21 Cards Rummy are widely played during festivals among family members and friends.
Keep reading GutshotMagazine.com for similar Rummy Gyaan articles.

---
---
Comments