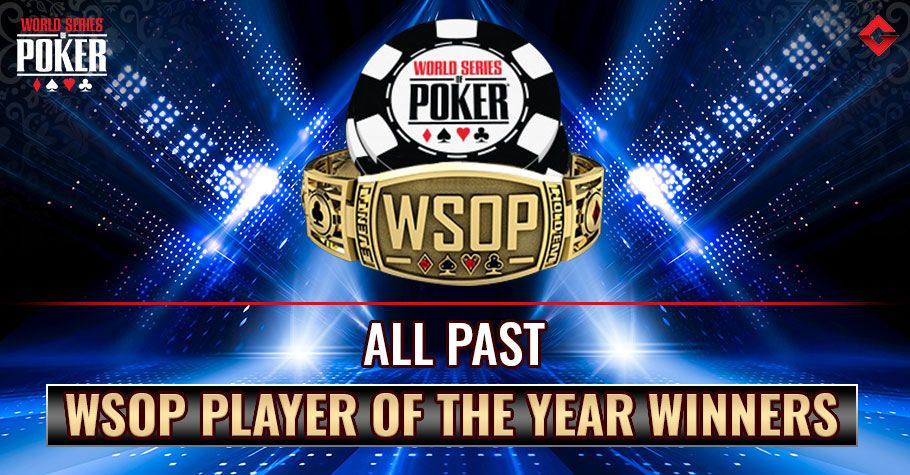 Poker
---
All WSOP Player Of The Year Winners List
Yes, there's a lot of pride and prestige involved with winning a tournament at the World Series of Poker (WSOP). You take home bucket-loads of money, a shiny new gold bracelet, as well as the rights to boast in front of all your poker friends. However, there are many players who play for more than just a title and a bracelet.
There's something called the WSOP Player of the Year (POY) Race where the most consistent players are rewarded for their efforts right through any given series. Similar leaderboard contests apply to most online and live events across the world, but not many are grander than the WSOP POY Race.
All WSOP POY winners
The award has often proved to be a stepping stone to poker greatness for the person who goes on to win. Having its inception since the start of the WSOP 2004 series, the aim of the competition is to crown and felicitate that player who had the best overall series, inclusive of cashes, final tables, and bracelets.
Usually, you'll see the most celebrated poker players going on to win this race, with the first ever WSOP POY Award going to none other than Daniel Negreanu. The man with one of the most poker tournament earnings of all-time along with 6 career bracelets to his name, DNegs is also the only person so far (updated 29th June 2022) to have won the award twice, taking home the title in WSOP 2013 as well.
WSOP POY 2004 – Daniel Negreanu
In the earlier days, the number of tournaments on the WSOP schedule was much lower and Negreanu cashed in as many as six out of the 32 tournaments in WSOP 2004. This includes five final tables and one bracelet, with winnings amounting to $346,280. For winning the WSOP 2004 POY Race, Negreanu was awarded a 2004 Toyota Tundra pickup truck.
WSOP POY 2005 – Allen Cunningham
With 45 events on the schedule this year, Allen Cunningham ended up cashing in five different events, including finishing on the final table of four of those and winning a $1,500 NLHE tournament where the field was as big as 2,305 players. It was the third gold bracelet of his career which helped him get the WSOP 2005 POY title including total series cashes of $1,007,115.
WSOP POY 2006 – Jeff Madsen
His performance was nothing short of excellent in this series. Jeff Madsen announced himself with a bang, winning not one but two bracelets in WSOP 2006. His first victory made him the youngest ever to win a WSOP bracelet at the time, and he had four final table appearances where he finished nothing worse than third in each of them. He bagged $1,467,852 in cashes during the series and won the POY race where Phil Hellmuth ended second.
WSOP POY 2007 – Tom Schneider
A total of just three cashes in the series but they were all three final table finishes including two bracelets – that's what Tom Schneider's stats looked like at WSOP 2007. His victories in the series included the $2,500 Omaha/Seven-Card Stud Hi-Lo and the $1,000 Seven-Card Stud Hi-Lo, amassing as much as $416,829 in the series to win the WSOP 2007 POY Award.
WSOP POY 2008 – Erick Lindgren
This US poker pro has more than $10 million in live cashes today but that series was a turning point for him. He made five cashes at WSOP 2008 including three final table appearances and winning the $5,000 Mixed Hold'em event helped him add a bracelet to his trophy cabinet too. Overall, he won the most POY points in the series apart from $1,358,528 in prizes, and took home top honours!
WSOP POY 2009 – Jeff Lisandro
What a spectacular series this poker player had at WSOP 2009. Jeff Lisandro became the first person since the introduction of the WSOP POY Race to win three bracelets in a single edition of the World Series. He won the $1,500 Seven-Card Stud, the $10,000 Seven-Card Stud Hi-Lo World Championship, and the $2,500 Razz to record as much as $807,521 in winnings from six different cashes in that edition!
WSOP POY 2010 – Frank Kassela
This player from Tennessee today has a little over $3.3 million in live cashes but more than one-third of his winnings came from WSOP 2010 itself. He had a total of six cashes in the series totalling to $1,255,314 in winnings from three final table finishes and two titles – $10,000 Seven-Card Stud Hi-Lo and $2,500 Seven-Card Razz. His performance in this single series cemented his name in WSOP history, though he didn't see too much success in later years!
WSOP POY 2011 – Ben Lamb
This was a breakthrough year for Ben Lamb, getting as many as five cashes in the WSOP 2011 series and all of them ended up being top-12 finishes too. He won the $10,000 PLO Championship, finished runner-up in another $3,000 PLO tournament, and most importantly ended third in the WSOP Main Event that year. The ME win got him the most points on the POY Race, and Phil Hellmuth finished second like he did in WSOP 2006 as well. Lamb cashed for $5,352,970 in this season of the World Series.
WSOP POY 2012 – Greg Merson
Since inception of the WSOP POY Race, this was the first time that the WSOP Main Event winner went on to top the leaderboard as well. Greg Merson won his first bracelet and a 7-figure score in the $10,000 No-Limit Hold'em Six-Max event while getting another whopping $8+ million score after winning the Main Event that year. He bagged $9,785,354 in the series overall and for the third time in his career, Phil Hellmuth ended as runner-up on the WSOP POY Race.
WSOP POY 2013 – Daniel Negreanu
Kid Poker is a legend and it shows as he was back nearly a decade after the first time to win another POY Award at the World Series. It was a magical year for him as he secured a total of ten WSOP cashes. This included two bracelets but none of them were at Las Vegas as he shipped the WSOP Asia-Pacific Main Event and also won the WSOP Europe €25,600 High Roller, with his total cashes for the year at $1,954,054.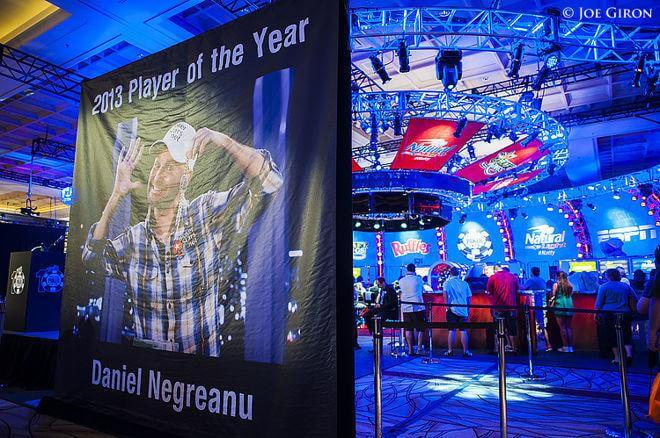 WSOP POY 2014 – George Danzer
After Jeff Lisandro, tis player went on to become just the second WSOP POY winner to have three bracelets in a single edition of the series. He had ten cashes in various events through the year and his three titles included the $10,000 Razz event, the $10,000 Seven-Card Stud Hi-Lo, and the WSOP Asia-Pacific AUD 5,000 8-Game tournament. Overall, he bagged $878,933 in winnings that year.
WSOP POY 2015 – Mike Gorodinsky
Eight cashes and three final tables are what Mike Gorodinsky achieved at the WSOP 2015 series, including winning the super prestigious $50,000 Poker Players Championship for a 7-figure score. His other two final tables also saw deep runs as he finished runner-up in the $10,000 Razz Championship and third in the $5,000 No-Limit Hold'em 6-Handed event. Overall, he won $1,766,487 in WSOP events that season.
WSOP POY 2016 – Jason Mercier
A total of 11 cashes means Jason Mercier had a fabulous WSOP 2016 series, leading to winning the POY Race as well. $10,000 NL 2-7 Draw Lowball Championship and $10,000 H.O.R.S.E. Championship were the two tournaments that he won while he reached two other final tables as well. He won a little less than a million dollars in all these events to win the WSOP POY 2016, with Paul Volpe finishing second.
WSOP POY 2017 – Chris Ferguson
Another very popular name in the international poker industry, Chris Ferguson has been around since forever, and WSOP 2017 will always be a memorable season for him. He was termed the 'King of Cashes' as he ended with 23 cashes in the series including three final tables and one gold bracelet at the €1,650 Pot-Limit Omaha Hi-Lo at WSOP Europe, Rozvadov. His total winnings were $428,423.
WSOP POY 2018 – Shaun Deeb
It's easy to call Shaun Deeb a WSOP legend as he's got a cabinet full of WSOP bracelets. This particular edition was a good one for him as he earned 20 cashes including four final tables and two bracelets, winning the $25,000 Pot-Limit Omaha High Roller and the $10,000 No-Limit Hold'em Six-Handed. Four of his 20 cashes came at WSOP Europe and his combined winnings for the year equalled $2,545,623.
WSOP POY 2019 – Robert Campbell
WSOP 2019 put this Australian poker pro on the global map as he cashed in 13 events through the series, reached five final tables, and won two gold bracelets, which were the first two of his career. $1,500 Limit 2-7 Triple Draw and $10,000 Seven-Card Stud Hi-Lo Championship were his two titles but there was a lot of controversy over his WSOP POY win. A clerical error had initially announced Daniel Negreanu as the winner before it was changed to Campbell. 
Gutshot had an exclusive interview with Campbell after his victory, which you can read about here.
WSOP POY 2020 – CANCELLED
The world had come to a halt in 2020 due to the coronavirus pandemic. Because of this, the WSOP series wasn't held in its usual format, with some part being played online and another part live. Hence, no WSOP POY race was held this year, leading to no winner either.
WSOP POY 2021 – Josh Arieh
Another person with multiple WSOP bracelets, Josh Arieh had 12 cashes right through this series which included five final table finishes and two bracelets too. He ended victorious in the $1,500 Pot-Limit Omaha and the $10,000 Pot-Limit Omaha Hi-Lo Championship, showing his prowess in the PLO format. He also had a deep run in the WSOP 2021 Main Event, finishing 411th. His total cashes in the series was as much as $1,194,061.
WSOP POY 2022 – TBA
The WSOP 2022 series is on in full swing and a number of top poker players are vying for the top spot on the POY Race as well. Gutshot is covering the series on a daily basis and you can check live updates of the WSOP 2022 POY, where Daniel Zack is currently in the lead.
For more similar updates and stories on WSOP history, stay tuned to GutshotMagazine.com…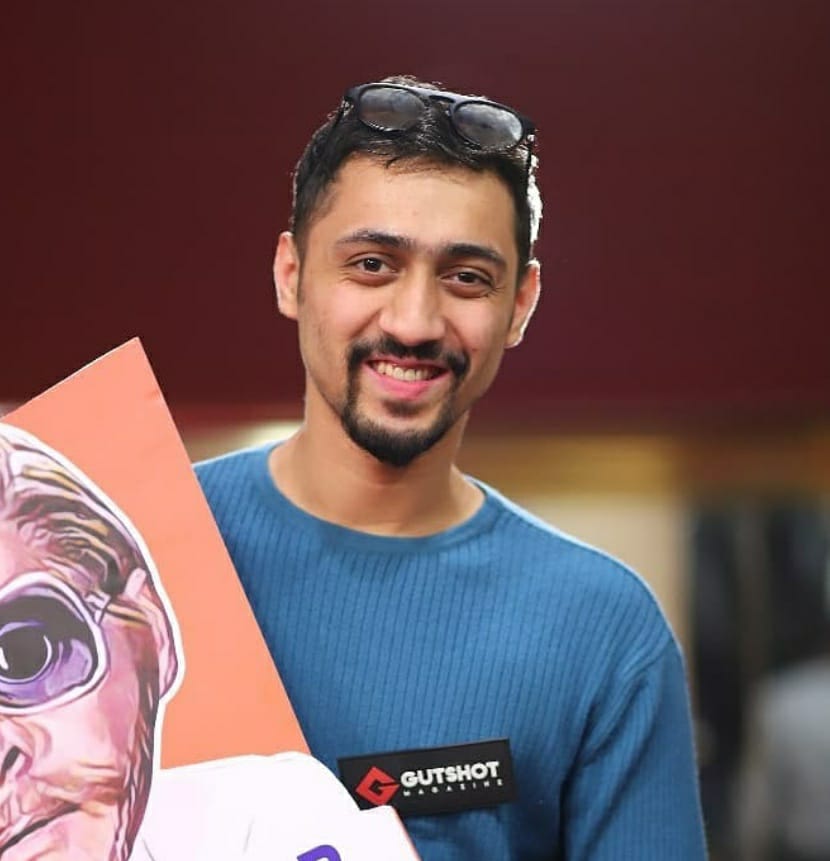 A graduate in Business Management, Dwayne began his career as a content writer for a virtual sports betting company and then for Gutshot too. Now, he heads marketing and business operations at Gutshot and while he's no expert in poker, he enjoys the occasional weekend home games. He was introduced to the industry in 2017 and has made quite a few friends along the way. Outside of poker, he is an avid cricket and sports fan, loves his bikes and of course, a good party! If you want to reach out to him for partnerships and collaborations, feel free to send a message at dwayne@gutshotmagazine.com.
---
---
More News
---
Comments