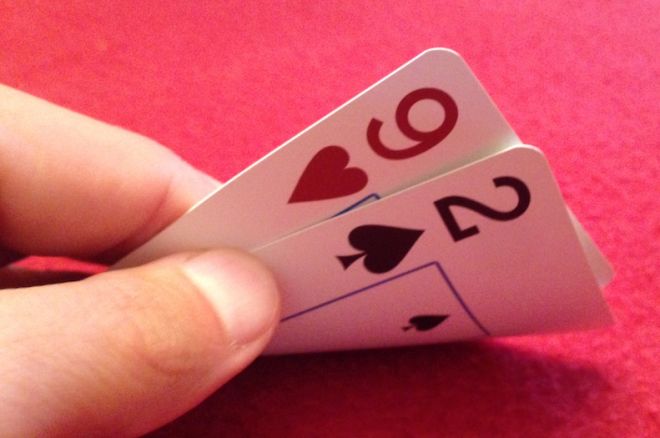 Poker
---
Worst Poker Hands That You Should Fold Pre Flop
How often do we get a set of poker cards that we wish never came our way. Well, in poker, there is no such option where you get to choose the cards. The Random Number Generator (RNG) picks them for you and most of us choose to play them. While some might choose to play the hand till the turn or river, it's definitely not a bad idea to see the flop and fold.
Here are a few poker hands that we would blindly fold without a second thought:
2-7, 2-8:
No matter what online poker tournament you play, everyone gets these cards in the start, middle or at the end. We have played this combo plenty of times hoping for something big, but the end results has always been the same, Fold!
2-9:
A slightly better hand than 2-7 and 2-8, is because it has a 9 instead.
4-8:
If you happen to get these cards which are suited, great. Or else, just get rid of them!
10-2:
If you get these cards, don't give a second thought. Just fold. The cards will form nothing in between and getting a straight or three of a kind seems to be a long shot. These cards are more of a big investment till the river, hence, it's a smart choice to fold.
2-10:
Until and unless you're a professional poker player, this is not a good hand.
Pocket Aces:
Still one of the favourite pairs among poker players across the world, pocket aces also have a reputation for being known as nightmares, especially for newbies. While a smart play will always start with a call or raise with this pair in Hand, a newbie usually goes all in to see this pair unfold in his opponents favour. That being said, the pair could be in your favour depending on which cards open up on the flop.

Face it, you're having a bad day when you see any of these five hands. Poker is a fun game but playing this hand is just asking for a headache. Get latest updates on Online Poker right in your inbox by subscribing to GutshotMagazine.com!
---
---
Comments