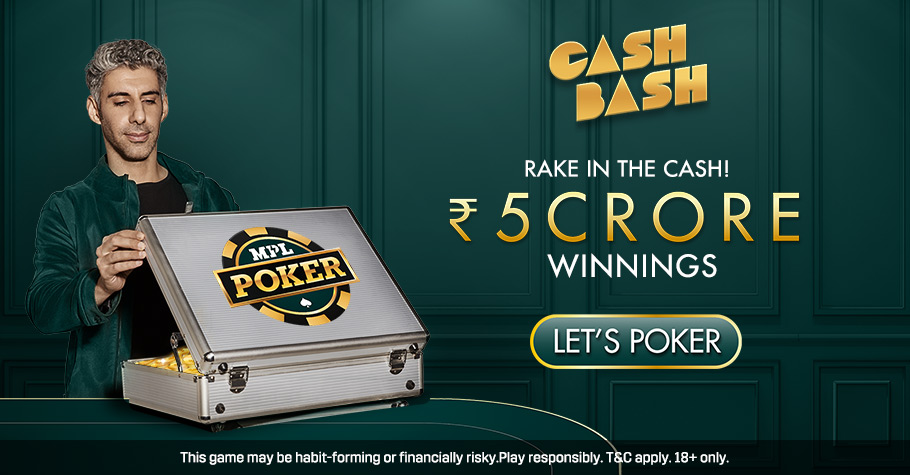 Poker
---
Why Should You Play Cash Games On MPL Poker?
Cash games are filled with excitement, learning, challenges, and rewards. In poker, every player's journey begins on a platform which must be wisely picked. One of the best cash games in the circuit is offered by MPL Poker. Why so? MPL Poker comes from the hood of a reputed multi-gaming firm. The brand is known to offer some of the best online games in town and you don't want to miss them.
Undoubtedly, MPL Poker is your one-stop-shop for ensuring a secure gaming platform whilst earning big bucks. MPL Poker is ready to give you a large percentage of prize money from its ₹5 Crore prize pool, which is basically a rakeback, starting with its current and special promotion called Cash Bash.
This offer requires you to grind at your preferred stake on MPL Poker in order to earn points. With this massive payout, every player has a chance to earn up to ₹20 Lakh, which is effectively a 66% rakeback.
The Cash Bash promotion is already running from 29th March 12 AM IST and will end on 31st April 2023 at 11:59 PM IST. With over 2 Lakh players playing on MPL Poker cash tables, the remaining days of Poker Cash Action will be memorable and highly rewarding.
Reasons to play MPL Poker cash games
With over 25 Lakh players and 26,000 daily active users. MPL has already travelled a long way in creating bonds and trust among players. Players can begin their grind on stakes which start at 0.1/0.2 and go up to 1K/2K.
To win a large sum, start collecting points by playing on several cash game variants like No Limit Hold'em (NLH), Pot-Limit Omaha (PLO), PLO5, PLO5 Run It Twice (RIT), PLO6 and PLO6 RIT. MPL Poker has also released a new desktop application for Windows and iOS to help you play your game without any hassle.
---
Also Read: Why MPL Poker's April 2023 Promotions Can't Be Missed?
---
Remember Siddharth Karia, who was featured on the cover of our April 2021 e-mag issue? He trusts MPL Poker and enjoys playing his favourite stakes on it. Not just him, there are many such poker pro's who are grinding on MPL Poker.
Additional reward
Besides earning rewards by playing on cash tables, you will also receive a 30,000 bonus as part of your welcome bonus. This bonus is only available after signing up on MPL Poker via Gutshot Magazine. 'MPLPOKER' is the sign-up code you must add while registering on the platform.
Players, with this offer you get an opportunity to win big with cash games. Apart from lucrative prize money, there will be a lot of action unfolding on cash tables. So if you want in, just sign up on MPL Poker via Gutshot Magazine and get started.
For more news and updates, keep reading Gutshot Magazine. Follow us on Facebook, Instagram, Twitter, and Telegram.

A young and passionate writer with a postgraduate degree in Radio and Television Journalism from the Indian Institute of Mass Communication, Kumar Shubham works as an Executive Content Writer for Gutshot Magazine and enjoys watching movies, making short films, and doing voice overs.
---
---
More News
---
Comments