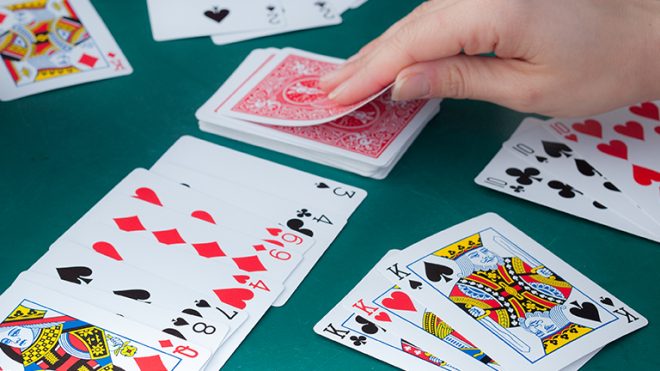 Rummy
---
Why is playing Rummy the perfect end to your weekend
There is no other game like Rummy whose primary purpose is to bring fun on the table. Rummy consists of a pack of 52 cards and three sub-categories of games viz. 13 card points rummy, 13 card deal rummy, and 13 card deals rummy. The game apart from being legalized in India, carries a huge potential for one to win big cash from the table that has space for a number of players. Rummy could be played online, offline and live; in fact, now a days there are professional Rummy tournaments held across the country for entertainment and money making.
Playing Rummy has hidden benefits. Rummy is a game played with skills and hence requires you to put your mind of a pro level usage since you have to analyse the actions of each player on the table, it also helps you sharpen your mathematical skills, apart from technical skills, Rummy also helps you with psychological aspects like mind reading and self-analysis and control by not letting you bring your emotions on the surface and acting calm and patient at every scenario.  
If you or your kids face issues with quick learning, then Rummy might be of a helping hand to you, the game is fun and extremely smooth with understanding and at the same time it challenges an individual to get habitual to practice quick reflexes without getting nervous. Another exemplary lesson that the game offers is academic help to your kids as it is the most fun way to learn quick maths without being made to sit to study but asked to play a game with a setup of colourful cards and unique visuals imprinted on them, the kids might as well want to learn more and better. So, instead of letting your children play with the mobile phones this weekend, make them play an actual game which will not only help them with their academics and physiological development but also make you a cool parent to spend more quality time with 
Rummy is not only a great source of learning for the kids, but also proves to be a wonderful stress reliever within the entire family and your friend circle, what other game will offer you to be wise, fun-loving, entertained and rich at the same time? You can play the game with or without cash involved in it, since the primary purpose of the game as mentioned by us earlier is to fill your weekend with umpteen entertainment which keeps you going for another hectic week but not without joy and refreshment.
Check out our online poker rooms section, where you can read reviews on the biggest and best poker rooms in the country, while also taking advantage of their bonuses and promotions. Check out these top poker rooms HERE.
---
---
Comments