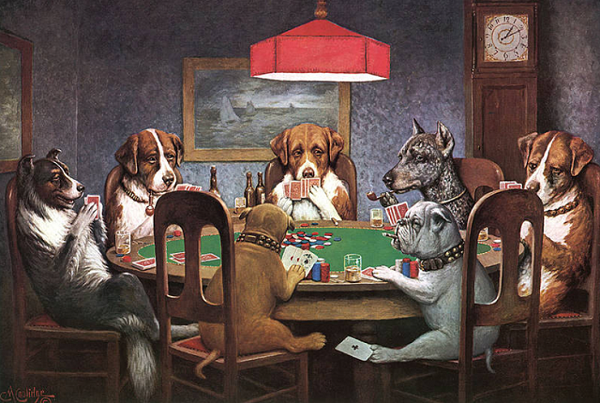 Poker
---
What is your Poker Personality?
Did you know that poker players have a lot in common with animals? A few legendary players have had nicknames of animals attached to their names. If you haven't heard about these names yet, we are here to help you.
Other than Shark poker player and fish poker player, over the years many more animals have made their way into the game of poker. And this is due to the description based on particular hands, games, player types and situations. We have compiled list 10 animals in poker that will tell you which personality you are!
Rabbits – Also called hunters, is when a player in hand who has just been finished without any showdown and asks the dealer to expose the next board card or two. The rabbit players do this normally to check if the incoming cards would've enhanced their hands had they not taken the decision to fold.
Pigs – Players normally make pigs of themselves in the games by striving to details one pot too many relying on how lucky or unlucky they may be.
Ducks – Duck player fare when played heads up pre-flop against one challenger, as they are statistically preferred for winning against every non-paired two card holding
Whales – Only when the player has a lot of disposable income with them is when they come to play poker and you know it's a whale. It is hazardous playing against a whale due to their heavy bankroll size. Knowing that they can re-purchase if they lose, whales do not hesitate to get mixed up in large pots.
Crabs – Just like duck players, Crabs suggest a pocket pair of threes which usually are best folded immediately in multi-way pots. Evidently that may be unless you can limp in for affordable from late position and hit a set.
Donkeys – The donkeys have little to no notion of how to play a game of poker. Frequently, they also make it clear to everyone else sitting at the table both in words and actions. It is an entertainment having a donkey player at the table.
Horse – It is the combination of five poker variations which is Texas Hold'em, Omaha hi-low, Razz, 7-Card Stud and 7-Card Stud hi-low. You need to have great overall poker skills in order to succeed in H.O.R.S.E.
Sharks – The Shark players are said to be greatly talented players who always stay on top of the game's food chain. They are also the most feared animals in poker.
Railbirds – These players are found on the fringes of event fields that are usually rooting on friends or family members who economically have a stake and which are still playing in the competition.
Fish – All poker players used to be a fish previously. A fish's knowledge tends to be basic at best, as they are new and unskilled with the poker game. Everybody understands who the fish are at online poker games.
Now that you know the different animals in poker, feel free to find out which poker personality you are without any further ado! Until then, keep following GutshotMagazine.com for similar 'Poker Gyaan' articles.


Check out our online poker rooms section, where you can read reviews on the biggest and best poker rooms in the country, while also taking advantage of their bonuses and promotions. Check out these top poker rooms HERE.
---
---
Comments