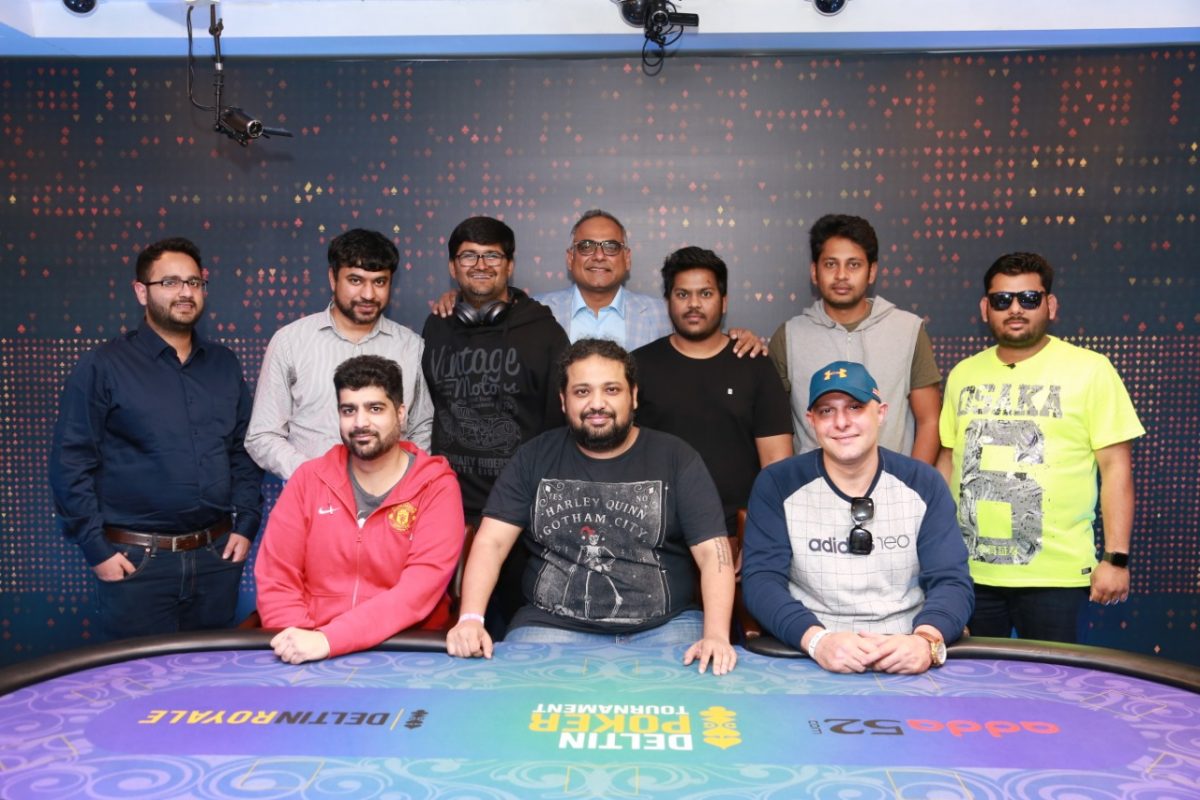 Poker
---
WATCH: Live streaming of DPT Main Event Final Table
The entire poker community will tune in today to find out who will be crowned the champion of the Deltin Poker Tournament (DPT) INR 35k Main Event. We've had three starting flights where a total field of 286 entries registered, boiling down to 108 players by Day 2 and further narrowing down to the 9-handed Final Table last night.
Adda52 is live streaming the Final Table, which begins today at 5pm. and those who will be taking their seats include Dhaval Mudgal (555k), Ankit Kapoor (2.39 million), Arun Karthik (475k), Mayank Jaggi (840k), Rachit Prakash (710k), Dhirajkumar Totala (410k), Ankur Sehgal (1.09 million), Meherzad Munsaf (675k), Sai Raveesh V (1.4 million). Gutshot will also be giving live updates below, for those who missed out on some action.
Check out the live stream here:
10:55pm: It didn't take too long at all to find our winner. Just a few hands into heads-up and Ankit Kapoor has been crowned champion of the February 2019 DPT Main Event. He shoved all-in with AJs and got a call from Mayank Jaggi, who had K8d. He needed to hit one of those cards on the board but failed, as Kapoor completed a Ace-Five straight and was crowned champion. He wins INR 22,50,000 while Jaggi will have to settle for INR 14,80,000.
10:45pm: Heads-up is about to begin. The players take their seats and Kapoor begins with a 2:1 chip lead.
10:25pm: BUSTED! So now, we're down to heads-up. Heading out in 3d place was Rachit Prakash (pictured below) who ended a fantastic run in the DPT Main Event in Goa. He was ahead until the river with a pair of Sevens, but Krusher Kapoor (Ankit) completed a straight on the river to chip up and send Prakash out in 3rd place for a prize of INR 9,55,000. Also, we missed out on the 4th elimination but we can confirm it was Arun Karthik who made way earlier, taking away a handsome prize of INR 7,40,000 after losing to Kapoor as well, who had Queens.
10:05pm: Another one bites the dust. BUSTED! Just a little while back, Ankur Sehgal was crippled having lost a major pot to Mayank Jaggi. Both players hit a flush on the river and Sehgal made the 425k call on the fifth street, losing with a Queen-high flush to Jaggi's King-high flush. A while later, he shoved all-in with Kh 2d and got a call from Ankit Kapoor, who had Ac 6h. The board opened Qc 4c 10s 10c 4s and Kapoor won, sending Sehgal out in 5th place for INR 6,00,000. As for Kapoor, he added some more chips to his towers. 'Krusher Kapoor' they're calling him now!
9:25pm: The blinds have been upped to 30k/60k-60k. BUSTED! Sai Raveesh was playing in his first ever live series and he ends an impressive run on the FT, finishing 6th for INR 4,75,000. Not bad for a first try, eh? Remember, he doesn't even play a lot of online poker. He just prefers live. Ankit Kapoor has 50%+ of the chips in play. He looks good to go on and win it.
8:45pm: BUSTED! The next to head out is Dhirajkumar Totala, who busts in 7th place for INR 3,85,000. The flop opened 4 3 4 and Dhirajkumar shoved all-in with his stack of 440k, which was instantly called by Ankur Sehgal and why not? He had pocket Kings. Dhiraj needed another 3 but he didn't get it with a Q on the turn and A on the river. Sehgal got a very decent addition to his stack.
8:40pm: Rachit Prakash gets a much-needed double up. He has been quiet since a while now, but finally got the chance to play with As 6h. He shoved pre-flop with his 195k, the table folded except for Mayank Jaggi, who called with pocket Fours. The board opened 6d 8h 7s Ah Jc, and Prakash doubled up with Aces and Sixes. He isn't going anywhere as for now.
8:35pm: Ankit Kapoor consolidates his positio at the top, winning a huge pot against Mayank Jaggi. Jaggi had top pair Queen but Kapoor managed to win again by sheer pressure being put by his big stacks. Again, who said you need good cards to win in poker? He now has 41% of chips in play.
8:10pm: BUSTED! Right enough, it was Meherzad Munsaf to bust in 8th place. He waited for an Ace to shove all-in and he did so with A4, getting a call only from Ankur Sehgal, who had K2. Munsaf seemed ready to double after the flop hit blanks for both. However, a King on the turn as well on the river completed trips for Sehgal. Munsaf busts in 8th place for INR 2,95,000.
7:45pm: The players head out on their first 10-minute break of the night. 8 players are still in contention, with Ankit Kapoor still holding the chip lead. He has been playing aggressively and been putting a lot of pressure on the others at the table, while Meherzad Munsaf is hanging on dearly. He has less than 2 BBs at the moment and could possibly be the next to bust. Remember, the 8th place player gets INR 2,95,000.
7:20pm: Meherzad Munsaf loses a big chunk of his stack to Mayank Jaggi. Munsaf was ahead with top pair, Ace against Jaggi's pair of Queens. However, a Ten on the river gave him two pairs, dealing a big blow to Munsaf who folded on the river. The next hand saw Totala double up in a pre-flop all-in against Sai Raveesh. His Ace-high hand was enough against Raveesh's King-high. Approximate chip counts:
Ankit Kapoor – 2.9 million
Mayank Jaggi – 2 million
Sai Raveesh – 1.1 million
Ankur Sehgal – 900k
Dhirajkumar Totala – 810k
Rachit Prakash – 590k
Arun Karthik – 310k
Meherzad Munsaf – 220k
6:55pm: BUSTED! So we have the first elimination on the FT, with Dhaval Mudgal busting to Mayank Jaggi. Mudgal, for the second hand in a row, shoved all-in with Qh Jc, while Jaggi called with Ac Qs. The players revealed their cards, and Mudgal lost to Jaggi's pair of Aces on the 9d 9s 7d 5d As board. He walks away in 9th place for a prize of INR 2,25,000. One of the better players on the FT is out. 8 players in play now. Arun Karthik is still the shortest stack, while Kapoor is still at the top.
6:45pm: Who said you need good cards to win in poker? Ankit Kapoor and Ankur Sehgal were involved in a brilliant hand, both reading each other pretty well through the hand, but the former ending up winning. Kapoor kept raising on a blank board, while Sehgal kept calling with just bottom pair (Two). However, the 225k bet on the river was too much for Sehgal, who folded eventually.
For all those who don't know yet, the first to bust in 9th place will get a prize of INR 2,25,000, but no one wants to go out just as yet. The top prize of INR 22.5 Lakh is what they all want. The blind levels have risen now to 20k/40k along with the 40k BB Ante.
6:25pm: Still no big pots happening. Arun Karthik raised 15k pre-flop with 8T suited and Mayank Jaggi re-raised with pocket Aces, only to see everyone else on the table folding. Karthik's stack is now reduced to 10 Big Blinds. We're seeing a lot of pre-flop raises followed by the rest of the table folding.
6pm: Ankit Kapoor continues to lead with 30% of the chips in play, while Arun Karthik is now the shortest stack on the FT. Players are being careful given that they're still warming their seats. A little bit of chatting at the table. For all who don't know, Dhaval Mudgal and Kapoor are the only two full-time poker pros on this table.
Mudgal happens to be the most experienced live poker player on this Final Table, with $350k+ in live earnings, including his largest win which came recently for shipping the WPT Vietnam Main Event. Mayank Jaggi is the next best with around $85k in live poker earnings.
4:30pm: Play is all set to begin, and as you can see above, Ankit Kapoor will begin with a huge chip lead, with only Sai Raveesh and Ankur Sehgal close to him. However, there are quite a few talented players sitting on the FT and the tables can easily turn. Currently, Dhirajkumar Totala has the shortest stack and it will be interesting to see whether he can stick around for a while.
Out of the 286 entries, only 31 are being paid with the minimum cash prize being INR 75,000. Hardik Shah was the unfortunate bubble boy last night, and when play resumes now, the first to bust will take away INR 2,25,000 for 9th place. However, all of these nine players will only have their eyes on the massive top prize of INR 22,50,000.
(Updates in progress. Keep refreshing for more)
For more news from the Deltin Poker Tournament and other live tournaments in India, keep reading GutshotMagazine.com.

Image courtesy: OnlinePokerNews/Adda52
---
---
Comments