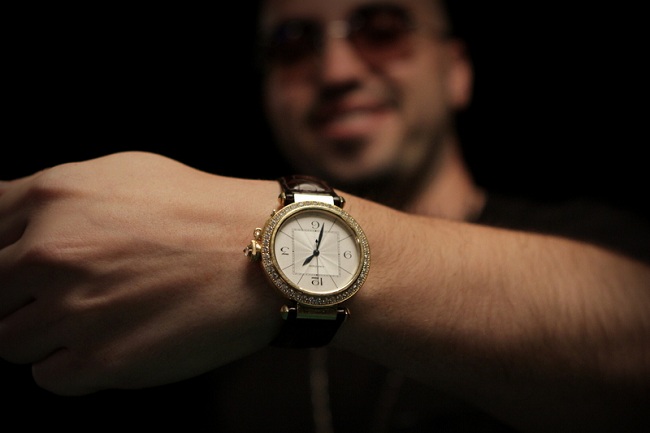 Poker
---
Watch List: High-Stakes Players and Their Luxury Watches
There are only a few forms of acceptable male jewellery and a nice watch certainly is one of them. In fact, it's the most elegant piece of jewellery a man could wear. Watches have been around since World War 1 and the most expensive ones are studded with precious stones and made with intricate detail.
Spending 6 to 7 figures on a watch is unthinkable for some, but for these high-stakes poker players, it's an investment they wear on their wrists. Whether you're a watch aficionado or not, these are some worth checking out! Who knows, maybe you may be wearing one of these someday.
As the old saying goes – boys look at their smartphones to check time – men look at their watches.
Bryn Kenney
Watch: Cartier Pasha de Cartier Diamond Bezel 18K Gold Price: $32,000 USD (20,60,000 INR)
This was the first really expensive watch he had got when he was in the Bahamas and had won $1.35 million (you don't wanna know the amount in INR). So he decided to treat himself with a Cartier because according to him, an expensive watch is like trophy for what you've accomplished. You buy it when you're doing well and in the future you would have something to remember it by. Well said, Bryn.
Eugene Katchalov
Watch: Audemars Piguet Prestige Sports Collection Royal Oak Openworked
Price: $37,000 USD (23,81,875 INR)
A true horological iron. Swiss heritage. Special edition. No wonder it has a price tag as such. The renowned watchmaker, Audemars Piguet (pronounced Andremas Pi-que) has always been known to produce otherworldly watches with unique craftsmanship. For this guy, he likes complicated watches because of the amount of work that has been put into it. He even sells the watches that he no longer wears. That's the great thing about these watches, you can sell them without taking a loss and sometimes you may even get more than what you paid! So even though it might seem crazy to spend this much on a watch, if you can take care of it, you can sell it for more.
Noah Schwartz
Watch: Hublot King Power Unico Ceramic King Gold 48mm
Price: $19,000 USD (12,23,125 INR)
Noah Schwartz is the perfect example of rags to riches. He grew up really poor and couldn't afford luxuries like a watch. When he grew up and started making some real money, he decided to spoil himself a little. Now that he's a watch aficionado, he has some of the best ones. He's in love with the movement, the mechanism and how they work. You'd want to stand out a bit because if you didn't wear a cool watch, life would be boring. "You only live once so enjoy it." His dream is to acquire the many cool timepieces that are out there!
Doug Polk
Watch: Breitling B05 Unitime White Dial Price: $11,500 (7,40,312 INR)
As you can see in the dial, this watch has many different world time zones. So if you're a traveler, you can set it to where you're headed and you're good to go! He's only ever bought two watches and this one is his favorite. He believes that a nice watch is the only acceptable form of male jewelry. In his words, "A nice watch is a nice way to add a bit of style to your wardrobe while still keeping it male-friendly."
John Racener
Watch: Rolex Yacht Master 2 Stainless Steel Price: $17,000 (10,94,375 INR)
When he turned 21 and started travelling on tours he saw all these poker players with nice watches. That's kind of what got him into it. He always thought that when he had a score he would buy one for himself. Initially, he had a few flashy watches, but now that he's settled down, he's switched to Rolexes. He's got the Yatch Master 2 in stainless steel which he wears as an everyday watch. He also has a Rolex Day Date 2 in rose gold with the chocolate dial. He wears that when he's going out to a nice dinner or when he's at the Finals table. He never leaves his house without a watch on his wrist because he feels naked without it.
Get latest updates on Poker right in your inbox – Subscribe Now!
---
---
Comments