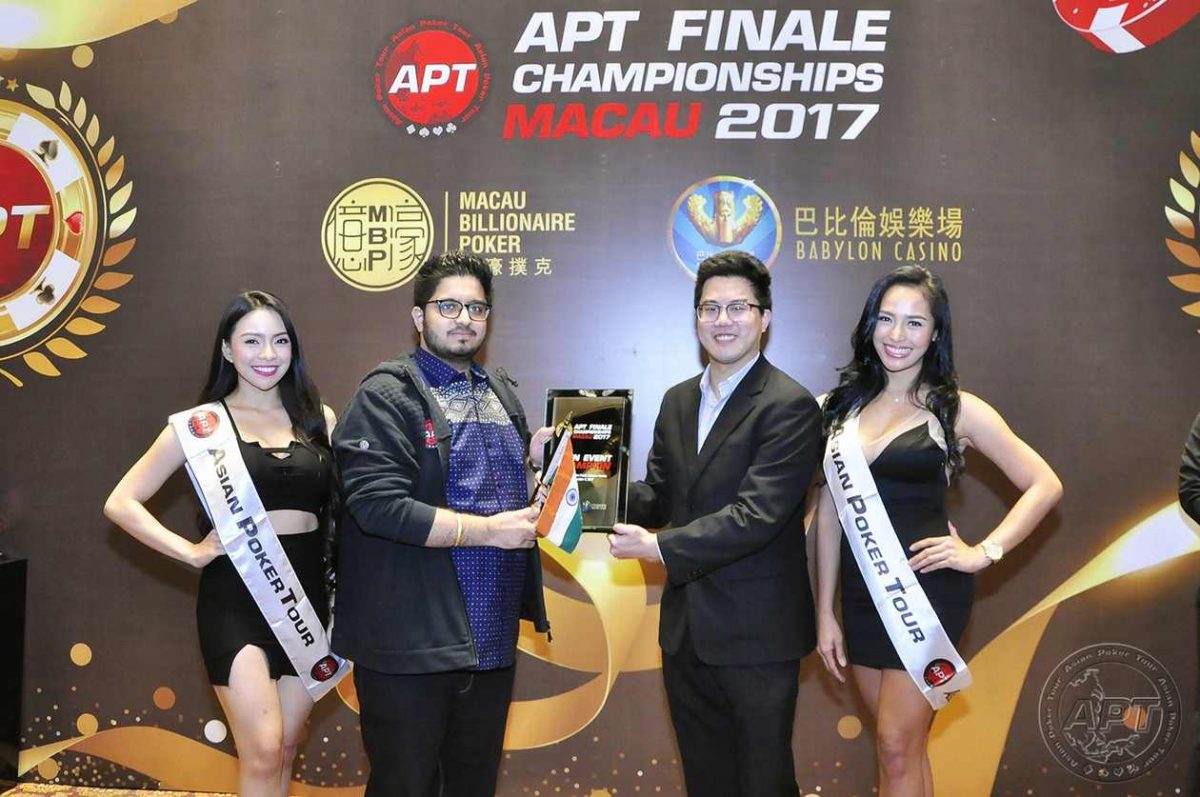 Poker
---
Varun Gupta Wins APT Finale Macau Main Event
It was Day 3 of the Main Event at the APT Finale Macau, and we had the final 8 contenders for the Championship – all reaching this far in the competition for the first time ever. For India, it was a matter of pride as there were two Indians finishing at the top – Kunal Patni crashed out yesterday, with 10th place, while Varun Gupta was ranked 6th of 8 as per chips on Day 3. Chip stacks going into the final day:
Jack En-Ching Wu – 940k (Chinese Taipei)
Shyh Chyn Lim – 687k (Malaysia)
Kai Paulsen – 549k (Norway)
Michael Soyza – 495k (Malaysia)
Austin Walton – 463k (USA)
Varun Gupta – 331k (India)
Anson Wong Fuk On – 247k (Hong Kong)
Luen Hei Kwok – 224k (Hong Kong)
On Day 3, India's Varun Gupta had a lot of work to do if he wanted to be crowned champion, but he seemed determined to do it, coming from behind to win his first APT title (from a total of 157 entries). In fact, he had a bad start to the day, doubling up two short stacks and losing, putting him in the danger zone early on.
However, he then had a few good breaks, putting him back on track. Shyh Chyn Lim from Malaysia was knocked out in 3rd place, putting Gupta into the heads up stage with Chinese Taipei's pro Jack En-Ching Wu; Gupta had 1.6 million chips as compared to Jack's 2.33 million. Jack had far more experience and it was going to be tough for Gupta to prevail as champion on this table.
However, the two cut a deal before they could go on, and Wu was guaranteed a payout of HKD 310,000 while Gupta HKD 280,400, plus an added HKD 20,000 to the winner. In the final hand, both were all in with Wu holding J-10 and Gupta holding K-J. No sequence was made on the table, making Varun the champion due to higher card K!
Although Varun Gupta was crowned champion, Wu ended up leaving with a higher payout, but let's not forget that the boy from India won all the fame, the APT Championship Ring, APT Championship Trophy, and a Meister luxury watch, to go with his winnings of HKD 300,400!
Gutshot would like to congratulate Varun Gupta on this huge win.
---
---
Comments