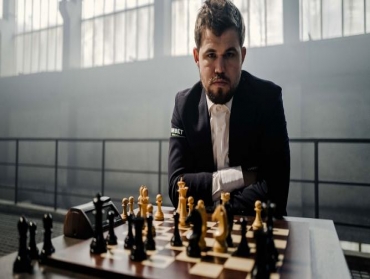 Poker
---
Unibet signs chess champion Magnus Carlsen as brand ambassador
There is always a constant debate regarding the skill vs. luck angle in poker. Those who are aware and have been playing the game for a while know that skill is what sets the great players apart. Marrying this with a classic sport of skill i.e. Chess, is European gaming platform Unibet who announced the signing of their newest brand ambassador in World Chess Champion Magnus Carlsen of Norway.
A child prodigy in the game, 29 year old Carlsen became Grandmaster at the age of 13 and has not looked back ever since. He is the current World Chess Champion as well as the World Champion in the Rapid Chess and Blitz Chess formats. Carlsen first reached the top of the FIDE world rankings in 2010, and trails only the legendary Garry Kasparov as time spent as the highest rated player in the world. His peak classical rating of 2882 is the highest in history.
Rhodri Darch, Chief Commercial Officer at Kindred Group, brand owners of Unibet, said at the press conference in Stockholm last week, "Since 2014, Unibet has communicated that 'luck is no coincidence' celebrating those players who rely on research and statistics to make informed decisions. Magnus is a perfect fit for this concept, and our most recent marketing campaign is a good example of that."
Magnus Carlsen will be patched up by Unibet as his main sponsor during 2020 and 2021 seasons as part of his 2 year sponsorship deal. What Unibet hopes to leverage through this signing is increased brand awareness among the 600 million chess players worldwide. "I think it's a good partnership because we share a lot of common values and interests such as an analytical approach to games," said Carlsen. "We both know that 'luck' is no coincidence. To make the right decisions, you need a well-balanced combination of knowledge, skill, and intuition. I think it's going to be very exciting moving forward, seeing as Unibet is a global brand. Obviously we share other interests as well," he continued.
Unibet's partnership with Carlsen seems like a natural progression of the brand's relationship with the game as they been a long-time supporter of chess. In fact, back in 2014, Unibet was the first ever gambling operator in the world to offer live betting options on chess matches including Carlsen title defence at the World Championship then. Not surprisingly since then, bettors have taken a greater interest in betting on chess matches, especially the ones which involve Carlsen. In these past 6 years, Unibet has deepened its relationship with the sport by sponsoring a number of chess events and matches.
Unibet also released an advertisement welcoming the World Champion into its stable which you see here:-
Check out the press conference here:
For the latest updates on poker news and industry, keep reading GutshotMagazine.com and stay tuned!
Check out our online poker rooms section, where you can read reviews on the biggest and best poker rooms in the country, while also taking advantage of their bonuses and promotions. Check out these top poker rooms HERE.
---
---
Comments