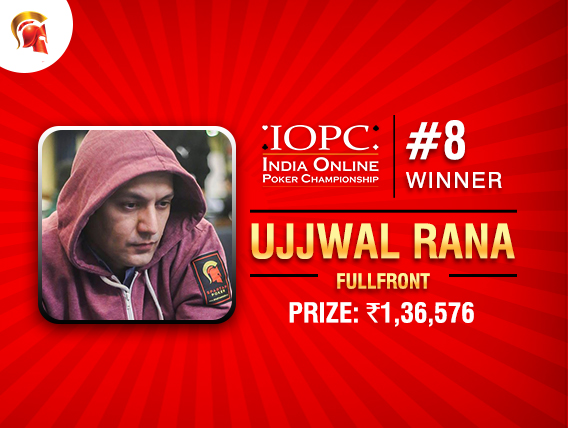 India
---
Ujjwal Rana wins IOPC Event 8
As day moved into night, the eight event of the India Online Poker Championship (IOPC) got underway at 6:00 pm on Saturday evening. The man who outlasted the 385 player field was none other than Ujjwal 'fullfront' Rana who claimed the win in IOPC Event #8.
As mentioned the eventual field of 385 entries ponied up INR 1,100 in this re-entry event which put up a guarantee of 5 Lakhs. That was easily crushed as the final prizepool paid out was INR 7,04,000. 55 of the top finishers would end up in the money with each one assured a min-payday of INR 3,449. IOPC Event 2 winner Prince 'DeadEmotions' Singh, made an appearance yet again in a deep finish although this time around he was only able to go as far as 6th place netting a score of INR 30,835. It took a little over 6 hours for the field to get trimmed down to the final table and shortly thereafter we were heads-up for the title.
The key hand was the elimination of 'UtterlyButterly' in third place. full front and UtterlyButterly were on virtually even stack of about 1.5 million chips whereas 'Alone1' had 2.5 million. The first two players got into a hand where fullfront (4s As) and UtterlyButterly (Kd 7s) both made two pair but fullfront had the bigger of the two on a board of 2s Kc 4d 7h Ac. A fortuitous river gave fullfront that hand and pushed him into the lead going into headsup with Alone1.
It wasn't too long before the tournament deciding hand was played. But just prior to that, a critical hand went down between the two which virtually crippled Alone1's stack. He was at a little over 3 million against fullfront's 2.5 million. A big raise reraise before the flop saw fullfront (Qh Js) flop the absolute nuts against Aone1's pockets (8s 8h) when the flop went 9h 8d Td. Having his set of Eights, ALone1 was not going anywhere and sure enough when all the chips went in on the turn he saw the bad news and dropped down to just about 400k while the rest of it was with fullfront. It was a matter of time when they would tangle and once again the chips went in when both players hit the flop of 6s 9s Ks; a pair of Kings for fullfront (Kd 2d) while Alone1 (6d 5s) his bottom pair as well. The King pair turned into a set by the river and with that street, it was all over for this tournament.
Ujjwal Rana a.k.a fullfront scored INR 1,36,576 for his win and INR 86,592 went the way of runnerup Alone1.


---
---
Comments