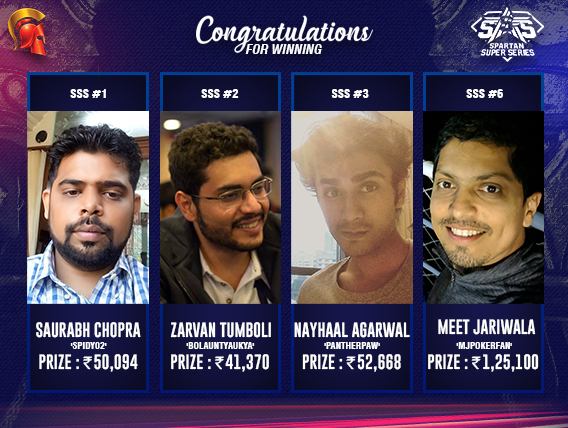 Poker
---
Tumboli, Chopra, Agarwal, Jariwala among SSS Day 1 winners
The high-stakes Spartan Super Series (SSS) is back again and this time, the series guarantee boasts a whopping INR 3.5+ Crores! The series' Day 1 went into the books yesterday. The week-long series (till 24th March) has 46 exciting events lined up to suit all kinds of pockets. Here's the complete schedule.
Yesterday the series saw a total of 6 tournaments being hosted, out of which the SSS #5 – Mega Freeze INR 8 Lakhs GTD figured as the biggest one of the bunch. Here's a round-up of what happened on the day:
SSS #1 – Kickoff INR 2 Lakhs GTD
The first tournament itself crossed the guarantee, which wasn't surprising since almost every SSS tournament has crossed its guarantee in the past. The day began with a total of 203 entries for INR 330 buy-in and saw the top 27 places being paid.
Winning the event and INR 50,094 as the first-place cash prize was Saurabh Chopra aka 'spidy02'. He beat 'QueenNine' in heads-up to claim the title. In the last hand, QueenNine shoved with 3c 9c pre-flop and saw the board 2h Th Td Js 2d after Chopra called with Qh Jc. Chopra won the title with Jacks and Tens.
We spoke to Chopra after his win and he had this to say, "The experience playing in the SSS was great. Spartan is the most user-friendly platform on the scene. This was my first win and I'm looking forward to many such victories. I was dead last on the Final Table, but to come from behind and win was very satisfactory."
SSS #2 – INR 1.75 Lakhs GTD
Zarvan Tumboli aka 'BolAuntyAuKya' topped the field of 222 players and bagged the second SSS tournament yesterday. The tournament had a buy-in of INR 550 and crossed its guarantee too. Tumboli earned INR 41,370 as first-place cash prize, beating 'fullfront' in heads-up. The latter succumbed to Tumboli's Kings in the final hand and later settled for INR 28,959 as runner-up cash prize.
Tumboli is a well—known community player who has been playing poker since a long time. He has an impressive record on both live and online felts. He won last month's SSS Leaderboard, after winning two titles there. He'll be looking to defend his leaderboard and break his record of two SSS title wins from last time.
SSS #3 – INR 2 Lakhs GTD
The tournament gathered a field of 214 players and the top 27 places were paid out of a prize pool that crossed the guarantee. The buy-in for the tournament was set at INR 770. Nayhaal Agarwal aka 'PantherPaw' won the event for INR 52,668, beating 'CommoN_MaN' who later settled for INR 35,670 as runner-up cash prize.
Agarwal beat his opponent in a pre-flop all-in situation in the last hand. Agarwal was packing Ah 4d and his opponent was with Js 2h. The board of 5c Ac 8d 6c 3h gave Agarwal Aces which was enough to beat his opponent's high-card Ace hand and ship the tournament.
After his win, Agarwal told us, "I'm loving the SSS experience this time with the GTDs getting crushed from Day 1. Spartan as a platform in my opinion is one of the best in India because of high value tournaments it provides to the player. I just want to say that I am thankful to be around my people."
About his past wins he said, "I shipped a couple of Hi-Fis and Daily Doubles and Mega Stack once. I just have one request for Spartan if they could bring back the Daily Doubles which I miss a lot, thanks."
SSS #4 – INR 3 Lakhs GTD
This tournament had a buy-in INR 1,100 and crossed the guarantee too. 'brocklesnar95' overcame the field of 254 players and beat a known pro of the community Mithun Mahesh aka 'Intuitionnn' to take home the first-place cash prize of INR 84,200. Mahesh subsequently settled for INR 58,940 as the runner-up cash prize.
The final hand in this tournament saw brocklesnar95 shoving his bigger stack pre-flop with 8s 8d. Mahesh called with 3s 3c and saw 6c 9d Tc 6s As board reveal itself and the eventual winner's Eights were enough to beat his opponent's Threes. Mahesh is a upcoming online player and Gutshot recently spoke to him about his journey from low to high stakes.
SSS #5 – Mega Freeze INR 8 Lakhs GTD
This one was the feature tournament for Monday yesterday and saw a total of 173 players playing in the field for a buy-in of INR 5,500. The top 23 positions were paid for a min-cash of INR 10,034 and emerging as the winner at exactly 1.31 am today morning in Mega Freeze was 'dembele' who took home INR 2,01,112 as first-place cash prize.
dembele beat Gaurav Sood aka 'mozzie17' in heads-up to secure his title. The latter is a known community entity with many wins in the past and must've proved to be a tough opponent for dembele. The last hand was played with Sood having Qd 2c and dembele Ts As. On the flop of Js 9d Qs, Sood made Queens and later shoved. dembele called with a flush draw to see the turn and river of 8s and 5d respectively. He made his diamond flush and shipped the tournament. Sood settled for INR 1,36,237 as the runner-up cash prize.
A few regs to rank in the money were Pranjal Gandhi aka 'lilmessipranjal' (16th – INR 12,110), Aditya Chaudhary aka 'S1ckB3at', and others.
SSS #6 – Hi-Fi INR 3.5 Lakhs GTD
The tournament was the last one hosted for the day. For a buy-in for INR 1,650, a total of 417 entries (including 71 re-entries and 167 re-buys) were attracted. The overwhelming field for the tournament also reflected on the prize pool, which came to a staggering ~INR 6.25 Lakhs.
Meet Jariwala aka 'mjpokerfan' won the last SSS event for INR 1,25,100 as first-place cash prize. Jariwala beat 'lailaterilelegi' in heads-up to secure his victory. The latter settled for INR 87,570 as the runner-up cash prize.
The last hand was a pre-flop all-in again. lailaterilelegi shoved first with 9s 8c and Jariwala called with Ah Ts. The board came to Th Jd Qh Jc Ks and Jariwala made a Ten to Ace straight and beat his opponent's Nine to King straight. He swept the table clean and won the final SSS Day 1 title.
We contacted Jariwala after his win, and he was excited to talk to us. He said, "It felt amazing to win my first SSS title, it was the moment that I have been working extremely hard to achieve.  I have been grinding on Spartan for some time, and as a platform it provides me plenty of opportunities to learn from other high calibre players. I'm at the infant stage of my poker journey and have to continue to work towards improving my game play."
Day 2 of SSS is underway today as we speak, and the highlight event is today's feature tournament Mega Stack INR 15 Lakhs GTD. Stay tuned to GutshotMagazine.com for the first SSS updates and for general poker news from around the world.


Don't have an account on Spartan Poker? Check out their review page here, and don't miss out on their bonuses, promotions, and guarantee-smashing tournaments. Sign-up now.
---
---
Comments