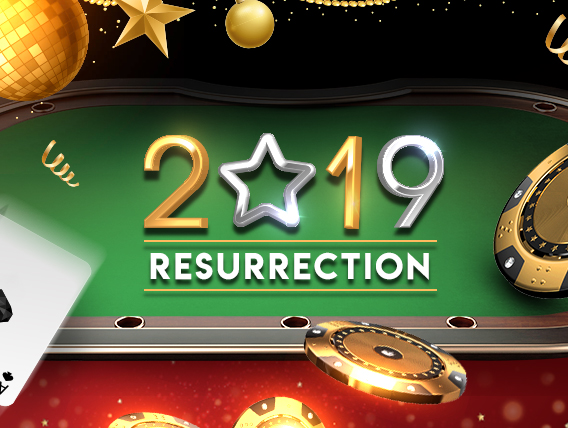 Poker
---
Top pros review the poker scene of 2019!
"All the websites have helped the enhancement of poker, including cash games and tournaments. We see so many new tournaments with big guarantees each week or month. They are growing the scene and the biggest ones like Spartan, Adda52 and PokerBaazi are helping grow the live poker industry too. They're hosting live streams and even satellites, letting newcomers play live events at much lesser buy-ins, which grows the industry organically. The growth is slow but live poker is getting better because of online poker," said WSOP bracelet winner Abhinav Iyer when asked about the growth of poker in India over the last 12-odd months.
Some of us had it good this year, some not so much. In totality, it has been a great year for the poker and overall gaming industry in our country. Many may complain about the huge taxation barrier we have in this industry but at the same time, numbers are growing, and we can be nothing but optimistic about the further expansion of our so-called niche community.
2019 saw the return of India Poker Championship (IPC) and Baazi Poker Tour (BPT) after hosting their last respective events 3 years back. Similarly, the World Poker Tour (WPT) came back for its third edition in India while Deltin Poker Tournament (DPT) kept at it as usual. The online scenario has also been getting better with some mind-blowing guarantees being witnessed, with 2 Crore GTD tournaments also being hosted by Spartan Poker and PokerBaazi on multiple occasions.
"Personally, it has been an excellent year for me both on live and online felts. More importantly for the industry, it has been a great year for poker as IPC, BPT, and WPT returned with very good numbers. This gives ample opportunities for recreational players to get a taste of the game they love in a professional and exciting ambiance; the by product is professionals getting more opportunities without going abroad to play live events. Online, the sites are continuously improving, making their flagship events/series bigger and better. Good things are indeed happening in poker," said Siddharth Karia, who came 3rd in the BPT Highroller in Goa while also cashing in the IPC and winning a few titles online in 2019 too!
"I'm playing poker in India at the absolutely perfect time. In future, it may not be the same in terms of legality or average field skill level. Right now, I feel good about both of these. There's a continuous increase in GTDs offered by different sites in tournaments as well as promotions for regular and new players. This is definitely helping to size up industry and the numbers are clearly visible. I would appreciate Spartan Poker most in this area that their GTDs in tourneys are always maximum even if they have to fill overlays a lot of the time. Baazi and Adda are also doing pretty good and some of the other sites which are performing and I'm hoping will perform even better soon are 9stacks, Pokerdangal, Pocket52, Pokersaint etc. Live poker in India is also growing very fast now and it's clearly visible in numbers as we see more than 500 players playing live series as compared to 100-200 couple of years back. Overall everything is positive and better from yesterday in the industry. Only thing we need ASAP is regulation of operators and better tax policies. Hopefully will be able to see it in 2020. Cheers and Happy New Year," said Anant Purohit, someone who has been doing brilliantly in online poker as well as winning his first live title a few months back.
Another player who did brilliantly at the live felts in Goa over the last couple of months was Ankit Wadhawan, who has cashed in excess of $70k in the last 2-3 months, which we spoke about here. His successes in Goa gave him the confidence to travel and cash in Vietnam and Cambodia too. Talking about the recent line of live events in Goa, he said, "To be honest, all three events were really good. BPT was the best if you would ask me as a player, and if I have to be result oriented, haha. But yeah, kudos to all the organizers for doing such a wonderful job as always. One thing which would make everything better could be hosting these tournaments on land one day!"
Any veteran or newcomer in the industry must know Dhaval Mudgal aka 'Dirty' who himself has had a fantastic last 12-15 months in poker which led us to featuring him in our latest print magazine as well. He made several final tables and cashed for $100k+ since September 2019, and he's mighty impressed with the boom in India too. However, he has one suggestion for organizers! He said, "Pretty exciting time to be a poker player in India! What the IPC did with the tax refunds, if that becomes a regular thing then we could consider spending more and more time in Goa. Even the BPT is amazing as a tour and takes good care of the players. My biggest issue with poker in India is this 'shoes and no shorts rule!!!' I mean I'm paying you tons of money, please let me wear what the hell I want. So better tax policies, quicker feeders to the boats, allowing shorts and watch the scene booom! I could envision a tournament with 5k entries within 5-6 years."
"2019 was a fantastic year for Indian poker. Many people scored around 50L in one day, something unimaginable till a couple of years back. The Indian contingent during WSOP was huge, and we did make a mark. I am confident that we continue to see this phenomenal growth in the coming decade too," commented online crusher and frequent streamer Goonjan Mall about this growth in recent months.
On the other hand, Abhishek Goindi spoke more about the issues we're facing and how these hurdles need to be overcome if growth needs to continue in India. "The online scene picked up in 2019 with big guarantees and a lot more marquee tournaments. I was the first ever India Player of the Year (IPOY) in 2010-11 and it was great to see the re-launch of IPC. I also launched my Boot Camp which is the first of its kind in India and probably Asia. Personally, I had a good year having won the DPT Highroller, runner-up in Barcelona as well as cashes at the World Series. But overall for the economy, the year hasn't been great. Because of the tax situation as well as the re-entry situation, the latter affecting the players playing outside their bankroll. While companies like Spartan and Baazi have changed their tax structures, there's still a lot more that needs to be done for education and awareness for players, for them to sustain in the long run."
"Been really the breakthrough year for me as I finished my college and put in the work and volume and reaped decent results. The Indian live scene and the Asian circuit has also been on a boom. Looking forward to travelling more and play live whenever the opportunity arises," said Gurgaon's Gaurav Sood, who has kept further studies on hold at the moment, giving full-time poker a shot. 
It was not just the big major brands that came to take over poker rooms in Goa. Emerald Poker Tour (EPT) also moved to host a cash-game series on board Casino Pride 2, while Jim Ramchand set up shop in the Deltin Caravela, now giving players plenty of options to play poker round the year in Goa. Now that we heard what the players felt about the year gone by, let's hear from the organizers as well:
"Poker is booming in India, and Goa has once again stepped up its game. On any average day, there are at least 10-12 high-stakes tables running between the 3 major ships in Goa. It's definitely a good time to be a poker player and to be in Goa. I'm moving base to Goa for the next quarter to look after the Baazi poker room, with BPT as well as EPT Season 5 coming up soon." – Vikram 'Lungi' Kumar, partner at BPT and EPT.
"The DPT is synonymous with poker in India and has been propelling and organically growing the live fabric since 2016. It's good to have other players in any industry and with IPC and BPT both adding to the live fabric, 2020 looks to be a promising year for live poker." – Manish Adnani, Business Head – Poker at Delta Corp Ltd.
"2019 has been a wonderful year for poker. The online sphere was doing well anyway but the return of all the major live brands has led to an overall rejuvenation of our beloved sport. We believe that another golden period for poker is underway which will be fantastic for the growth of poker in the country. For us, 2020 starts off with plenty of big events right from January and this should set the trend for the new year!" – Amin Rozani, Spartan Poker CEO and IPC Director.
"2019 has been a very promising year for Indian poker, with many new players doing well online as well as at live tournaments across the world. At 9stacks, we saw many newbies making accounts and working hard to up their poker skill set, and we helped this process with our skills dashboard and P Se Poker video series. We also noticed the emergence of systematic training programmes like Tanay/Goindi's Poker Bootcamp and the Big Stack poker university – all of this gives me the belief that 2020 will be the year for many more new players to join the Indian player pool." – Sudhir Kamath, 9stacks CEO and co-founder.
If you didn't believe us, you got to hear the voices of all these big entities from the poker industry. While we have a few aspects to work on, there's so much to look forward to in 2020 as we begin a new year and new decade altogether! We wish you all a very Happy New Year and as usual, stay tuned to GutshotMagazine.com for all poker and gaming updates.
Check out our online poker rooms section, where you can read reviews on the biggest and best poker rooms in the country, while also taking advantage of their bonuses and promotions. Check out these top poker rooms HERE.
---
---
Comments