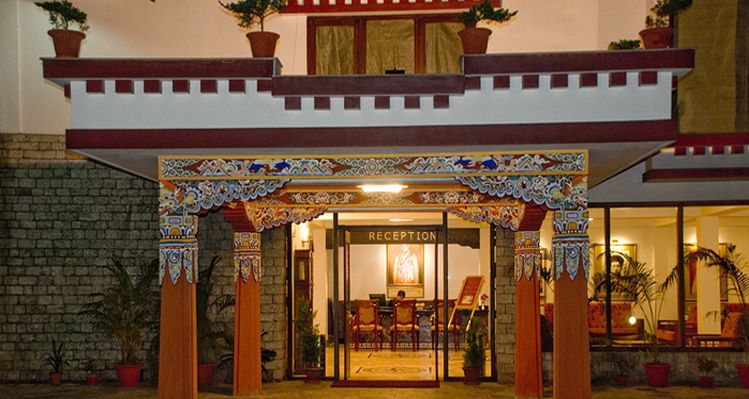 Poker
---
Top Poker Stories of 2017 – Part 1
There have been a lot of breakthroughs in the field of gaming and online gaming around the world in 2017. Here, Gutshot brings to you the best poker and gaming stories of the year, in a 2-part series. Have a look at Part 1:
#9 – Delta Corp Announces Opening of Sikkim Casino on Jan 14th
Delta Corp was on a mission to expand their presence in the online and offline gaming space in India, so they planned to launch Casino Deltin Denzong. Casino licenses in the Himalayan State of Sikkim are only offered to 5-star hotels so they built it in Hotel Denzong Regency located closest to Gangtok, compared to the other two existing casinos in Sikkim.
In July 2016, Delta Corp notified stock exchanges of having secured a license to operate a casino in the mentioned hotel and as reported by Darshan Mehta from ET Now, Ugen Gyatso, Tourism & Civil Aviation Minister of Sikkim, would be the Chief Guest at the launch ceremony o 14th January 2017.
The company promised as many as 150 gaming positions in the new casino in Sikkim. Before the launch of its Sikkim casino, Delta Corp already operated three offshore casinos and one onshore casino in Goa, along with one onshore casino awaiting a license in Daman. The launch of this casino further strengthened their position as a gaming giant in India. 
#8 – Adda52 Partners With WPT to Start WPTDeepStacks India  
April 2016 saw a multi-year brand licensing deal signed between India's Adda52 and the World Poker Tour (WPT). May 2017 then brought smiles to the faces of aspiring poker players all over India as WPT announced their entry to the country with the first ever WPTDeepStacks India as well as the WPT India Player of the Year award.
WPT made its India debut with the WPTDeepStacks India between 7th and 13th November 2017, at the Casino Deltin Royale in Goa – India's largest casino. "We are excited for WPT and Adda52 to take its partnership to new heights by bringing WPTDeepStacks to one of India's most beautiful locations, Goa," said Anuj Gupta, founder and CEO of Adda52.
When the tournament took place a few months later, it was Vikash Mantri won won the $1,000 Main Event, beating a field of 527 players and bagging the top prize for INR 60,30,000.
#7 – Gujarat HC Rejects Petition to Allow Poker in Clubs
There was a lot of doubt over the future of poker in the state of Gujarat and all that doubt was cleared in December when the Gujarat High Court rejected a petition to allow poker in Gujarat. The game of poker was termed as gambling and 'illegal' within the state, dealing a major blow to the status of the game in India.
A special civil petition was filed by the Indian Poker Association (IPA), gaming companies and poker clubs to recognize poker as a game of skill. However, Justice Rajesh H. Shukla of the Gujarat HC dismissed this petition on 4th December, believing that the game has the ability of ruining lives of those who play it.
This was a major moment for the Indian poker industry and websites like Baadshah Gaming and others decided to abide by this rule. They displayed a notice on their homepage that Gujarat players will be restricted from playing poker or accessing the website from Gujarat.
#6 – World Poker Tour Acquires WPTDeepStacks
Earlier in mid-2014, DeepStacks Poker Tour partnered with WPT Enterprises to form WPTDeepStacks and replaced the existing WPT Regional and DeepStacks Poker Tour brands. However, to start off the year of 2017, World Poker Tour announced that it had acquired WPTDeepStacks and WPT would now fully own and operate the brand.
"We are excited to take our relationship with the World Poker Tour to the next level," said WPTDeepStacks Executive Director, Chris Torina. After this acquisition, the WPT DeepStacks brand would be able to offer bigger and better tournaments and prizes to the poker community around the world.
Also, they would be able to expand further around the globe (the first ever WPT DeepStacks India also launched later in 2017). This announcement was made before the launch of the 4th season of the WPT DeepStacks. The season began in January 2017 and the final tournament of the season will begin on 5th January 2018.
#5 – Australia Parliament Bans Online Poker & Sports Betting
Australia's laws on online gambling were always very vague and there were quite a few loopholes in them. However, 2017 was the year the Australian Parliament decided to plug these loopholes and become one of the few countries in the world to completely ban online poker as well as sports betting.
Legislators introduced an amendment bill in 2016, called the Interactive Gambling Amendment Bill 2016 and this bill was passed on 21st March 2017, officially making online poker and sports betting in the country 'illegal'. However, most big poker operators in the country knew this decision was on its way.
888Poker shut down shop in Australia, exiting the market in January this year, while another online giant, PokerStars, exited the Australian market earlier in 2016. The country was in the news very often of late with many reporting gambling addictions and the country estimated to have lost approximately $23 billion between 2014 and 2015 in gambling; online poker was the main contributor to that number.
#4 – PokerStars Partner With Usain Bolt & Kevin Hart
PokerStars has a long history of partnering with international sports stars like Cristiano Ronaldo, Neymar, Rafael Nadal and others, to promote their brand. However, this year, they wanted to bring the fun back to the game which has become very serious of late. In April 2017, they partnered with American comedian Kevin Hart. "I am going to make poker fun," Hart said at the PokerStars Championship Monaco.
A couple of months later, in June, they partnered with the world's fastest man, Usain Bolt. The record-breaking Olympic gold medalist was signed to introduce a whole new audience to the game of poker. "PokerStars is a winner, and I'm happy to join Kevin in helping to bring poker and PokerStars to the masses," said Usain Bolt.
Since the signing of these new ambassadors, the duo has starred together in a series of videos called #GameOn, showing the world that there is more to the game of poker than just the cards you're dealt. Of course, in a funny way!
#3 – Gopal Kanda Takes Over Casino Maharaja
Popular Businessman and former member of the Haryana Legislative Assembly, Gopal Kanda, signed an agreement with Essel Group to start offshore casino operations in Goa, India, by taking over its Casino Maharaja vessel. Essel Group is owned by Subhash Chandra, and the agreement would see the Casino Maharaja vessel given on lease to Kanda for ayear.
Kanda owns the GoldenGlobe Hotels Private Limited (GGHPL), a company that failed to renew its license, after securing the sixth license to carry out offshore casino operations in Goa, India. However, the license was renewed after GGHPL paid Rs.46 crore in pending arrears and penalties.
GGHPL would utilize their license for the MV San Domino vessel until their own vessel was repaired. Also, they would be the last to get a license to operate an offshore casino in Goa.
#2 – Money Laundered by Ray Bitar Returned to USA
A little over 6 years ago, things went extremely wrong for Full Tilt Poker (FTP) and the community of online poker players in USA. Due to mismanagement of poker player funds, by the then CEO Raymond Bitar, executives Howard Lederer & Chris Ferguson, the US Department of Justice shutdown the site. This day came to be known as the Black Friday of Poker!
Bitar was laundering funds amounting to millions of dollars (player money) through the Channel Island of Guernsey but in December this year, it was reported that almost all of the laundered money had been returned to the US Government. 
This was made possible mostly due to Guernsey and the US Department of Treasury agreeing on a deal in 2015, whereby the countries would split all money laundered by the former FTP CEO. A total of around $12.6 million was remitted to USA.
#1 – Viswanathan Anand Endorses Poker Sports League
This move was one made in December 2017, and it was done to boost the game of poker in India as a mind sport. The PSL (Poker Sports League) founders called making Viswanathan Anand the brand ambassador their biggest move ever, and we believe that too.
Poker Sports League co-founder Amit Burman had this to say: "Chess and poker are frequently compared as both games are based on strategic thinking and decision making. Both games also involve reading the other player at the table."
The finale of PSL Season 2 will happen in the latter half of 2018, where 12 teams will battle it out to get their hands on the prize pool of INR 3.6 crore. The move was made with expectations of thousands of more players taking up poker as a sport during the build up to the second season of PSL, and after that as well.
Keep an eye out on GutshotMagazine.com for Part 2 of our top poker stories of 2017! 
---
---
Comments