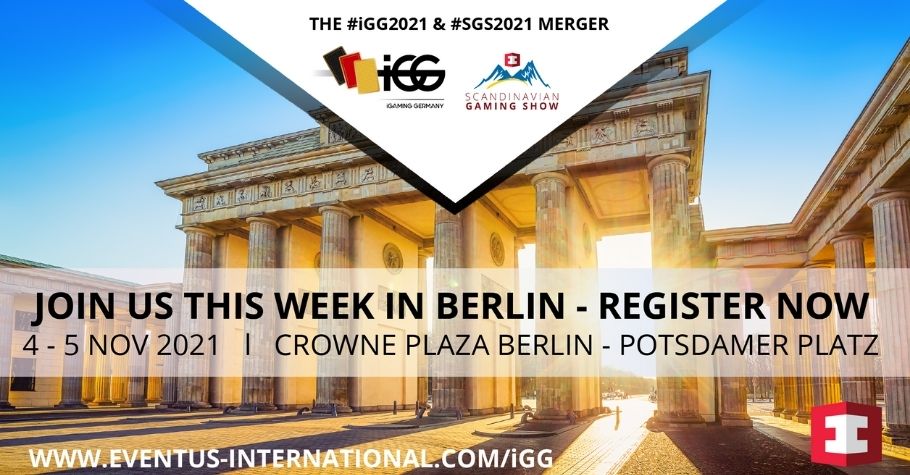 Gaming
---
The iGG & SGS Merger Kicks Off This Week – It's Your Last Chance To Book!
The much-anticipated iGG (iGaming Germany) and SGS (Scandinavian Gaming Show) Merger event will be taking place this week at Crowne Plaza Berlin – Potsdamer Platz in Berlin, Germany. Eventus International will be welcoming C-level gaming professionals from across Europe this week from 4 and 5 November 2021.
"We are excited to be hosting an event in Germany for the first time. The inaugural iGaming Germany, kicking off alongside the well-established Scandinavian Gaming Show brand, will offer industry professionals the vital opportunity to gain insight from industry leaders across the gaming business and regulatory developments in the region. We have gathered an excellent line-up of gaming experts to share their knowledge with our C-level audience for the 2 event days. We warmly welcome last registration to attend the event this week", said Yudi Soetjiptadi, Managing Director at Eventus International.
Delegates can look forward to thought-provoking discussions, such as:
Industry Outlook 2022 – C-Level Panel
Gaming industry outlook in Germany – Key things to know about
What is required to keep unlicensed companies out of the markets?
How to maximize ROI while marketing compliant and responsibly
How to effectively improve player protection in online gambling
And much more!
To view the line-up of speakers, visit: https://www.eventus-international.com/igg
Strategic Partner and Sponsor, Tal Ron, Drihem & Co. Law Firm, is proud to be sponsoring the Networking Drinks on Day One of the event from 17:00. Join their team Networking drinks, luxury cocktails and canapés. Tal Ron, Drihem & Co., prides themselves in being exceptionally dedicated to their clients. They believe that it is extremely important to know their clients well. It is only then, that a lawyer can give his clients the best possible advice.
This holds true for publicly-listed companies, just as it does for private individuals and young online entrepreneurs. There is no need for you to get lost in an extra-large law firm, passed around at random between lawyers who are not in the slightest familiar with the big picture in your case. At Tal Ron, Drihem & Co., they are not pencil-pushing form fillers. Their legal team is fully versed in the history and all aspects of our client base inside and out. And as their clients all know, they are available for them 24 hours a day, 6 days a week, for professional advice, one-on-one attention and meetings in Tel Aviv and in every distant part of the world. That is why so many of their clients have been loyal for them for years. Meet their Chairman and CEO, Tal Itzhak Ron, at the iGG & SGS Merger. For more information about Tal Ron, Drihem & Co. Law Firm, visit https://rd-law.co.il/.
Make sure to register for your Delegate Pass today in order to skip the long queues on show days and ensure social distancing. Tickets are limited (due to COVID precautions). Book now before tickets are sold out: https://www.eventus-international.com/igg. Eventus International would like to thank the Strategic Partners and Sponsors of the iGG & SGS Merger. Visit the event website today to find out more about each and to set up meetings prior to the event dates:
https://www.eventus-international.com/igg-sponsors-exhibitors
iGG & SGS Merger Venue:
Take advantage of the special accommodation rate at the venue hotel, Crowne Plaza Berlin – Potsdamer Platz. This 4-star-Superior hotel in Berlin city centre features a gym and a wellness area, as well as bicycle rental facilities. It is a 10 minutes' walk from Potsdamer Platz and other sights are within close proximity. Book today before rooms are sold out! Contact the Eventus International team today for more information: info@eventus-international.com.
Stay up to date with Eventus International's event and publication offerings, subscribe to our YouTube channel here: https://www.youtube.com/channel/UCl6FRtGlwcLFtYkQxh7uZmQ
Eventus International is a dynamic, summit and exhibition company that connects leaders with leaders and turns opportunity into possibility. We utilise our vast networks and expertise to create forward thinking summits that align best practice and industry development with empowering content and outstanding networking opportunities.
Our summits and exhibitions have a longstanding reputation for gathering primary stakeholders in the industry to discuss the future of the gaming sector. We operate in profitable vertical industries with significant international growth potential while promoting the growth of emerging markets. Every summit we produce is designed to provide practical solutions to strategic, tactical and technical challenges and shed light on new opportunities in the sector. We are renowned for producing exclusive, niche events, hosting C-Level executive audiences and gathering decision makers under the same roof while ensuring gender diversity and inclusion throughout.
The high standards that we set for ourselves are responsible for the success of events such as the SPiCE India, Analytics & AI In Gaming, GAME (Gaming & Affiliate Marketing Expo), Sports Betting East Africa+, iGG (iGaming Germany), RiSE (Russia iGaming Summit & Expo), All-In Gaming Ukraine Summit, SPiCE Sri Lanka, Sports Betting West Africa+, Fantasy eSports Summit, Scandinavian Gaming Show, All American Sports Betting Summit, Cyprus Gaming Show, iGaming Central America, International Lottery Play Summit, International eSports Business Forum, and Chile iGaming. 

---
---
Comments