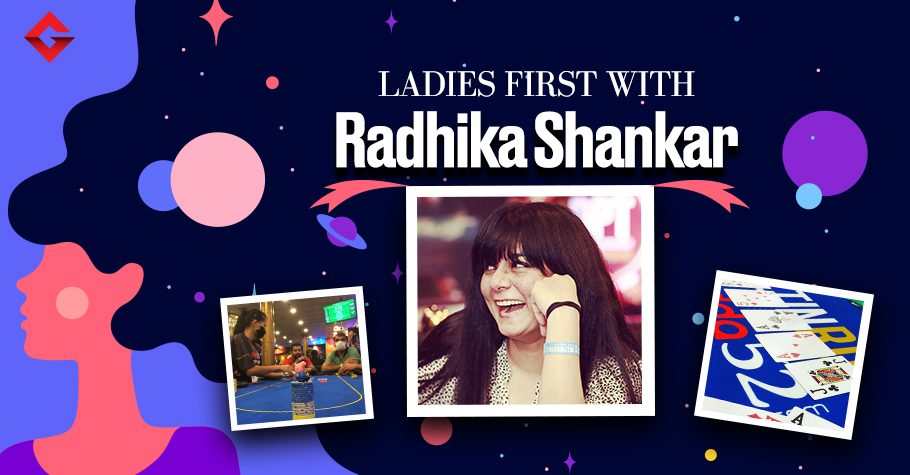 Poker
---
The Curse Is Over!
FINALLY!!!
It was getting on my nerves. Day in and day out, the same tournaments, the same ids, the same sites… The same old online grind! As though social distancing and the lockdown hadn't been tough enough, having to sit alone at a computer for hours on end was really getting under my skin!
And then!!! The DptXpress was announced. And I can't even begin to tell you how elated I was, and I'm sure I wasn't the only one!
I booked my flight and hotel the very day the poster was out on Facebook… And I religiously and eagerly began my countdown!
For a live poker junkie like me, this was the onnnne thing I was pining for…to be back on the ship, in a goan casino, riffling chips, snacking on chicken nuggets, sipping chai, smoking ciggies, listening to bad beat stories, lol, and catching up with poker peeps from all corners of the country – friends I have made along the way, in my short year-long live poker journey…
Add to this the uncontrollable excitement of meeting more than 25 special people… with whom I have interacted on almost a daily basis but never even met some of them in person, ever! Yep, I'm talking of my fellow students at Poker Boot Camp India… our 'gang', our little family, our amazing coaches Goindi & Tanay included, (obviously!) … ufffff, the prospect of spending four full days and nights with this core: the toooooo much to handle!!!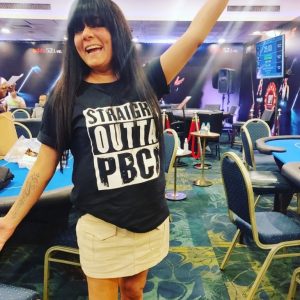 Day one: Hopping off the feeder and walking into the gaming floor. Ah, bliss! The cage. The tables. The screens. The smiling dealers sitting propped up at their seats, waiting for us… Neil, in his dapper TD suit. Manish, with his welcoming aura. This friend. That friend. And that bunch too. The new faces. The OGs. The pros. The noobs. And everyone in between. God!!!! Live Tournament Poker, waiting to be gorged upon, by hundreds of enthusiasts like me.
Burn 'n Turn is what it was, a 5K buy-in, unlimited rebuys and a 5K add on. Slightly turbo, the levels were only 15 minutes long, so chipping up quickly was imperative. My first bullet busted early and I went for a rebuy, knowing that the second bullet always worked better for me, hehe. And it did. Before I knew it, it was add-on time, and with that, I had a comfortable 30bb stack for the next phase of the tournament.
But you know how it is… one flip and I was crippled, somehow managed to hang in there for a bit and made itm. Soon after, I busted. Min cash. On to the next one!
But wait! It's only 10:30 at night!!! Let's go to the cash tables!!!
That was profitable. Played till 3-4 in the morning and went back to the hotel a happy puppy. All geared up for the next day.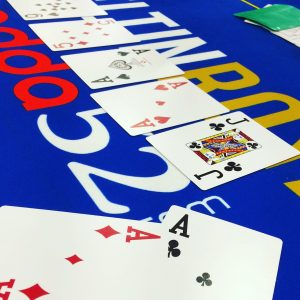 Day two of the series was all about the juicy, aggressive and exciting Bounty!!! One has to adjust one's game for bounty mtts, widen both opening and calling ranges, play a little more aggressively and be ready to rebuy, embracing variance 😉
And that's exactly what happened! I tried to make a move at an early stage and failed miserably, hahahaha… no sooner than I did, I found myself at the cage again, ready for a rebuy!
And, as usual, bullet number two worked it's wonders, I managed to pick up two bounties (thus recovering my first buy in) and hung in there till the middle stages. And then it happened again, the levels were catching up, I was card dead and had to pick a spot asap. Which I did. Jammed a 12-13bb stack and it didn't hold and I busted. Standard.
Off to the cash tables we go!
It was morning when I got back to the hotel, tired and wired. But fortunately more tired, before I knew it, knocked out!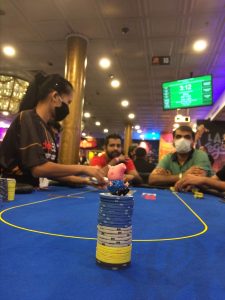 Day three. The Main Event!
Our coaches were cool enough to hold a mini session before we all got to the ship for the main. Many campers were first timers, a solid pep talk, a brush up on ranges, a quick overview of various strategies against different kinds of players, not just the freshers, we all really benefited from the session.
There was a spring in our steps. A smile on our faces. A fervour within.
Variance?
F£%$ variance. Let's go!
11 campers made it to day two. Including yours truly. Some, in fact, had stacks in the top ten. Me, I was going into day two with a 14bb stack. More than enough. Happy to bag and see what happens.
The rest of the night was fun as usual. Like I said before, the socialising never stopped. I would find myself in a conversation with someone or the other every five minutes… and that's what I also love about being a poker player in India… the community is relatively small and full of amazingly nice people from all over the place. It's so easy to make friends, so easy to give and get love, so easy to be happy when poker is around 🙂
Day Four. The last day of the series. The day my measly day two stack needed to work wonders in the first orbit itself.
Unfortunately it didn't. Once the blinds passed me, I was down to eleven bigs. Then it happened… +1 opened 2.5x; it folded around to me at cut off and I looked down at AQ. Easy jam, jmd time!!! Button and the blinds folded but the initial raiser called off. He had sevens. And they held.
Busto!
Ok. No problem. Let's play the final event now, the Deepstack!!
I didn't last too long in the Deepstack. Didn't refire, made it past late reg in one bullet, but not a substantial stack. Same thing agggggain. Pushed 13-14 bigs, got called off and busted.
Didn't affect me too much. It never does. I have learnt to accept variance and probability in poker. Besides, I already have a DPT trophy, let's give others a chance hahahaha!
The four days went by in a seamless whiz! Between regging tournaments and stacking up at cash tables; bonding with my PBCI fam and getting prime advice from the coaches; catching up with old friends and making new ones… possibly the best four days of my life since lockdown!
Ooops! I just realised that this article has gone on waaaaay longer than it should've. So I'll stop.
But before doing so, I just want to say one thing. That I'm so grateful to be a part of our poker community, every thing about it fills me up with so much happiness that I never ever want to stop playing poker till the day I die!!! (Haha, that was a bit melodramatic, but you know what I mean, teehee!)
Till the next one, happy crushin' folks!!
---
Radhika Shankar! We are sure that's quite a heavy-duty name in the Indian poker circuit. From playing with some seasoned pros, to being one of the torchbearers for the female voices in the poker industry, Shankar has done it all. She is our guest writer and poker lovers, this is just the start. Do wait for an article from Radhika Shankar every week for the month of March.
For more such articles, For more interesting content on this poker master, keep reading GutshotMagazine.com. Follow us on Facebook, Instagram, and Telegram.

---
---
More News
---
Comments