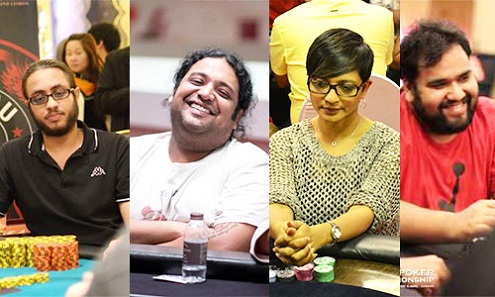 Poker
---
The Cashout Question
In recent times poker enthusiasts are looking at taking up the sport in a more serious way. The idea of turning a profitable hobby into a lucrative career is an appealing thought especially for those players who are already beginning to make a good bankroll at supporting their pro (or semi-pro) ambitions. Online poker sites in the country are coming up with great guarantees and promotions to attract players to their portals.
Another way the newer sites especially have employed is to bring well known pros of the country onboard as brand ambassadors or sponsored pros using their profiles to promote the site. These pros represent that particular site in various live tournaments (national or international) and being in the eye of the attending poker fraternity means many of the upcoming players could be drawn towards playing on that site leading to some good action for the site.
But of late, the question being repeatedly asked on social media is that of responsibility. After great action provided, players obviously need their winning amount transferred in their bank accounts as soon as possible. Over the last several months there have been multiple instances of some sites delaying player cashouts. This coupled with non responsiveness from the customer support team of the site/s and the allegations and mud slinging begin on social media.
Among the recent sites launched with much fanfare was GoPoker having a prestigious name like Bangalore's Abhishek Goindi associated with it. The Red Dragon runner up launched his site less than a year ago saying GoPoker will be a site "of the player, by the player and for the player." However barely a few months into existence, there were already murmurs of discontent from players who were not getting paid out. Goindi too distanced himself from the matter after publicly admitting on social media that his own funds with the site were stuck.
Expressing his thoughts on the matter, Goindi had this to say, "'It's unfortunate as to what has happened' It still hurts and haunts me, I have always given everything for the community and always wanted to see the industry grow! I understand that there have been delays due to internal management/investor issues and it's not a one-man army and there are over 7shareholders, I'm not the guy to shy away from the truth and that's what makes me who I am! I'll never put my reputation at stake. I will never let a player lose his money on my promises and I can assure every player that I'm still actively working on their cashouts. It's more complicated than it seems because of its a partnership and it's a private limited company! There are a lot of people involved! Irrespective I'm going to make sure that the interest of the players and community is protected and each of them receives their cashout eventually!"
There is no question that the most important thing for the poker industry is the security of player funds and every time such incidents take place, it breaks the confidence of the players. Many of them in frustration of their funds being stuck for the longest time on such sites have contemplated taking legal action against said sites. Gutshot tried to connect with many pros that were former signed pros of such 'troubled' sites. Most pros attached to these defunct websites with player funds still stuck in them refused to comment for this article.
On the international scene, Full Tilt Poker underwent its biggest scandal about the security of its player funds, the site, its principals and signed pros faced a huge backlash. All the well-known poker pros associated with FTP were taken to task by the players. Maybe there's a lesson to learn from all this, as professionals endorsing a product, must be sure of the background, financial stability and vision of the company. Players too must do their research and be sure about risking their funds on any new poker website no matter how tempting their offers are.
Here are some views and concerns expressed by the pros who spoke to us:
Ex-Thrill Poker pro and also now ex-Poker Met pro Dhaval Mudgal said, "I definitely think there is a responsibility to be shouldered by the pros who sign on to new sites and I feel I did take responsibility by quitting the site early into the contract as a lot of our beliefs did not match."
Similarly Sahil Agarwal made this statement, "Poker players sometimes get blinded by the lucrative sponsorship deals they are offered by poker sites and start endorsing them without doing much background check of the site's vision/goals/revenue model. This often leads to players depositing into the site and their money getting stuck because of improper functioning of the website. As pro poker players and someone who people look up to, we need to be more careful before endorsing any such poker website."
Ex-StarPoker brand ambassador and current PokerBaazi pro-Maria Kirloskar said, "I've written off that experience as a learning since I had just started playing poker on the circuit. Now having been around for over 2 years, I want to make sure I promote only a trusted site like PokerBaazi to players in the community."
Even current professional poker players who are not affiliated with any site believe bad business practices lead to bad situations regarding player cashouts, "I think what these sites have done is that they have used players deposit to run their promotions which is a terrible business practice. This is why when promotions don't run as per expectations, sites run into cashout troubles. So the one thing that sites should actively take care is to keep the deposits in a separate account and never to use that money for any kind of promotions/marketing," said professional player Jagdeep Singh from New Delhi.
Speaking about the sponsored players, Singh continued, "Also, I don't think the poker players who are sponsored by these sites and who actively market these sites on social media realize that they have a responsibility towards the poker players and the community as well. They are the bridge between the community and the site. Some players would have definitely trusted the sponsored players' name and deposited on the site. So when there is a problem with the cashouts, that same sponsored pro cannot shy away from the responsibility. He or she has a responsibility to ensure that the cashouts are smooth."
Nishant Sharma whose has a big amount was stuck within a well-known site said, "One-day cashouts must be the top priority for any poker site. Some plan about the TDS means somehow compensate the player and bear some of the TDS or return the TDS amt via RCB or something."
It is vital for the sake of the Indian online poker industry's survival and growth, site operators both old and new, do everything they can to safeguard player funds. Doing so over an extended period of time will restore player confidence and lead to the betterment of the entire poker ecosystem.
---
---
Comments