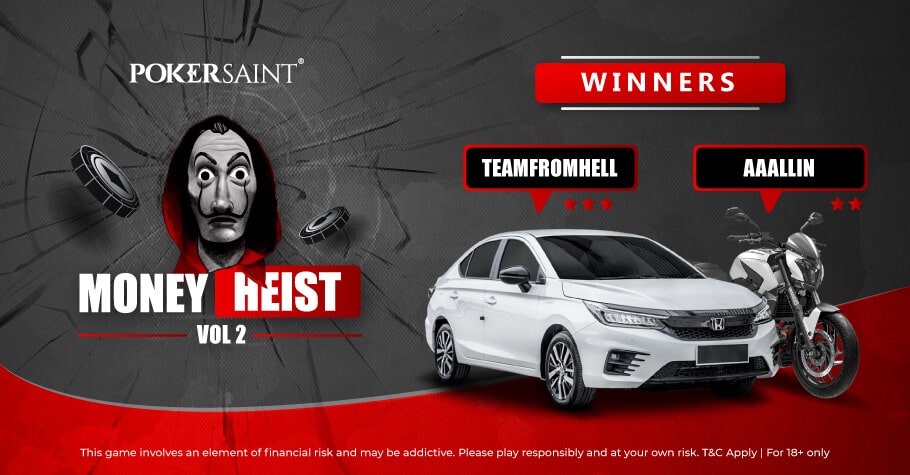 Poker
---
TEAmfromHELL tops 3 Leaderboards in PokerSaints Money Heist Vol-2
We are sure, you are also among those who follow PokerSaint promotions regularly, the Money Heist being your favourite. This time too, PokerSaint brought back the Money Heist promotion- Money Heist Vol 2. The online poker platform not only assured intense and exciting poker games like always but this time, it offered players a chance to win from a massive prize pool of ₹3 Crore. The Money Heist promotion was a huge success which led PokerSaint to come up with a sequel to this promotion, making it a favourite among the poker community. The leaderboards were named after the popular Netflix Series Money Heist as-Nairobi, Denver, Berlin, Tokyo and Professor. 
Check out the leaderboard position and who made it to the top: 
Nairobi Leaderboard 
The winner of this leaderboard was a player who goes by the moniker 'Vipin2534', who claimed the top of the leaderboard with 103 points. This means that the 'Vipin2534' won a Mavic Mini Fly More Combo drone. 
The runner up was 'singhlaukush' followed by 'TURN2GOLD', both with 18 points. 
Denver Leaderboard
A Regular at PokerSaint, 'TEAmfromHELL' topped the Denver leaderboard with 290 points and won a KTM 390 Adventure bike. 
'AAallin' followed as the first runner up, missing the top spot with 267 points but won a Bajaj Dominar 400 bike.
'tiger28' claimed the second runner up spot with 29.5 points. 
Berlin Leaderboard
TEAmfromHELL topped the Berlin leaderboard too with 292 points and won a luxurious Hyundai Venue car. 
The winner was followed by 'SINGH11' with 105.5 and 'Deathrnager01' with 48 points in the runner up positions. 
Tokyo Leaderboard
TEAmfromHELL made a hat-trick by claiming the Tokyo leaderboard with 290 points and this time won a lavish Honda City V MT Diesel car. 
The winner was followed by 'Ajazx' with 59 and 'seemynuts' with 27.5 points in the runner up position. 
So, if you are looking for an opportunity to thicken your bankroll, PokerSaint is the platform to be grinding on. You can sign up on PokerSaint as a Gutshot player and get ₹50 free. Remember, you can avail this offer only after completion of your KYC on PokerSaint. 
For more news and daily updates on rummy tournaments and promotions, keep reading Gutshot Magazine. Follow us on Facebook, Instagram, Twitter, and Telegram.

---
---
More News
---
Comments