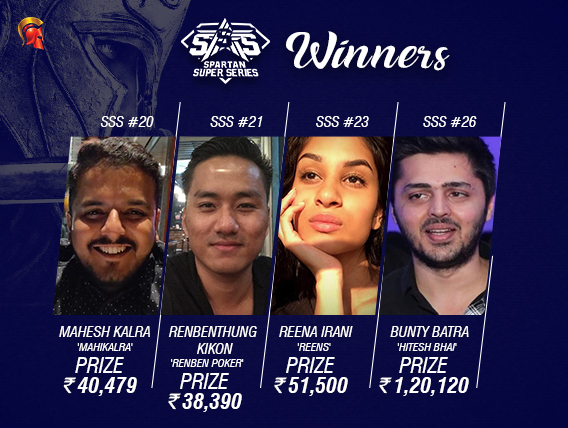 Poker
---
SSS Day 4: Kalra, Kikon, Irani, Batra bag titles
Spartan Poker is currently busy hosting the Spartan Super Series (SSS), a hugely popular monthly high-stakes series which never fails to attract a sizeable turnout for every tournament. This month's SSS began on 18th March and will go on till 24th. On Day 4 of the series yesterday, there were 7 exciting tournaments lined-up to suit all kinds of pockets. Here's a report of what went on during the day:
SSS #20 INR 1.5 Lakhs GTD
The first tournament of the day gathered a healthy field of 114 unique players for INR 660 buy-in. The top 18 places were paid for a min-cash of INR 2,515. Emerging on top of the field and bagging the INR 40,479 first-place prize money was Mahesh Kalra aka 'mahikalra'. Kalra beat 'dramit101' in heads-up to ship the title.
In the final hand, Kalra was holding a good chip lead of over 4:1. His opponent raised all-in pre-flop with 7s Ks and Kalra also called with Kd Ah. The board showed 5h 4c Js 3s 4d and gave both a pair of Fours, but Kalra eventually won it with his higher Ace kicker. The runner-up eventually settled for INR 26,802 as the second-place cash prize.
We contacted him and he was elated to speak to us saying that he was 'working really hard' to be recognized on our platform. He said, "This is my 2nd tournament win on Spartan. However, the first one was a 5-way deal. I am very satisfied with my gameplay and am looking to improve constantly. There are quite a few gaps in my game which I need to plug but overall, I'm very satisfied with my performance. Spartan is phenomenal and I enjoy playing on it as it is my preferred online portal. I hope this is the beginning of many such wins to come."
SSS #21 – INR 1.5 Lakhs GTD
The second one attracted 151 unique players for INR 550 and paid top 27 places for a min-cash of INR 1,570. Renbenthung Kikon aka 'Renben Poker' won the event for INR 38,390. He beat 'RaidenCage' in heads-up to ship the title. The final hand of this one was also a pre-flop all-in situation. Kikon regularly plays on Spartan and has even won an SSS title in the past.
Kikon, with almost 2:1 chip lead, shoved it in pre-flop holding 9d Ks and received the call by RaidenCage, who had 9d Ks. The board revealed Jh Tc 7d Td 4c and gave both Tens but Kikon triumphed over his opponent with the higher Ace kicker. The runner-up ultimately settled for INR 26k.
Kikon spoke to us after his win saying, "SSS is a great initiative. We get a variety of tournament options with minimal buy-ins. Spartan is the best poker site in India and is definitely doing its job to boost the poker scene in India. I won the Big Daddy tournament on the platform last week. I just want to take this opportunity to advise my peers to not get tilted and just relax and enjoy the game."
SSS #22 – INR 2 Lakhs GTD
This tournament attracted 114 unique players to the virtual felts. The top 21 players were paid for a min-cash of INR 3,200. This one too crossed its guarantee and brought the prize pool to INR 2,56,000. OrangeZuce' for INR 61,440 as the first-place cash prize.
OrangeZuce beat 'M@neyM@ker' in heads-up. He was packing Ks Jd in the final hand and his opponent 9s 9h who shoved his stack pre-flop. OrangeZuce called to see the board of Kc Ts Ac 5s 4s reveal itself. He made Kings on the flop itself and beat his opponent's Nines to ship the event. The runner-up settled for INR 41,600 as the second-place cash prize.
SSS #23 – INR 2 Lakhs GTD
Dhunisha Irani aka 'reens' emerged victorious in this one and took home a good INR 51,500 as the first-place cash prize. She beat SSS #3 winner Nayhaal Agarwal aka 'PantherPaw' to claim the title. She is also the first woman winner in this edition of SSS.
The event drew 214 unique players to the virtual felts and saw the top 27 places paid for a min-cash of INR 3,200. Irani had already accumulated an overwhelming chip lead and was just looking to deal the final samurai slash to Agarwal.
In the final hand, Agarwal, with Ah 6d, shoved pre-flop and Irani called with Qd 2d to see the board of Ad Jd 3h Kd 6h reveal itself. She made diamond flush which had Agarwal's Aces and Sixes beat. Agarwal eventually settled for INR 34,100 as the runner-up cash prize.
Irani spoke to us saying, "I've been playing on Spartan for over a year now, yesterday's tournament being the biggest one I've won yet and hopefully more to come lol. I played as I usually do, only playing hands which I am confident about. I suppose this time I just had that essential bit of luck by my side. I'm very glad. I don't really have much else to say except for thank you to Spartan!"
Poker is essentially a mind sport and it takes a lot of skill to master the game. The taboo surrounding poker, especially in our country, is gradually fading away and Irani's win is a sure indicator that the sport is reaching a wider and a much diverse audience.
SSS #24 – The Flash INR 15 Lakhs GTD
The second biggest event of the day was hosted at this time. The Flash is the Thursday feature tournament on Spartan and yesterday it attracted a decent playing field of 324 entries (including 47 re-entries and 116 re-buys). The buy-in of the event was INR 5,500 and the top 31 places were paid for a min-cash of INR 14,256.
'BuddyLove' won this one, earning INR 3,42,630 as the first-place cash prize. He beat 'Jhonnymaddog' in heads-up with Kings trips which he rivered on an all-in pre-flop board. The runner-up settled for INR 2,30,688 as the second-place prize money.
Some of the regs to finish in the money included Jayjit Ray (5th – INR 1,04,328), Aditya Chaudhary (7th – INR 57,834), Srihari Bang (8th – INR 42,282), Laksh Pal Singh (9th), Arsh Grover (10th), Nishant Sharma (14th), Faiz Alam (17th) and others.
SSS #25 – Super High Roller INR 45 Lakhs GTD
The biggest tournament of the day was the Super High Roller. For a buy-in of INR 55,000 and a guarantee of INR 45 Lakhs, it also figured as the third biggest event of the entire series this time. It paid out the top 10 places for a min-cash of INR 1,16,250. A total of 93 entries (including 13 re-entries and 17 re-buys) were drawn to the event on Spartan.
The tournament began at 9 pm and was in the books by 3.19 am today morning. The player to emerge victorious in the event for an outstanding INR 13,95,000 was 'Max1234'. He beat Sumit Sapra aka 'boronyx' to secure his awesome victory after what must've been a tough and tiring grind.
In the final hand, Max1234 was with over 5:1 chip lead and his win was almost certain. The final blow came when Sapra raised all-in pre-flop with Ks 8s and Max1234 called with 8d Ad. The board of Qd 8h Tc 4c Qs gave both Queens and Eights but Max won the tournament with the higher Ace kicker. Sapra settled for INR 11,16,000 as runner-up prize money. Sapra has also qualified for Day 2 of the ongoing WPT Vietnam.
Some regs to finish in the money include SSS #20 winner Mahesh Kalra (4th – INR 4,41,750), Mukesh Surana (5th – INR 2,79,000) and Aditya Sushant (6th – INR 2,32,500).
SSS #26 – Hi-Fi INR 3.5 Lakhs GTD
The high-stakes action witnessed on the day cooled off with a low-budget event. This one attracted 160 unique players to the felts and paid the top 27 places for a min-cash of INR 4,914. Well-known community entity and past Millionaire winner Bunty Batra aka 'hitesh bhai' shipped the tournament for INR 1,20,120.
Batra beat 'Shippament' in heads-up to grab the title. In the final hand, Shippament went all-in on the 4d 6h 2h flop with 7h 5s, an open-ended straight draw. Batra called with Th 6d, having made the top pair. The turn and river of Jd Kc didn't give Shippament his straight and Batra took the title home with Sixes. Shippament collected INR 81,354 as the runner-up cash prize on Spartan.
The series today includes a total of 6 tournaments with the biggest being the feature tournament for the day, The Elite, but with a boosted guarantee. Keep reading GutshotMagazine.com as we aim to bring you the first updates from the ongoing SSS as well as general poker news from around the world.
Don't have an account on Spartan Poker? Check out their review page here, and don't miss out on their bonuses, promotions, and guarantee-smashing tournaments. Sign-up now.
---
---
Comments