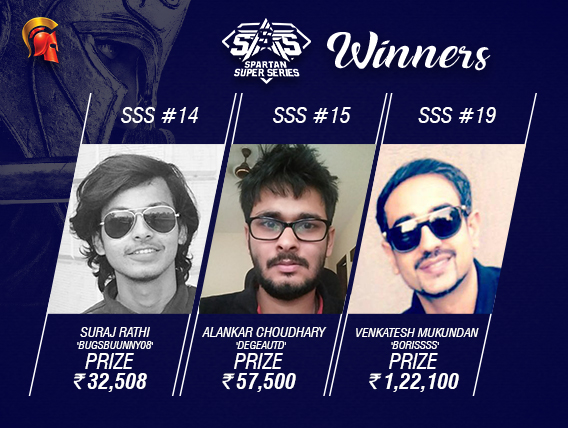 Poker
---
SSS Day 3: Rathi, Choudhary, Mukundan win titl
Spartan Poker's high-stakes extravaganza called the Spartan Super Series (SSS) is currently underway on the platform. The week-long series began on 18th March. Almost every event in the series till now has crossed its guarantee, with some tournaments even doubling the prize pool.
Yesterday, a total of 7 events were hosted out of which the biggest two, Destiny and PLO HR, were bagged by two community regulars Sagar Choudhury and Siddharth Mundada respectively. Here's a round-up of what went on in the other 5 tournaments:
SSS #13 – INR 1 Lakh GTD
The day began on a modest note with an INR 1 Lakh GTD tournament. The buy-in for this was set at INR 275 and attracted 210 unique players to the virtual felts. The top 36 players were paid for a min-cash of INR 936. 'ALBATROSS' won this one for INR 28,800, beating 'pagal27' in heads-up.
The last hand of the tournament saw the whole board of 3h 3d Jh Qs Kc reveal itself before pagal27 decided to go all-in with 9h As, which soon proved to be a mistake. ALBATROSS, with Ts Jc called and won the tournament with Jacks and Threes. ALBATROSS has won SSS #7 in the series and this is his 2nd title win in the Spartan series. He has fared well till now and will be looking to win some more in the future.
SSS #14 – INR 1.5 Lakhs GTD
The second tournament gathered a field of 173 unique players to the tables and was won by known grinder Suraj Rathi aka 'Bugsbunny08'. Rathi converted the INR 440 buy-in to INR 32,508 first-place cash prize, beating a field that created a prize pool bigger than the guaranteed amount.
Rathi beat Bounty_ in the heads-up battle. The final hand saw Rathi with over 3:1 chip lead. Bounty_ shoved pre-flop with Ts 8d and Rathi called with Ad 7d. The board revealed Kh Qh Jd 7s 7c and Rathi ultimately won with Seven trips over Sevens of his opponent.
Rathi is a decent online grinder and has a few cashes to his name from previous tournaments across all leading platforms. He won Spartan Big Daddy tournament last October and as a result earned an all-expense paid trip to Goa to play at Spartan's Big Daddy poker room. He will be looking to create headlines like these in coming months.
SSS #15 – INR 2.5 Lakhs GTD
A total of 133 unique players were drawn to this tournament for INR 880 buy-in and top 24 places were paid for a min-cash of INR 2,500. Alankar Choudhary aka 'degeaUtd' won this one for INR 57,500. He defeated 'chamisback' in heads-up to bag the title and the cash prize.
The last hand of the tournament saw chamisback with 6h 9h and Choudhary with 4s 4d. It was an interesting hand since both were almost even in terms of chips, Choudhary leading slightly. Both went all-in pre-flop and saw the board come to 4c 9c 2s 2c 8h which must've made Choudhary happy since he made a set on the first card itself and a full house on the turn. The runner-up later settled for INR 38,625.
We spoke to Choudhary after his win and he said, "Spartan hosts the SSS every month which is good for the health of poker in general since they attract new players to the game. Series like these will definitely help poker reach a larger audience in India, which is far behind other countries in the worldwide industry."
SSS #16 – INR 1.75 Lakhs GTD
The tournament attracted 138 unique players for INR 550. The top 24 places were paid for a min-cash of INR 1,750. Ashutosh Balodhi aka 'TeesMaarKhan' won the event and earned INR 40,250 as the first-place cash prize. He beat 'yUDdam' in heads-up to secure his victory.
The final hand of the battle had Balodhi leading considerably. He had 3h 2c and raised all-in on the turn board of 8c 2d 3c 9s, making two pairs.  His opponent had Kc 9h and called. The river was 6h and Balodhi took home the title and his share of the prize pool. The runner-up settled for INR 27,037 as the second-place cash prize.
SSS #19 – Hi-Fi INR 3.5 Lakhs GTD
The last tournament for the day broke its guarantee by a staggering margin and the resulting prize pool came to INR 5,55,000, all chipped in by the 170 unique players on Spartan. The top 27 places were paid out of this pool with the min-cash being INR 4,995. Venkatesh Mukundan aka 'Borissss' shipped this one for a cool INR 1,22,100 beating seasoned pro Zarvan Tumboli in heads-up.
In the final hand, Mukundan shoved his stack pre-flop with 8d Kc and Tumboli called with 8s 7c. The board revealed 9h 5d Jc 2h 8h which enabled Mukundan to ship the tournament with Eights and a King kicker beating Tumboli's Eights. Tumboli has run deep in the series till now and even won a title on Day 1. He collected INR 82,695 as the runner-up prize money.
We spoke to Mukundan after his win and he commented, "Winning my first SSS title is an amazing feeling! I'm working hard to make sure this is the first of many. Thank you Spartan Poker."
The series will play till 24th March and the Main Event INR 75 Lakhs GTD is still to be hosted. Keep reading GutshotMagazine.com for more such tournament updates and for your daily dose of general poker news from around the world.


Don't have an account on Spartan Poker? Check out their review page here, and don't miss out on their bonuses, promotions, and guarantee-smashing tournaments. Sign-up now.
---
---
Comments