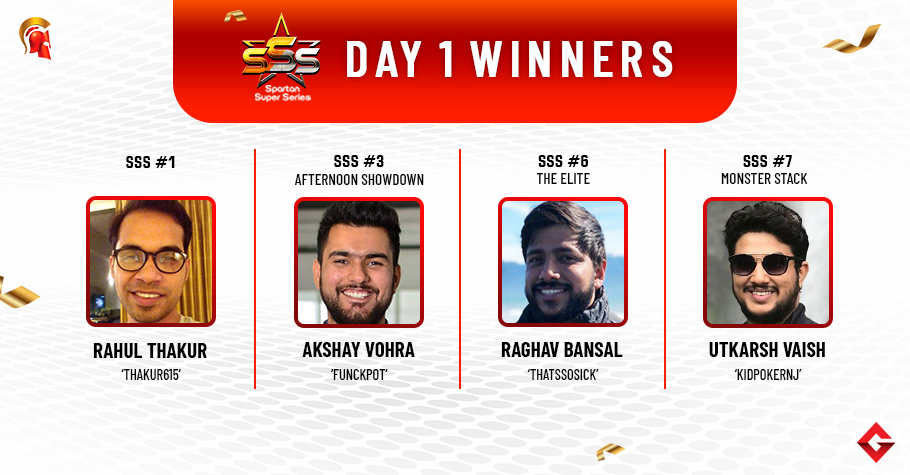 Poker
---
SSS Day 1: Thakur, Vohra, Bansal, Vaish begin their month well!
The new month kick started with the fantastic Spartan Super Series (SSS) and we all know by now that Spartan Poker is always coming up with incredible ideas to boost your poker bankroll. So, its back again and this time promising INR 10 Crores+ GTD. The series spreads out a total of 71 tournaments and there's also a leaderboard worth INR 10 Lakhs! However, Day 1 of SSS concluded successfully with 7 tournaments and the major attraction were Friday popular TGIF and The Elite. So, keep reading to find out yesterday's titleholders…
SSS #1 INR 3L GTD
After paying INR 550, a total of 761 runners entered the first tournament of the day creating a bigger prize pool of INR 3.80 Lakhs. The top 63 players earned a paycheck of INR 1,655 at least but it was online reg Rahul Thakur to clinch onto the winner's title after eliminating Neeraj Kumar aka 'SelfClaimedPros' in heads-up play. In level 46 of the tournament, Kumar couldn't dominate Thakur's flush with his 88 and eventually settled in the second position.
SSS #2 Hotline INR 3.50L GTD
An anonymous player 'ConMan' topped the second tournament of the day after the players struck a heads-up deal which saw 'AIT' in the runner-up position. The event drew 578 entries for a buy-in of INR 880 which led to the creation of INR 4.62 Lakhs in prize pool. The top 47 finishers locked at least INR 2K and 'ConMan' grabbed the winner's title.
SSS #3 Afternoon Showdown INR 5.50L GTD
The buy-in to the third tournament increased to become INR 2,200, garnering a field of 298 entries. Ultimately, it was Akshay Vohra aka 'funckpot' who raced to capture the first-place prize money after knocking out 'SharkAAI' in heads-up and claiming the largest chunk from INR 5.96 Lakhs prize pool. The top 27 finishers also took home at least INR 5,960 before the tournament came to a standstill.
SSS #4 INR 3L GTD
The fourth event of the day was scheduled to take place at 6 pm. A total of 313 entries pounced on the field after chipping in INR 1,100 individually. This led to the creation of INR 3.53 Lakhs in prize pool and the top 31 places ended up locking INR 3K at least. Eliminating 'Always_Nuts' in heads-up with his AA55 was 'crackjack88' who eventually emerged as the champion!
SSS #5 TGIF INR 15L GTD
Spartan Poker's Friday feature TGIF INR 15 Lakhs GTD attracted a giant field of 1,339 runners, crushing the guaranteed amount and creating a bigger prize pool of INR 20.08 Lakhs. Powering through the field was 'nbc345' who banked the first-place prize money while his opponent Vinay Choudhry aka 'Dhanraj Seth' settled in the runner-up position.
SSS #6 The Elite INR 50L GTD 
Circuit popular Raghav Bansal took down Spartan Poker's Friday flagship tourney The Elite last night. The event pulled out 526 entries for a buy-in of INR 11,000, eventually generating INR 52.60 Lakhs in prize pool. Bansal playing under the username 'thatssosick' secured the title after the players struck a heads-up deal which saw Vivek Rughani aka 'Pokerbatman27' in the second position.
SSS #7 Monster Stack INR 5L GTD
SSS Day 1 ended with the final tournament being Monster Stack which pulled out 468 runners for INR 1,650 buy-in. Once again, the advertised guarantee was surpassed, generating INR 7 Lakhs in prize pool, a slice of which was well-received by the top 39 finishers. The event concluded in level 45 when the players settled for a 3-way deal which saw Utkarsh Vaish aka 'kidpokerNJ' as the winner followed by 'lailaterilelegi' in second place and 'waghoneblood$' in the third position.
Stay tuned to stay tuned to GutshotMagazine.com for latest updates on online poker tournaments in the country.


---
---
More News
---
Comments