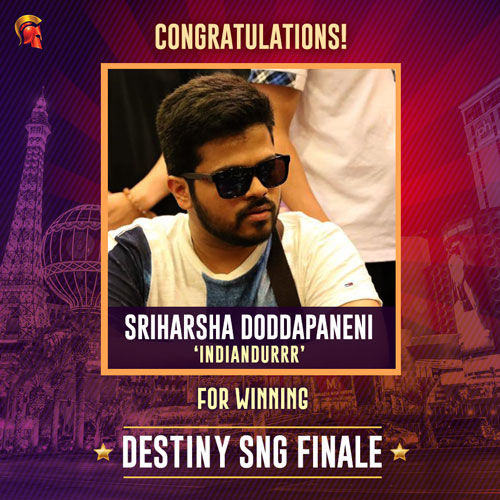 Poker
---
Sriharsha D wins 10 lakh Destiny Finale package
Over the course of the past 10 weeks, the Destiny series at The Spartan Poker has made a mark in the poker industry offering players a chance to compete on the world's biggest stage and fulfill his or her Destiny. Yesterday night it was the Destiny Finale SnG where all 10 previous Destiny winners came together to battle each other for a INR 10 Lakhs worth Las Vegas package.
This special final table comprised of – 'Amulbetter', Amit 'Amit030' Kumar, Sriharsha 'Indiandurrr' Doddapaneni, Akash 'Anarchytect1' Shekhar, Anirban 'pokernoob' Das, Nishant 'DoJingBULLETS' Sharma, Pot19, Sameer 'vodlemort11' Sharma, Sahil 'Variance' Agarwal and zuluwa.
It was Doddapaneni who came out on top defeating Shekhar in heads-up battle to take down the Vegas package. In Level #33 with blinds running 8,000-16,000-2,000, 'Indiandurrr' holding Ac 4h and 'Anarchytect1' with 9s 8h moved all-in pre-flop.
Shekhar took the lead on the flop with a pair of Nines but the final board which ran 2h 9c Tc 5c 6c completed a one card Ace high flush for 'Indiandurrr' and with that favourable river card, he secured his way to the world's biggest poker tournament in 2018. 
Gutshot spoke to Sriharsha on his win, his preparations for Vegas and more. Here are the excerpts:
Congratulations on winning the Destiny SnG Finale last night. How did it feel winning that final hand?
I am relieved and extremely happy. Relieved because I got close to finishing the tourney couple of times before that final hand but luck didn't favour us.
Please share some key hands from the FT.
One key hand was when I called with Ace high for tourney life vs. 'DoJingBULLETS' which put me in the chiplead and I never looked back after that. One more turning point was when I decided to tweak my playing style a bit vs. 'Anarchytect1' during heads-up when it was even stacks and nothing much happening. Apart from these two things I don't think there were too many crucial spots I can recall.
Who did you consider tough competition at the FT? What was your approach to that player?
'Variance,' 'DoJingBULLETS,' and 'Anarchytect1' were obviously my tough competition. There isn't any specific approach, thought I aimed to play solid and try not to give my chips to any of these players.
As you have now won the INR 10 Lakhs worth Las Vegas package, how will you prepare to participate in the world's most famous Main Event?
First thing is to get physically fit. I recently played my first international live series which was only a 5 day trip but exhausting both physically and mentally. Fortunate to meet WSOP Main Event winner Martin Jacobson there and he kind of inspired me to take physical fitness extremely seriously. So yes, my plan is to get fit and work on my mental game too which I think is decent but there is always room for improvement.
Away from the tables what are your plans for Vegas?
Not yet decided but plan is to travel with my wife and couple of friends who will be vacationing. Hopefully I can take some time out in-between to join them and see a few places.
Is your focus going to be only tournaments or will you play cash games too?
I was little skeptical about playing live cash but I did extremely well on my recent trip to Macau. Surely, the focus will be on tournaments as I enjoy playing them but if time permits and if I am not exhausted, will try to make some money in cash as well.
There are many other big series in other casinos happening in Vegas during the World Series. Which ones are you planning to play in?
I have no idea yet but there are many seniors in Indian circuit who are extremely helpful. I will be taking their help and make a busy, value-heavy schedule for those few weeks.
Is there anything which you heard about Vegas and want to experience when you go there next year?
World Series of Poker (WSOP) and nothing else on my mind. I believe I am relatively less spewy off the poker tables, so will be directing all my energy to get second WSOP bracelet for India.
---
---
Comments