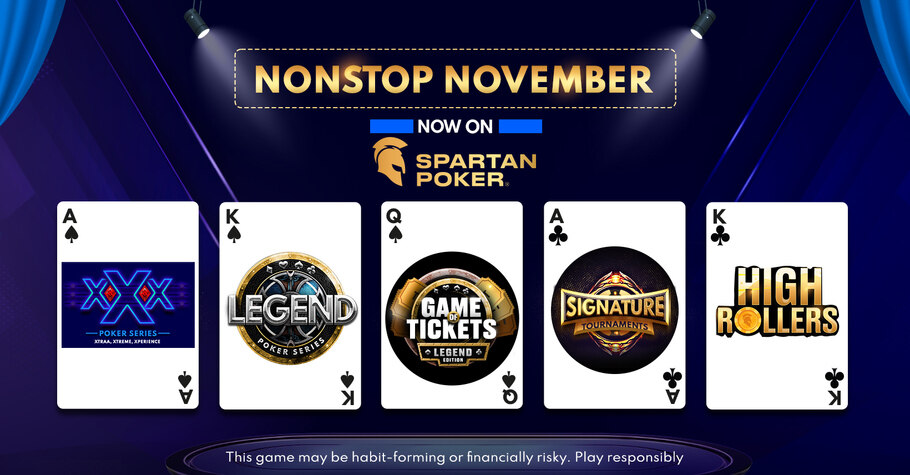 Poker
---
It's Prizes Galore With Spartan Poker's 'Nonstop November'
Poker players are usually always on the edge of their seats to know when the next major tournament or tournament series will be announced. Most Indian online poker websites announce their flagship tournaments once a month and flagship series once every few months. There's always a wait period for players looking to earn the big bucks playing poker online.
But what if we told you that there's no need to wait anymore? What if we told you that there's nonstop action taking place right through the month, on one of India's leading poker platforms? What if we said there's money to be made every day of the week and every week of the month? All this and more, only on Spartan Poker!
Play and win in 'Nonstop November' on Spartan Poker
SpartanPoker.com has always been known for its tournament guarantees, as they give away the biggest prizes in the business. And now, they've gone on to prove once again why they're one of the leading poker sites in the country, announcing the launch of 'Nonstop November' which is nothing but non-stop action right through the month of November 2022.
There's something for both tournament as well as cash game players during the month. For cash game players, the Game of Tickets is back again between 6 Nov – 10 Dec 2022 where you can get 6+ Lakh in winnings per player, as well as 6+ Lakh in tournament tickets, including money back on your first bullet of all Legends tickets.
Yes, that's the bumper prize if you manage to accumulate 7,500 points in 5 weeks of this promotion! This is of course, in addition to their regular featured tournaments which run from Monday-Sunday and boasts of 1+ Crore in guaranteed winnings as well.
Legends Poker Series on Spartan Poker
Talking about tickets to Legends, let's explore what this Legends Series is all about on Spartan Poker. We've heard of the India Online Poker Championship (IOPC) and the Final Table Series (FTS), so here's another new marquee offering from the online poker giant, with the first edition of Legends Poker Series set to take place between 24 Nov – 11 Dec 2022, with a whopping prize pool guarantee of 25 Crore, including 6 different leaderboard races.
A total of 75 Lakh GTD is kept aside for these different leaderboards, where the top ten places are being paid in each leaderboard competition. The different leaderboards are called – Magnate, Showdown, Victor, Turbo, PLO, Maven,and the prizes vary for each of them. 
---
Read the full report on the Legends Poker Series HERE!
---
XXX Series on Spartan Poker
And just when you thought that this is a whole lot to pack into a single month on the app, there's still more to come as they've also introduced something called the XXX Series, scheduled between 13-20 Nov 2022 and 8+ Crore in advertised guarantee. While the Legends Series will see the best in the industry in action, XXX Series has buy-ins starting as low as ₹110, so we're expecting everyone to participate here.
"We have seen an immense growth of players & game engagement stats in Q2. This led us create some exciting & super value offerings in Q3. XXX Poker Series right after a successful FTS 5.0 followed by our brand-new Legend Poker Series keeps the momentum going for thousands of poker enthusiasts daily on our app. With uniquely crafted promotions like GOT, we intend to provide a wholesome experience to our players", said Mukesh Choudhary, Spartan Poker Business Head, about the thrilling line up of events scheduled for November 2022.
So don't miss out on the fun and starting playing on Spartan Poker right away. And in case you've missed reading on this article in November, don't worry as Spartan promises to have similar packed events happening every month of the year. For more updates on the same, stay tuned to GutshotMagazine.com…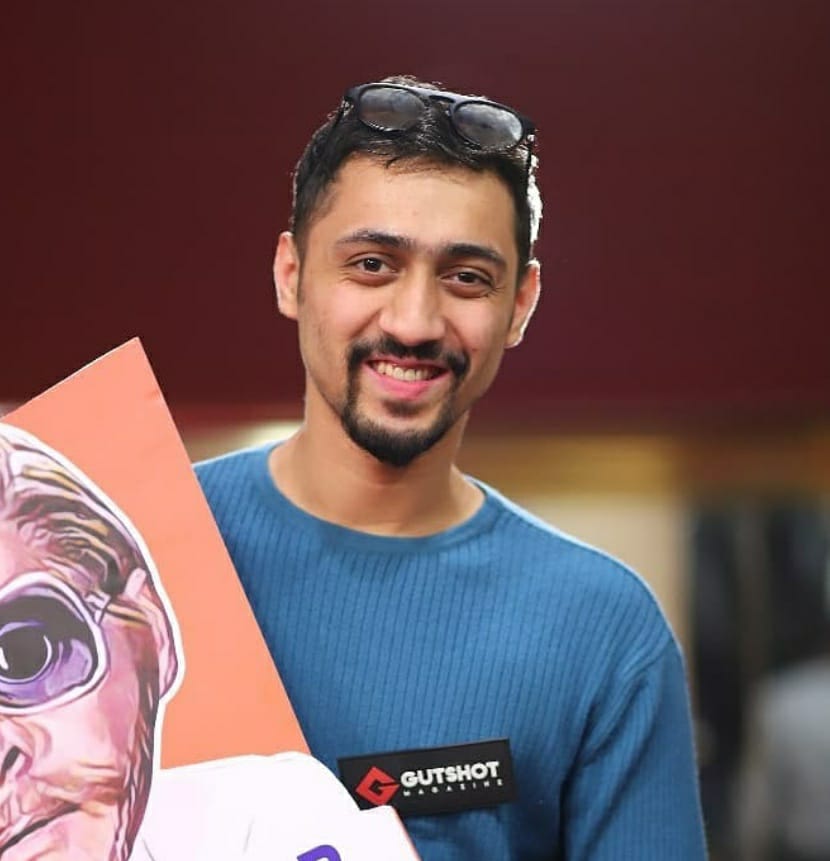 A graduate in Business Management, Dwayne began his career as a content writer for a virtual sports betting company and then for Gutshot too. Now, he heads marketing and business operations at Gutshot and while he's no expert in poker, he enjoys the occasional weekend home games. He was introduced to the industry in 2017 and has made quite a few friends along the way. Outside of poker, he is an avid cricket and sports fan, loves his bikes and of course, a good party! If you want to reach out to him for partnerships and collaborations, feel free to send a message at dwayne@gutshotmagazine.com.
---
---
Comments