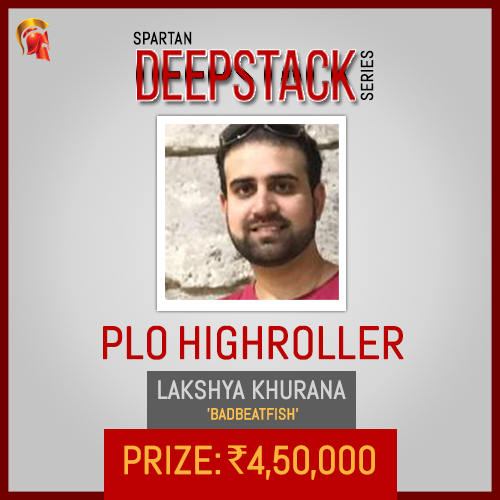 Poker
---
Spartan DeepStack Lakshya Khurana wins PLO HighRoller
The on-going DeepStack Series is making new records at TheSpartanPoker.com. Yesterday night saw Lakshya 'badbeatfish' Khurana take down the PLO HighRoller event for INR 4,50,000. Khurana defeated the first Spartan Millionaire Manoj Pentakota in heads-up battle. Pentakota took home INR 2,85,000 for his second place finish.
Khurana seems to love the PLO format as he has previously won the Spartan Super Series PLO HighRoller title in May. Gutshot was able to speak to Lakshya Khurana who is currently in the US and here are the excerpts:-
Please take us through your journey in the PLO HighRoller tournament.
As it was the second PLO HR (back to back) that I have played and shipped, this time the tournament ride was very cruising and I was in the top 2 right from the first hand of the tourney by never giving away the chip lead. My main focus was to keep playing solid A game and utilize on other players' weaknesses.
Please share some key hands and turning points in the tournament.
Well, as I was playing very nutty game, there were a couple of big hands I lost, one in the early stage where the action was blind on blind and I flopped the nuts (67T rainbow board), I was trapping and just check called both flop and turn but the turn and river were J and A respectively completing another straight possibility, so I had second nuts on the river and he checked to me and I bet extracting value but then he re-pots it to the maximum on the river and I called him and he showed KQ which were the nuts on the river.
Another hand, on FT bubble I raised on the dealer with double suited kings and BB flats. Flop comes 99T rainbow, he checks I bet and he re raises me and I shoved and he snaps. The pot was pretty massive 4.3L chips. I tabled KK9Q and he shows 9TJ3. And I got lucky and turned a Q drawing him dead. Even if I had lost that hand I would have more than the average stack so I thought it was fine to gamble plus I could be ahead of a majority of the times.
What do you do to improve your game?
For improving my game I watch a lot of YouTube video channels, which keep helping me refining my strategies playing online and live. I also focus on a lot of live games which help me understand the diversity of live and online fields which I think gives me an edge knowing a majority of the game playing strategies.
Is your family supportive of you playing poker?
Yes, my family is definitely very supportive and that has helped a lot in learning and improving in the game.
Next tournament or series live or online you are looking forward to?
I am more of a part time player than a poker professional so I play the events or series as they come. Nothing is planned as such for the future series or events, both online and live. And finally, I thank TheSpartanPoker for providing me this opportunity.
Along with the PLO HighRoller tournament there were other 3 side events with huge guarantees. After Day 3 of the DeepStack Series 'maakaphone' is leading the INR 10 Lakhs leaderboard.
Here is a quick round-up of Day 3 DeepStack Series:-
DeepStack Series #9 INR 770 (125K GTD) RE
The day began with 326 entries making a prizepool of INR 2,28,000 which was distributed to top 24 places with a min cash of INR 2,282. 'maakaphone' defeated Jason 'OMGMinerals' Pereira in heads-up battle to take down the title. 'maakaphone' collected INR 52,486 for his first place finish while 'OMGMinerals' took home INR 35,257 for his second place finish.
DeepStack Series #10 INR 1,100 (200K GTD) RE
250 participants took part in the second event of the day generating a prizepool of INR 2,50,000 which was distributed to top 21 players with a min cash of INR 3,125. 'Serial Limper' outlasted 'sexysam' in the final round of the tournament. 'Serial Limper' took INR 60,000 for his first place finish. 'sexysam' collected INR 40,625 for second place finish.
DeepStack Series #11 INR 1,650 (300K GTD) RE
The last event of the day drew 362 entries to make a prizepool of INR 5,43,000 which was distributed to top 30 places with a min cash of INR 4,072. It was 'ONmyMAC' to outlast 'icmizer' in the heads-up battle. 'ONmyMAC' collected INR 84,238 for winning the title while 'icmizer' took home INR 83,973 for the runner-up place.
---
---
Comments