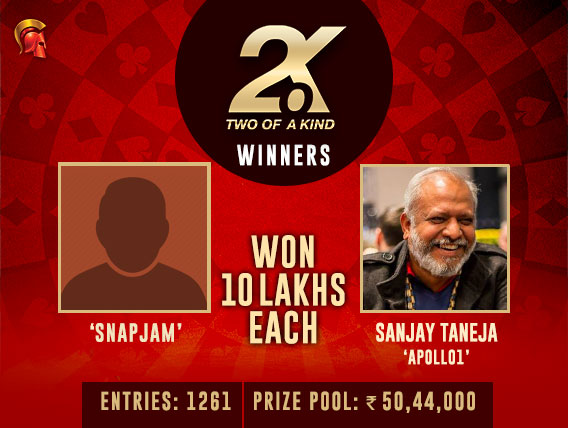 Poker
---
'SnapJam' and Sanjay 'Apollo1' Taneja are Dec 2.o.K winners
Every first Sunday of the month TheSpartanPoker hosts Two of a Kind (2.o.K) where the first two places are guaranteed a minimum of INR 10 lakhs each. And last night's 2.o.K crushed that guarantee when the tournament drew an overwhelming response of 1,261 entries making a huge prize pool of INR 50,44,000. Top 100 places took a share of this big prize pool with a min-cash of INR 7,062. It was 'SnapJam' and Sanjay Taneja playing under 'Apollo1' who were December's 2.o.K outlasting these entries to take down the title for a monster INR 12,61,000 a piece!
Gutshot was unable to connect with 'SnapJam' but 49-year old Sanjay Taneja a.k.a 'Apollo1' from Delhi had a chat with us. Professionally, Taneja completed his B. Com Honors as his father always wanted him to pursue accounts but Taneja was interested in advertising. So, he pursued his interest and completed his post-graduation diploma in Advertising and Public Relations from YMCA and began working as a copywriter and later as client servicing executive. After eight years in the job he realized that he can't wear neckties every day.
As he had keen interest in photography and filmmaking he began his own start-up to get into making commercials, corporate films, advertising, fashion shoots etc and found his complete happiness there, "Here I was happy doing what I loved to do and making much more than I needed but nothing could have prepared me for what was to happen next!" Gutshot caught up with Taneja and here are the excerpts of that conversation:-
Congratulations on your win Sanjay! Please tell us when did you first pick up the game?
I started playing poker on Zynga poker on Facebook, soon I realized I had a knack for the game and started accumulating chips which I would in turn share with friends and family. You start the game with 1000 play chips and at one time I think I had a billion.
When did you start playing poker for real money? How do you balance your time between poker and your other businesses?
About 4 years back a friend took me to a real money home game and reality knocked, I just could not stand up to the standard there and lost a lot. But instead of getting demoralized I decided to learn the game better. I saw videos read tutorials and played with the same group and another group on numerous occasions and despite all the knowledge that I had gained I still lost and lost. Everybody said, "you have the cards written on your face" Now I was in a dilemma, do I give up the game I was so much in love with or prepare myself better?
Since on live felt people could easily ascertain my card strength I decided to hit the online arena. I started playing on PokerStars and it kind worked for me as I managed some really good scores there. That kind of took care of not having a Poker Face 🙂
I was also introduced to the IPPA forum where I made loads of friends online and these friends helped me improve my game a lot. So, online poker became my saviour. Then two years back I started playing on Indian sites and managed some decent scores here as well.
Besides being a fashion photographer where I am my own boss, I run an options trading business where my work timings are Monday to Friday 9 to 3:30. So I get a lot of free time to learn and pursue poker, a hobby that I am obsessed with.
Almost all my free time goes into it. My wife understands my passion, so she stands by me and supports me. That takes care of the personal end.
Describe your journey through the Two of a Kind event.
Well, I entered the event like any other, with high hopes. I busted one bullet and since the blinds were low decided to give it another shot, the second bullet worked fine as I started to accumulate chips, slowly but steadily.
I am the kind of player who avoids flips especially in early stages, I try chipping up slowly and that's what I did, some interesting hands I can talk about are 1. I had A8 with ace of hearts in late position when I called a raise from middle position, the flop was three small hearts and I had position on the villain after two streets of bet calls i had a busted draw so I jammed, and the villain tank-folded, I showed my A8 for nut blocker. 2. I called middle position raise with AJ suited from the cutoff and called his triple barrel bluff all the way on 35757 board with Ace high.
Any turning points in the tournament where you felt that you could win it.
The turning point came on the final table, I had less than 10 blinds were running 7/7 when I said to myself "I can't finish lower than 7th so what am I worried about?" I started raising and open shoving aggressively and made myself a stack, this stack came handy when I was 3/5 and opened Aces from early position, got jammed on by AK and called to take down the chip lead pot. Obviously, at 1/5 I knew I could win it.
What was the reaction of your friends and family?
Friends are ecstatic, a lot of them stayed up during the night railing me, praying for me, wishing me the best, the family is unaware as yet.
What are your plans for the live and online space?
Plans include a lot of Live series participations in India and abroad. Poker sports League, Global Poker League and some more as far as live poker goes. Online I am hoping to ship the Spartan Millionaire on 10th Dec and the PokerBaazi Moneymaker.
Your thoughts on The Spartan Poker…?
The Spartan Poker is changing the face of poker in India, the guarantees are so huge it's irresistible. To be honest, I never had anything good to say about Spartan till now, I used to think that the software was skewed to support the regulars on their site and then they proved me all wrong yesterday.
So, you are a Millionaire now, what do you plan to do with this money?
I was staked for this tournament hence most of the money will be distributed among the investors, with my share I am planning to go for the Macau Poker Cup In January.
Any parting words?
I think over the years I have managed to control my face enough to not show my cards written all over it. I Finished 11th in Spanish Poker Cup in Rozvadov this year, also made final tables in the High Roller and Turbo events of the World Poker Tour in India a month back, it's time to take the live poker tourneys by storm. I learn every day – bet-sizing, position play, range balancing, aggression are various factors that I have been working on. I hope to put them to much more effective use in times to come.
And those are some determined words from this month's 2.o. K winner and we have no doubt he will turn them into action. Stay tuned for more such stories at GutshotMagazine.com.
---
---
Comments