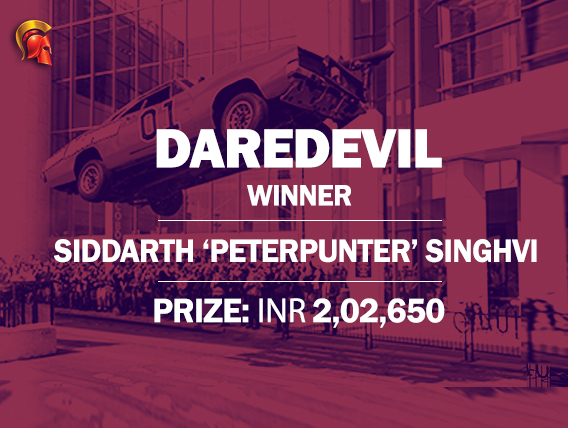 Poker
---
Siddarth Singhvi takes down Spartan DareDevil
It was a good start to the weekend for Siddarth Singhvi as he emerged victorious in Saturday night's DareDevil  tournament at The Spartan Poker. Singhvi, who plays as 'PeterPunter' at Spartan, defeated 'uncle_scrooge' a.k.a Abhishek Kumar in heads up battle to claim the title and first place prize of INR 2,02,650.
96 entries came together in this INR 4,400 buy-in tournament which promised a guarantee of INR 6 Lakhs to the money finishers. A point of note in this tournament is that players who bust out can re-enter at 50% of the intital entry fee i.e. INR 2,000. Eventually that prizepool went up to INR 7,72,000 which would be distributed amongst the top 13 finishers with everyone assured a minimum sum of INR 15,826. The field got whittled down further over the five hour long tournament. Some notable pdlayers who cashed included Arsh 'BigggTymeR' Grover, Anirban 'pokernoob' Das and Vidwath 'RoronoA' Shetty. Shetty in fact was the final elimination before headsup. Having the shortest stack of 77k, RoronoA decided to put it all into the middle with 6h 8h. Unfortunately for him, PeterPunter woke up with pocket Eights and those held knocking out RoronoA in third place for a payday of INR 93,798.
Headsup saw PeterPunter holding more than 2:1 lead over uncle_scrooge and was a protracted affair with hands and pots being traded back and forth between the two players. It all came to an end in Level #38 (17,500/35,000 ante 3,500). Holding Kc 4h, uncle_scrooge moved his stack of 394,604 into the middle and was called by the Ad 3s of PeterPunter. Both players making a pair of Jacks on a board of Qc Tc 6c Js Jh however PeterPunter's Ace kicker would net him that hand and the title of DareDevil. For his second runner-up, uncle_scrooge would take home INR 1,42,048.
---
---
Comments