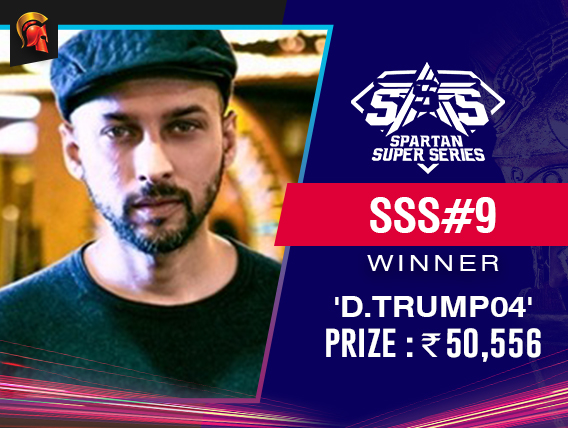 Poker
---
Shravan Chhabria among winners on Spartan SSS Day 2
The biggest tournament series currently underway on Indian virtual felts is the Spartan Super Series, hosted by the leading poker website Spartan Poker. The series began yesterday and will be on till 24th March 2019 (all the details of the SSS can be found here). The series has a staggering guarantee of over INR 3.5 Crores. Day 1 yesterday saw Zarvan Tumboli, among 5 others, winning a title.
Again, a total of 6 tournaments were hosted yesterday and the biggest was Mega Stack feature Tuesday tournament on Spartan. Well-known pro Shravan Chhabria was also among the winners on the day. Here's a round-up of what happened:
SSS #7 – INR 1.5 Lakhs GTD
The first one was a low budget tournament with INR 550 buy-in. A total of 339 entries (including 30 re-buys and 140 re-entries) were attracted and the resulting prize pool crossed the guarantee. Top 27 positions were paid for a min-cash of INR 1,525.
The tournament was won by 'ALBATROSS' who took home INR 37,290 as first-place cash prize. ALBATROSS beat 'Renben Poker' in heads-up to secure his victory. The last hand saw a pre-flop all-in where ALBATROSS was packing Sevens and Renben Fours. Eventually, the flop revealed a Seven and ALBATROSS shipped the event with the set. The runner- up settled for INR 25,255 on Spartan.
SSS #8 – INR 2.5 Lakhs GTD
This one crossed its guarantee too, for attracting a total of 366 entries (including 55 re-entries and 157 re-buys). The buy-in was set at INR 880 and top 27 places were paid for a min-cash of INR 2,635. 'brocklesnar95' shipped this tournament for INR 64,416 beating 'riverismine' in HU.
The last hand saw brocklesnar95 holding the chip lead but not by a great margin. His opponent was with Jd Kd and waited till the river to shove his stack, having made Jacks on the flop itself. It didn't matter in the end since the eventual winner called him in and made a straight on the turn itself, with 6s 8c. The runner-up earned INR 34,240 as his prize. The winner had won SSS Day 1's Event #4 too and now sits at 2nd in the SSS leaderboard behind 'Drifter2'.
SSS #9 – INR 2 Lakhs GTD
This tournament, for a buy-in of INR 660, also crossed its guarantee. The tournament paid of top 27 total places for a min-cash of INR 2,068. Shravan Chhabria aka 'D.Trump04' bagged the top spot and the first-place cash prize of INR 50,556. A total of 168 unique players were drawn to the event.
Chhabria beat 'Bounty_' in heads-up to secure his title. The last hand of the tournament saw Chhabria holding the chip lead, but not by a huge margin. Bounty_ shoved his stack on an interesting board of 7s 6s 5s 9s, with 5c 3s, matching Fives and looking for that spade on the river. Chhabria was with Qs 7d and called to see the river of 9s. Both made flush but Chhabria ultimately won with the higher flush.
Chhabria is a well-known community personality and has an impressive record behind him on both live as well as virtual felts. He has bagged numerous major online titles in the past and has over $100k in recorded live cashes till now.
SSS #10 – INR 3 Lakhs GTD
Winning the 4th tournament of the day was 'supernuts' for INR 77,250. The tournament attracted 134 unique players and top 18 places were paid for a min-cash of INR 4,800. supernuts bust 'Nutbuster' in the heads-up battle to claim his first-place cash prize. supernuts had Sixes and made a set on the flop itself which held against Nutbuster's Kings.
SSS #11 – Mega Stack INR 15 Lakhs GTD
The penultimate tournament of the day was also the biggest one. The tournament attracted a total of 536 entries (89 re-entries and 166 re-buys) to the virtual felts. It began on 7.30 pm and was wrapped up at 2.04 am today morning. Overcoming the field and claiming the first-place cash prize of INR 3,11,952 was 'sodosopa'. He beat 'Killphil' in heads-up to secure his victory.
The last hand of heads-up saw sodosopa with Td As and Killphil with 6s 7d, who shoved pre-flop. The board revealed Kh 5d Kc Qd Kd and both made trips but sodosopa won with the higher Ace kicker. The runner-up later settled for INR 1,97,784 as the runner-up cash prize.
Since it was a feature event, the field was filled with plenty of pros and some of them who finished in the money include Rajat Mahajan (3rd – INR 1,42,951), one of SSS Day 1 winners Nayhaal Agarwal (7th – INR 52,420), one of this month's 5 For 5 winners Faiz Alam (8th – INR 37,948), Chirag Sodha (11th – INR 25,406), Sahil Mahboobani (15th – INR 19,456) and others.
SSS #12 – Hi-Fi INR 3.5 Lakhs GTD
The day ended on a modest note with the last one being an INR 3.5 Lakhs GTD tournament. However, this tournament almost doubled its guaranteed amount, bringing the prize pool to a healthy INR 6,60,000. A total of 191 unique players were attracted to the felts and top 36 places were paid for a min-cash of INR 4,290.
Triumphing in the tournament was 'Drifter2' who took home INR 1,32,000 as first-place cash prize, beating Nishant Dalal aka 'tilt_master' in heads-up. The latter succumbed to Drifter2's full house on the last hand and secured INR 92,400 as runner-up prize money. The champion of the tournament, Drifter2 has been faring well in these two days and is on top of the SSS leaderboard at the time of writing this and there's a good chance he will reveal himself after he wins a big one.
Day 3 of the series has already begun. A total of 7 events are lined up with the biggest being feature tournament Destiny INR 25 Lakhs GTD, followed by PLO HR INR 20 Lakhs GTD. Stay tuned to GutshotMagazine.com for the first updates from SSS and other poker interesting poker news from around the world.


Don't have an account on Spartan Poker? Check out their review page here, and don't miss out on their bonuses, promotions, and guarantee-smashing tournaments. Sign-up now.
---
---
Comments